Working for a Kinder Society: Bringing Knowledge and Creativity from Understanding Diversity from the University to Society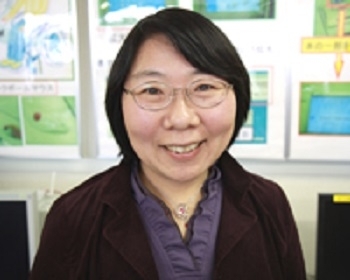 In this edition of Research NOW, we interviewed Professor Mariko Fujita-Sano, Director of the Accessibility Center of the Faculty of Cultural Sciences, Graduate School of Integrated Arts and Sciences.
(2009 January 15th, Interviewed by the Public Relations Group, Office of the President)
Profile
Professor Sano has been working in supporting disabled student learning at Hiroshima University. The number of students with disabilities who want to study at universities is currently on the rise. However, at most universities, support for disabled students isn't organized into a system; rather it was the norm for professors as individuals to respond to consultations made by the disabled student. At HU as well, there did indeed exist a committee for such purposes, however as a support system, it was not well-established. Professors had their hands full with establishing a campus-wide support system including setting down rules and building a support system from admission to graduation. Thus, in 2000, the Volunteer Activity Office was born to act as a center for learning support, and as the Director, Professor Sano planned, designed, and managed all of activities in the Office. In 2008, she was appointed the first Director of the newly established Accessibility Center, a campus-wise organization. For her efforts up to this point, and for her contribution to the domestic top-level evaluation of disabled students at HU, Professor Sano was awarded the 7th Annual President's Award 2008 in November 2008.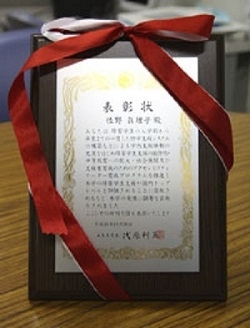 Award plaque for the 7th Annual President's Award 2008
Until the Realization of a Campus-Wide Support System
Hiroshima University's efforts in disabled student support began in 2000 with little organization or know-how. "Even if a disabled student gained admission, it was only those around the student who really worked hard. Support was limited only to what individuals could do," says the professor.
However, it was then that an incident occurred which made the limits of that support system known. A completely blind student and a severely deaf student enrolled at the same time, and had signed up for many of the same courses. Two students with two completely different disabilities in the same courses had the members of the Disabled Student Learning Support Committee, including Professor Sano, overwhelmed with the necessary daily support.
"I was on my bicycle everyday of the first semester," recalls Professor Sano, "In order to respond to the needs of both students, I prepared educational materials with the cooperation of their professors, and asked the professors in charge of their classes to cooperate in reporting the situation to me. But often there would be misunderstandings which occurred due to miss communication and the like. I finally understood just how hard it was [to respond to student needs] without a support system."
Having truly felt the difficulties of coping without a system, she wrote up all of the support which she had given to the students over the past 6 months and created a support flowchart. First year students in a university work on the same cycle each year based on a set schedule. If a support flowchart could be cemented, professors and those supporting students with disabilities would be able to grasp in advance what preparations are necessary and when based on the students' cycle. This would enable the organization and systematization of support, and together with other academic faculty, she built a campus-wide support system to close the gaps on campus by creating a committee made up of members from each faculty, and by establishing the Volunteer Activity Office as a support base.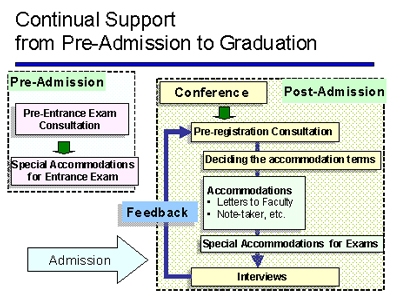 The PDCA Cycle System for Disabled Student Learning Support, completed based on the Support Flowchart. Based on this, a support system from admission to graduation became a reality.
According to the professor, there is unique reason as to why a campus-wide support system came into place at Hiroshima University. At HU, all new students, regardless of their faculty, take most of general eduction courses in the Faculty of Integrated Arts and Sciences. There, it is necessary for academic faculty to experiment with teaching methods in order to provide diverse courses to different types of students. In other words, there was a place at HU to cultivate diverse support for disabled students.
The initiative to build a campus-wide support system which took advantage of this unique environment, "Incorporating Universal Design in Higher Education: Disabled Student Support in a Comprehensive University" was adopted by the Ministry of Education, Culture, Sports, Science and Technology (MEXT)'s "Support Program for Distinctive University Education".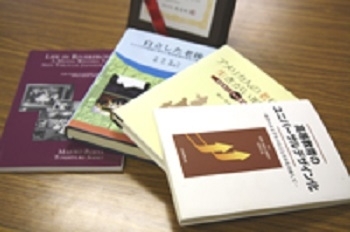 Various books, "Incorporating Universal Design in Higher Education: Aiming for Independence for and Coexistence with Disabled Students", etc.
Disabled Student Support as Fieldwork
The professor's primary area of specialization is cultural anthropology. Cultural anthropology uses fieldwork to understand diverse societies and cultures, as well as to study human nature. At first glance, it would appear that this has nothing to do with disabled student support; however, to Professor Sano, being involved in disabled student support has become "a new sort of fieldwork" for her.
"I've learned so many things from my disabled students," she says. For example, one day, while walking around campus with a blind student, she absently said, "What a lovely sunset." When she apologized to the student, she had this to say, "Please describe the scene to me. It's not that I can't see, I just have a different way of seeing." Cultural anthropology is an academic discipline in which you learn diversity. In this field, it goes without saying that the same phenomenon will be explained differently depending on the person. Thanks to the blind student, Professor Sano realized the similarities between her own area of specialization and disabled student support.
To her, daily interactions with different disabled students is literally fieldwork to deepen her understanding toward diversity, and considering what kind of support is best for her students is her research.
Also, in cultural anthropology, you look at the societal structure on the whole which surrounds the object of research which considering the problems they have. Thus, when the professor examined a campus-wide support system for disabled students, she kept that principle in mind. "Of the total number of students in the HU system, disabled students make up a mere handful. However, it won't work if only those around the student work to support them. To really support the students, it is vital for the university as a whole to function," stresses Professor Sano. Thus, she created a system which uses the vertically-divided "faculty autonomy" characteristic of Japanese universities to spread the support system through the entire university system.
Thus, through an environment which has diversity, and through the cultural anthropology methods which came in use during initiatives for disabled student support, Professor Sano says she's glad she's a student of cultural anthropology. According to her, in Japanese cultural anthropology, theory and practice are often handled separately. However, through the experiences she has gained from disabled student support, she "would like to expand the notion that practice and theory can be integrated to the field of cultural anthropology, and contribute to its development."
*Fieldwork: A general descriptive term for the collection of raw data. The interviewing or observation of people to learn their languages, folklore, and social structures constitutes field work. (from Wikipedia)
Education and Human Resources Cultivation -- Everyone has the Potential to Support Someone
Disabled student support at HU didn't stop at the creation of a support system.
In 2001, Professor Sano and her colleagues began a course on disabled student support and embarked on cultivating supporters. Students deepen their knowledge of disabled student support in classes, and then learn support techniques through actual practice. In the practical portion, students actually conduct learning support for disabled students. Through turning disabled student support into a class, students learn and carry out high-quality support techniques, and an environment to receive organized support was established. One of the main characteristics of this course is that all students with disabilities enroll in this course. "While learning about methods to compensate for their own disabilities, they also gain motivation to support students with other disabilities," explains the professor, "It doesn't stop at just being 'the supported'; students go on to become the supporters."
In 2006, Professor Sano and her colleagues began the "Accessibility Leader (*) Training Program", a human resources training project, together with Microsoft. Students which earn credits from a group of systematic courses, and who pass an exam, are certified as "Accessibility Leaders."
"Our society is full of diversity - it's not limited to whether or not you have a disability either. I want students to become human resources who can coordinate various needs and accessibilities by using what they learned at HU even after they've graduated," says the professor.
(*) Accessibility Leader: human resources who create information, services, products, and environment for "a rich society in which everyone can enjoy unhampered" regardless of disability, physical traits, age, language, or cultural differences.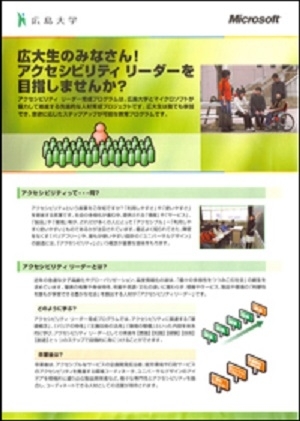 Accessibility Leader PR for HU Students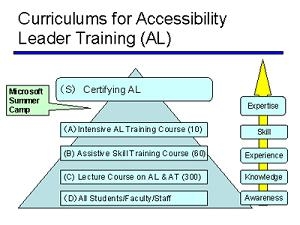 Outline of the Accessibility Leader Training Program
From University to Society
Last September, the "Accessibility Leader Training Program ~Working for a Kinder Society; Flexible Knowledge and Creativity Training from Understanding Diversity" was adopted by the MEXT Education GP "Program for Promoting High-Quality University Education."
Through this program, Professor Sano is trying to expand the curriculum, which had been aimed at undergraduate students, to the graduate and faculty/staff level. She is also trying to cooperate with intermediate education systems such as high schools, other universities, businesses, government, and more in the field of internships and training to expand the field of practice into society, and finally, she hopes to open the program to the whole of society.
"A Kinder World for Everyone"
Professor Sano's final objective is "a world in which accessibility is common sense." She explains that Japan's accessibility standards still have a long way to go when compared to the global standard. "Accessibility isn't a problem just for certain people, it's OUR problem. I want to have that idea take root in Japan. For example right now, even if you're getting along with any problems, be it changes to our bodies through aging or illness, everyone is changing with the progression of their lives. But no matter how anyone changes, everyone can enjoy the benefits of accessibility. I want to create just such a world - a world that is kinder to everyone," states Professor Sano.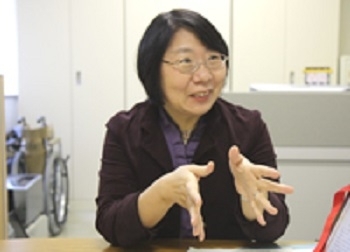 "I want to create a kinder world for everyone," says Professor Sano.
Afterword
After the interview, I went to take pictures of the Accessibility Center where Professor Sano works as the Director. The Center is becoming a place where students, with or without disabilities can come to relax. "It's kind of like a studio," says Professor Sano, smiling brightly. The Center is likely a very important place for the professor to communicate with students. During the interview, the professor said that "the wheels of education, research, and practice are always turning together," and I couldn't help but feel like she had already placed herself in very center of where those three wheels come together. (M)