Being able to replicate the lives and experiences of the people of the past - that's what's interesting about historical research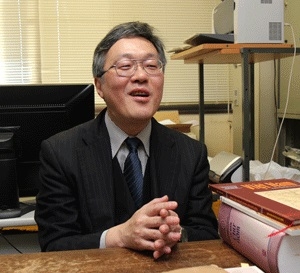 We talked to Professor Takao Yao, History Program, Department of Humanities, Graduate School of Letters.
(Interview: November 13, 2013, by PR Group)
Foreword
Professor Yao's specialist field of research is 15th century Vietnamese history. He has been to Vietnam more than 40 times to conduct field research, seeking rare materials that cannot be found in Japan. In addition, in recognition of his efforts as the Vietnam coordinator on the START Program(*) since its inception, he received a Hiroshima University President's Award for the 2013 academic year. We interviewed Professor Yao about how he became one of Japan's few Vietnamese history researchers and the prospects for the future.
(*)START Program: A short-term overseas training program for new undergraduates with little experience of other countries. Participants visit a university with which HU has an exchange agreement, as well as the surrounding area, allowing them the opportunity to interact with local university students. The program lasts two weeks during the long university vacation and part of the cost is subsidized by HU.
Gathering materials takes a tremendous amount of time.
"There are many local historians in Japan, so if your research focuses on Japanese history, a range of information comes your way and there is an abundance of historical materials, due to the national tendency of the Japanese to preserve documents, so the standard of research into the history of our own country is relatively high compared with that in other countries. However, there are hardly any local historians in Vietnam, so that kind of underlying support does not exist. In fact, few documents of any kind remain; of the precious historical materials that had been preserved, some were hidden at the time of the revolution, while others decayed in the tropical climate...."
That's the difficulty in gathering historical materials for researching Vietnamese history, according to Professor Yao.
"A Chinese scholar once said, 'The time spent gathering materials doesn't count as research time,' and I think that's absolutely right, but I actually feel that even so, the reality is that historians spend an awful lot of time trying to gather them."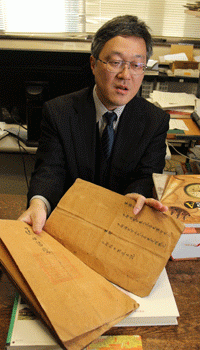 Professor Yao explains some of the materials.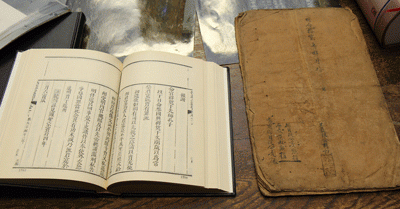 A precious source from the period in question (the document on the right is the original)
Research is like cooking! You decide what kind of dish to assemble from the materials you've gathered.
Professor Yao says, "In a book called Jinbungaku e no Izasanai [An Invitation to the Humanities], which was compiled by the Graduate School of Letters, I wrote that if one were to liken research to cooking, gathering materials is the preparation, the materials themselves are the ingredients, and the paper that you write is like the dish that you make using those ingredients. If you have an abundance of ingredients, you can make a variety of dishes, but there are few ingredients in Vietnamese history, so you can't expect to be able to say from the outset, 'I'm going to make this kind of dish.' The content of the individual dishes (papers) made with the ingredients to hand is quite rough. It has taken me 20 years to turn them into some kind of coherent whole and compile them into a single book.
Asked about the prospects for the future, he replies, "When I was thinking about what to do next after I finished the book, my first thought was, 'I should revise and expand it as soon as possible'. So during the last academic year, I applied for a grant-in-aid for scientific research, focusing for the first time on the 15th century Lê Dynasty, which is my specialist field, and my application was accepted. The Lê Dynasty ruled the area that's now northern Vietnam, so I thought I'd spend five years traveling around the areas with a connection to the dynasty.""My grant applications have been accepted almost every year since I came to Hiroshima University in 2000. I often go to do my field research at the end of the year, so I always spend New Year's Day in Vietnam. This year, I'm taking some graduate students with me to conduct field research there at the end of the year."
Studying another country's history means making a contribution by doing things that researchers in that country can't.
Of the few researchers in Japan who focus on Vietnam, Professor Yao is the only one who's studying the 15th century Lê Dynasty.
"The interesting thing about the Lê Dynasty is the fact that the king of the Muong minority ethnic group founded a Confucian state. Of course, there was friction with the ethnic majority, the Vietnamese (Kinh) people, at the time, and I think that it must have been difficult for him to establish his authority.
Many researchers there can't break away from the idea that 'the history of the nation state = the history of the country,' so many events have been overlooked or not assessed appropriately. When a new era begins, political constraints also grow. There are things that are easier for foreign nationals like myself to say. I believe that contributing to the study of another country's history means doing things that researchers in that country can't. If Vietnamese researchers were doing the same thing, there wouldn't be any need for me to do it."
Interest triggered by his high school homeroom teacher
When asked what made him decide to study Vietnamese history, Professor Yao replies, "My high school homeroom teacher's subject was Japanese history and, influenced by that teacher, about half of us in my class went on to become teachers ourselves. As a result of that teacher's influence on me, I went to Kyoto University to study Asian history. Initially, I was studying Chinese history, but even after going to university, I kept in touch with my teacher, and one might say that he egged me on (laughs). He said, 'Lots of people study Chinese history; why don't you do something different?'"
"Apparently, he'd wanted me to study modern Vietnamese history, but I'm not really interested in modern history. It inevitably gets tangled up with politics and appraisals of history are easily altered by changes in regime. You can say the same thing about the old days, but it's blatantly evident with modern history."
"So when I was in my third year at university, I began my research focused on medieval and early modern Vietnamese history, at the recommendation of a graduate student who is now a famous professor in the field of history pedagogy, and an assistant lecturer who was researching Southeast Asian history (and who is now a professor emeritus of this university)."
The basis is self-responsibility. The switch from a passive attitude
Professor Yao has been to southern Vietnam three times to date as a tutor on the START Program. We asked him about his experiences there.
"Last time I went, it was March, which is the hottest period in the southern part of the country. What's more, this year it was so hot that even Vietnamese people were struggling with the heat. It was two weeks without a break, so it was physically quite demanding."
"Although a few of the students appeared unchanged after their overseas experiences, most had matured quite considerably. It's not safe, unlike Japan, so you have to be alert to your surroundings. They also stop leaving the plan for the day up to others. Initially, they're all passive and some ask, 'What are we doing today?' However, those who haven't decided by themselves where they're going and what they're doing that day will be left behind at the hotel. It changes when they realize that they'll miss out if they're left behind. If they get sick or have a problem, it's the other members of the group that they rely on. The bonds between the students get stronger, too."
Studying history means you can replicate the lives of others.
"I'm good at looking at things objectively. I'm quite confident that I could write a relativized history of myself," says Professor Yao.
Finally, he tells us about the fascination that historical research holds. "When you study history, you find out why this person did what they did, what led up to that decision, and the situation they were in at the time. That's really interesting! We ourselves can live only once, but through the medium of these precious historical materials, we can replicate the lives of others. That's precisely why I feel compelled to investigate areas that are as yet unknown."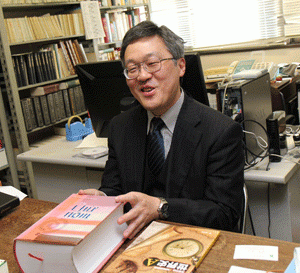 Professor Yao talks about the fascination of learning about history.
Afterword
Professor Yao's "history as cooking" analogy was memorable. In addition, "foreign researchers contributing by doing what local researchers can't" is like "creating a unique dish by using foreign ingredients that are hard to obtain." Although he compares it to cooking, it seems quite hard work, but the passion that has led Professor Yao to conduct research in the field on more than 40 occasions and spend more than 20 years analyzing and studying the materials that he has gathered came across loud and clear. (K2)