On May 11th 2018, Dr. Abdul Haris, Rector of Maulana Malik Ibrahim State Islamic University of Malang (UIN Malang) and Dr. Romaidi, Head of Biology Department of the same university, visited the Higashi-Hiroshima Campus of Hiroshima University and met with HU President Mitsuo Ochi. From HU, Prof. Kumiko Sakoda (Vice Executive for Japanese-Language Education) and Prof. Shin-ichi Tate (Dean of the Graduate School of Science), also attended the meeting.
UIN Malang is an Indonesian national university located in Malang, East Java. With the help of Dr. Romaidi, an alumnus of the HU Graduate School of Science, HU and UIN Malang concluded an inter-university agreement in January 2018. Then in April 2018, HU Graduate School of Science entered into a departmental agreement with the Faculty of Science and Technology, UIN Malang.
During the meeting, they exchanged ideas about deepening student and researcher exchanges. It is hoped that exchanges between the two universities will flourish.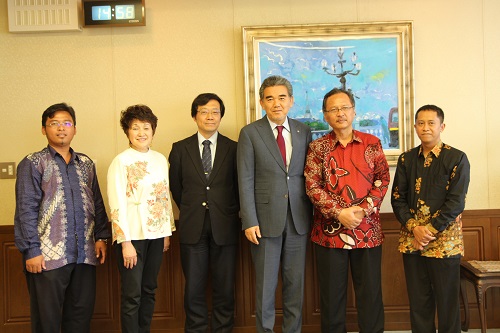 Commemorative photo
From the left, Mr. Kivah Aha Putra, Prof. Sakoda, Prof. Tate, President Ochi, Rector Abdul Haris, Dr. Romaidi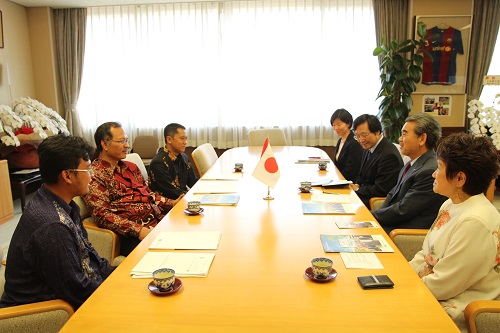 [Inquiries]
International Exchange Group, Hiroshima University