In response to the Torrential Rain in July 2018, Hiroshima University established the "Resilience Research Center," and the opening ceremony was held on 20th September 2018 at Higashi-Hiroshima campus.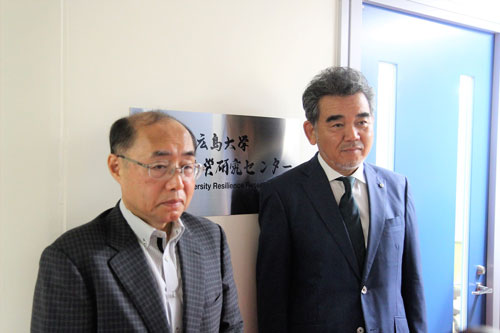 President Ochi (right) and the Center's Director Tsuchida (left) at the unveiling of the Center's signboard
Hiroshima University has established "Hiroshima University Disaster Investigation Team for July Torrential Rain of 2018" on 11th July 2018 to investigate and analyze the damages caused by the torrential rain. The investigation team stated that this torrential rain has the feature of "synergistic torrential rainfall disaster," in which the damage spread synergistically by the simultaneous occurrences of various disasters such as debris flow, slope failure, erosion and depression, flood, driftwoods and inside water inundation, caused by extreme volume of rainfall.
Upgrading the disaster investigation team, the Resilience Research Center was established to respond to the torrential rain that previous studies on disaster prevention and disaster mitigation couldn't handle. The Investigation and Research Department, the Center's main pillar, is comprised of four research fields; "Synergistic Torrential Rainfall Disaster," "Resilience Human and Society," "Local and Regional Reconstruction Management," and "Disaster Medical Care," and about 40 researchers of Hiroshima University from various fields including engineering, erosion control, psychology, medicine and so on.
In his speech, Director Tsuchida Takashi, Professor of Graduate School of Engineering, said, "We will collaborate with regional communities, and contribute to the regional communities with our practical research."
As the world leading research center, the Resilience Research Center aims to develop cutting-edge inter-disciplinary research in the area of disaster science, focusing on the topic of "synergistic torrential rainfall disaster."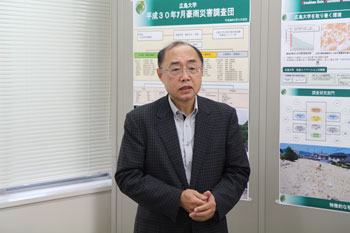 Director Tsuchida giving a speech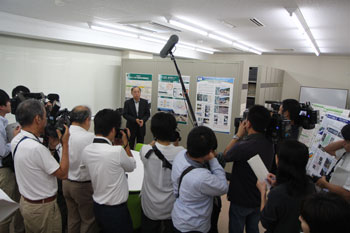 Many newspaper and TV reporters gathered to cover the opening ceremony of the center
[Inquiries]
Public Relations Group, Hiroshima University
E-mail: koho*office.hiroshima-u.ac.jp (Please replace * with @)