Dr. Pengiran Yusuf, a former student from Southeast Asia and an honorary doctorate recipient of Hiroshima University, passed away peacefully on April 11 in his home in Brunei at the age of 94.
Dr. Yusuf visited Japan in 1944 as one of the government sponsored international students from Southeast Asia, and the following year, attended the Hiroshima University of Literature and Science, one of the predecessors of Hiroshima University. However, although that year he was able to narrowly escape with his life from the atomic bomb, he was forced to discontinue his studies in Hiroshima.
On April 2013, Dr. Yusuf was awarded an honorary doctorate degree from Hiroshima University for his achievements on promoting peace activities.
We express our sorrow and condolences for Dr. Yusuf's passing.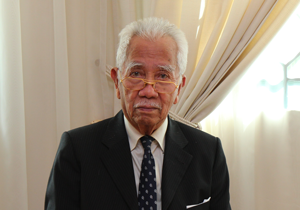 Dr. Pengiran Yusuf
Condolence messages from President Mitsuo Ochi
I extend my most heartfelt sorrow and condolences on the passing of Dr. Pengiran Yusuf, one of the former students from Southeast Asia during the Second World War and the only one alive among them. Dr. Yusuf was exposed to the atomic bomb blast in Hiroshima, but fortunately survived and helped to rescue the wounded citizens of Hiroshima. After going back to Brunei, while serving in important positions such as the Prime Minister and the ambassador to Japan, Dr. Yusof contributed to promoting peace activities by telling his A-bomb experience to many people. Hiroshima University will continue to commit itself to nurturing "peace-pursuing cultured individuals with international experience" as this was the wishes of the deceased.


Related Articles:
Inquiries:

International Exchange Group

Education and International Office

Hiroshima University

TEL: 082-424-6042