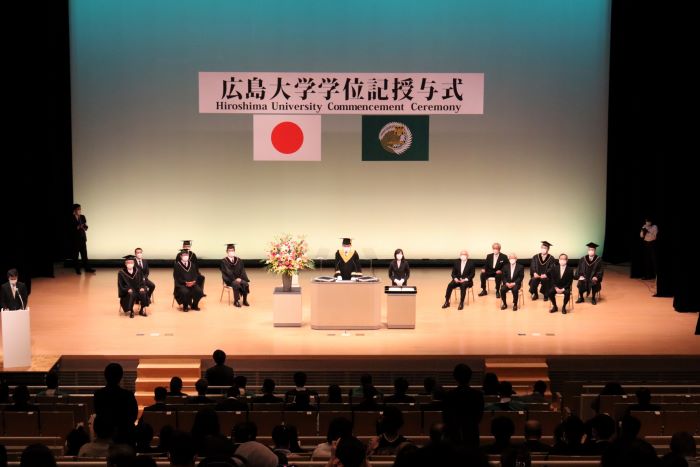 Hiroshima University (HU) held its 2022 Autumn Term Commencement Ceremony at the Satake Memorial Hall, Higashi-Hiroshima campus, on Tuesday, September 20, 2022.
Although the recent typhoon caused disruptions in public transportation ― including the cancellation of JR train services ― family and guardians were able to attend the ceremony for the first time in three years.
On behalf of the 290 new graduates (24 undergraduate and 266 graduate students) — of which 209 were international students — three student representatives received their diplomas from HU President Mitsuo Ochi.
Following the ceremony, the president conferred diplomas to each doctoral degree recipient.
In his ceremonial address, President Ochi talked about two crises humankind is now facing: a pandemic and war.
"As you are about to leave the university, I hope that you will not be misled by a flood of information, but that you will rather examine it with independent minds, and consider the crisis based on your own deliberations," said President Ochi.
As 2024 marks HU's 75th anniversary, President Ochi shared his hopes for the new graduating class.
"In two years, Hiroshima University is celebrating the 75th anniversary since its foundation and the 150th anniversary since the founding of its oldest predecessor school, the Hakushima School. [...] we will move forward together, to continue to make Hiroshima University a 'University of World-Wide Repute and Splendor for Years into the Future.'"
Following the farewell address of Mayaka Hida — the remaining students' representative — from the Graduate School of International Cooperation and Development, Shoule Miao — the new graduates' representative — from the Graduate School of Letters offered a speech sharing his experience as a student at HU.
"Thanks to the various support systems for international students at Hiroshima University, I have been able to devote myself to my research with peace of mind, and the attentive guidance of my professors has made it possible for me to overcome various difficulties. I was able to overcome various difficulties with the kind guidance of my professors. I will make use of what I have experienced and learned at the university to contribute to building a better society," said Miao.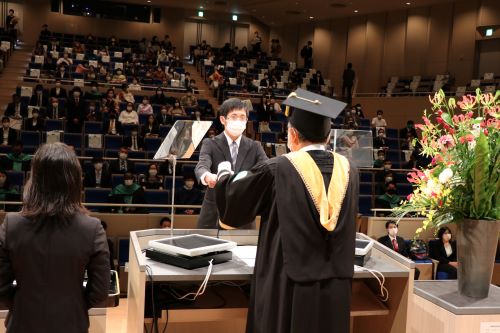 One of the student representatives receiving his diploma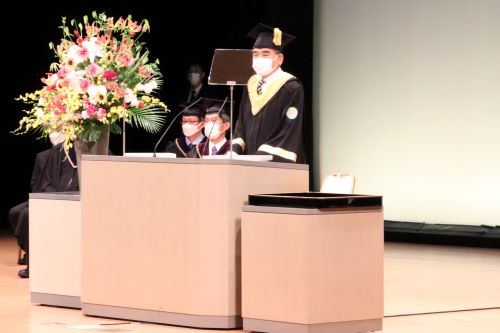 President's Ceremonial Speech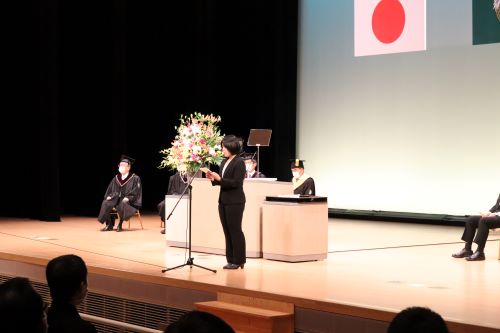 The representative of the remaining students reading a valedictory message to the new graduates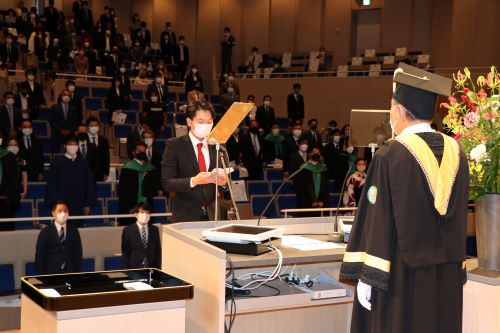 The representative of the new graduates delivering an address of thanks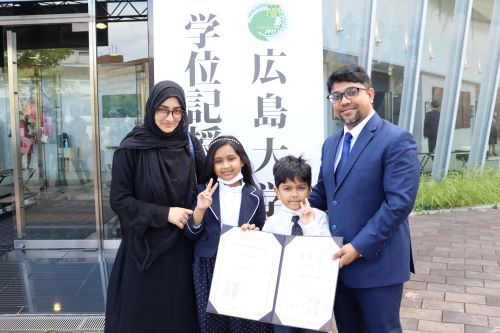 Commemorative photographs in front of the venue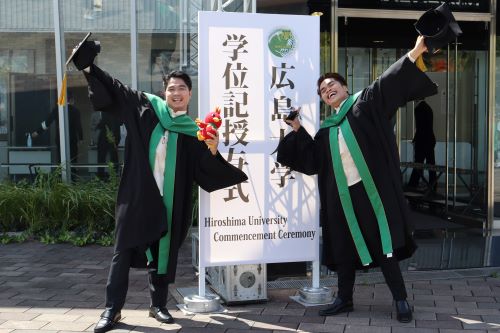 Commemorative photographs in front of the venue
*Photos of the Commencement Ceremony will be released on HU's website and official social media.
*Masks were removed only for the photoshoot.
[Inquirires]
Hiroshima University, Public Relations Office
E-mail: koho*office.hiroshima-u.ac.jp (Please replace * with @)