Challenge! and on the Move!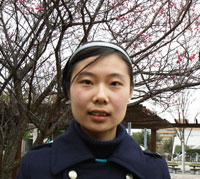 Name: Gu Wensu
Nationality: China
Major: Socio-Economic Systems
Graduate School: Master Program, Graduate School of Social Sciences
Hobbies: Badminton, Cooking
Interviewed on March 2, 2010
Thank you for agreeing to participate in this foreign student interview. Why was it that you felt you wanted to be a part of this interview?
I felt this would give me an opportunity to speak with different people. I also thought it would become a great memory to see me on the Hiroshima University website.
Your Japanese is very good! How long has it been since you came to Japan?
It has been about 5 months now. I majored in Japanese at my University in China, so I have studied Japanese for 4 years.
What exactly do you study at the Graduate School of Social Sciences?
In April, I will become a first year Master's student. My research theme focuses on how the progress of a knowledge-driven economy influences the regional economy. I would like to use China's eastern coastal regions as a basis for this research. (In the Graduate School) my major is Socio-Economic Systems and Public Policy Program.
And within that field, what kind of content do you study about a knowledge-driven economy?
Simply put, it is an economy that uses knowledge as its foundation. There are a number of knowledge industries. For example, the IT industry, the research development industry, and the education industry. Applying knowledge to practical use can improve our society in every way.
That sounds very interesting! Did you do any similar studies while you were in China?
(Actually) no. When I was still in China, I began to select this theme while contacting my professor at Hiroshima University. At Shandong University (in Shandong province) my main major was Japanese Language. For the most part, I was studying Japanese grammar, culture, and also practiced daily conversation. Shandong University has a double degree system (to have 2 majors). Japanese language was my first major, and Economics was my second. Within Economics, I studied International Economics and Foreign Trade. I gradually became more interested in economics, and decided I would like to deepen my research in that field, and am currently continuing my studies of economics.
I see. But how did you originally find an interest in Japanese language and Japan?
At Chinese Universities, before taking the unified entrance exam, there is a special exam you must take. If you pass this exam, you can select a second foreign language to study on top of English. That is when I selected Japanese. There were numerous choices including Japanese, German, Korean, Russian, and others, but I found Japan to be interesting, and Japan is a very developed nation so I chose Japanese.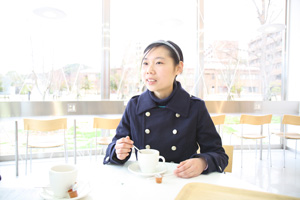 Was it difficult studying Japanese?
I found the grammar to be particularly difficult. We use kanji( Chinese caracters) in China as well so that was not a problem, but the grammar is very confusing. And of course, keigo( honorific expressions). I still have trouble getting used to it.
Well let me say, you are speaking very well! I was wondering, why did you decide to come to Hiroshima University?
Hiroshima University is known as one of Japan's most prestigious national universities. And Hiroshima itself is well known among Chinese people. The A-bomb dome is widely known in China. While researching Hiroshima University, I noticed a slogan of "Challenging themselves, and always on the move." I was quite fond of this, and thought Hiroshima University would be a fine selection. That slogan has left a deep impression on me. Around campus, posters with this slogan and "What are your dreams and goals? Are you challenging yourself to achieve them? Are you moving closer to them?" scattered around. I see this and always ask myself: What is it I want to do, who do I want to become, and am I closing in on my goals? This has become the engine that is propelling me forward. I even have a photo of me standing next to this poster!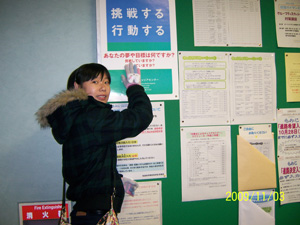 I am so glad that you are pleased with the poster! After actually arriving in Japan and coming to Hiroshima, did your impression of the area match your expectations?
I thought that this is a pretty quiet town, and is a very good environment to get your studies done. One thing that surprised me was that the Higashi-Hiroshima campus does not have a main gate. I did not think Japan had campuses like this one. It gives off a very open image. I also found it interesting to see so many working people attend the school festival.
Is that so? I am sure there are school festivals in China as well, but is it not open to the general public?
There may be schools like that in China as well, but I am sure there are not many. Usually you only see university students in attendance. Also, the atmosphere is different. That is why I found it to be so fascinating here in Japan. I was also surprised to see so many people riding bicycles here!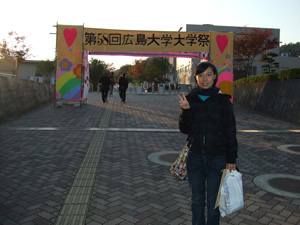 It will be 5 months since you arrived in Hiroshima, but what do you think of your life here?
I have already gotten used to things here. At first I had trouble getting accustomed to Japanese food, but I have begun to like it more now. I especially love okonomiyaki. croquette, udon, soba, and tempura are also delicious! And there are so many different kinds of fish to choose from to cook in my room. I enjoy cooking yakisoba and pike grilled with salt.
Have you gotten used to going out and buying ingredients?
Yes. I had never seen potherb mustard in China. I also ate burdock for the first time in Japan. Also sweet potato. My hometown is Jinan, in Shandong, where fried potatoes are famous, but they are very different from Japan's. The color of the skin is different, as those from my hometown are yellow. They are sweet and delicious~.
Wow! That's interesting. Have you joined any clubs or activities on campus?
Last Sunday, I participated in some volunteer activities. Saijo had its 3rd Saijo in Spring, brewery festival, for which I was a volunteer guide. I accompanied the sightseers to the sake breweries and had a chance to drink some sweet sake and enjoy a good time talking with many different people.
Do you like alcohol?
Yes. I like Japanese sake. Saijo's sake is the best in the nation. It was also my first time drinking sweet sake which was delicious. Although I do not drink that frequently, times like graduation, going to restaurants with friends, singing songs, are all made memorable with the enjoyment of alcohol.
Have you made many friends at Hiroshima University?
Yes. I have been getting along with many Chinese students. And in the Graduate School of Education, I have a friend who I shared classes with at my university in China, and she is now studying at Hiroshima University with me. Although we belong to different Graduate Schools, we are at least at the same University.
Well that is very reassuring.
Yes, and there is a weekly Japanese model class that was established by students in the Faculty of Education. Every Thursday, from 7pm to 8:30pm, I take this Japanese speaking class. The teachers are all students in the Faculty of Education. I believe they are very serious students. There is not much of an age gap which makes it very easy to get along with them. I also have a tutor. My tutor is a Chinese student, and has been extremely helpful to me, for which I am very appreciative of. I went to Miyajima with my tutor on November 26th last year. Miyajima is known as one of Japan's most scenic spots. The wild deer there are really cute. The scenery is also beautiful. Unfortunately, I went after the season for maple leaves to be blossoming had just passed. I also want to go to "Shukkeien Garden" in Hiroshima city. I hear that it is an especially beautiful garden when the cherry blossoms are bloomed.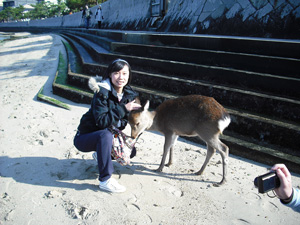 How do you spend your days off?
I have been selected to be a campus reporter for the Chugoku Newspaper. I am a student reporter for the Chugoku Newspaper. There was a training workshop, where I learned how to take good photos and compose interviews, and it is my job to produce good topics for conversation. I am really looking forward to writing a report in Japanese.
I also sometimes have to go to my professor's seminars on my days off. My professor is a very serious but kind teacher. Despite his busy schedule, he is always kindly guiding me through my research, and is a great professor. In October of last year when I first arrived, he organized a welcome party for us newcomers, which I was really happy about. He always asks, "have you gotten used to life in Japan yet?" which makes me feel like we are family. I have no concerns, and really appreciate this environment. For New Years, professor invited us out to a soba restaurant in Hiroshima to enjoy toshikoshi soba. It was really delicious! I was really glad to be able to spend a Japanese New Year with my professor and my seniors.
That sounds great! How do you usually spend New Years in China?
At my house, we all gather on New Years Eve and eat dinner together, and at midnight eat dumplings. I think it differs between households, but am pretty sure that this is a very standard way to spend New Years in the north side. Dumplings in Japan and China are different. China has boiled dumplings whereas Japanese dumplings are fried. For example, we sometimes boil the dumplings together on the first day, and then fry them on the second. But boiled dumplings are more common. There are a lot of things to put in the dumplings as well, including pork, vegetables, eggs, and bean-noodles.
That's very interesting. Can you tell me more about your hometown of Jinan?
Jinan is the provincial capital of Shandong, and is well known for its springs. Jinan is sometimes even called "the city of springs."
In Jinan, beginning with the Batou Spring, there are 72 famous springs. Spring water is sweet and refreshing, which makes it very appetizing. When talking about springs in China, people will immediately think of Jinan.
Does your research theme relate to Jinan at all?
Well since my research focuses on the eastern coastal regions of China it will include cities like Beijing, Shanghai, and Tenshin, as well as seven provinces including Shandong and Hebei. I want to use these large territories as a basis for my research. I recently came across a survey report that introduced this idea of a center of excellence. Within the content came a query: "Does China have a center of excellence?" China's eastern coastal regions are more developed than other regions, and each area has its own points of superiority. That is why the question of whether China can construct a large center of excellence or if there is the possibility to gather clusters of excellence was posed. I am very interested in this and want to continue researching this topic. If it is possible, I think it will prove to be useful in China's goal to develop a knowledge based economy.
That sounds like a very well thought out research topic! What do you plan to do after completing your first curriculum of your Master's program?
Well first off, I need to continue on to the second semester. My master's course is only 2 years, which really is not a lot of time to complete research with significance. If I am able to complete my master's course successfully, I would like to become a university professor or enter a research facility. I would be ecstatic if my research could have some sort of contribution to China's policies.
Lastly, do you have any advice for any aspiring exchange students from China or the rest of the world?
I think studying abroad is a very good opportunity. I think it is a very significant part of life. It is very helpful in constructing your outlook on the world, and if possible, would like everyone to try studying abroad. I think it will change your life. It will greatly affect a variety of your strengths and abilities in the long run.
Thank you very much for today! I wish you the best of luck on your research.
I'll do my best to successfully complete my master's course!!
Photo Gallery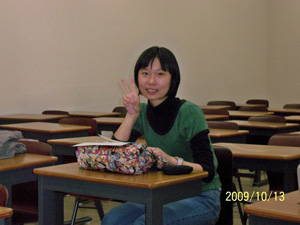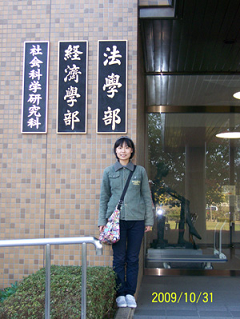 In front of the Faculty of Economics