I experienced something that can only be done in Japan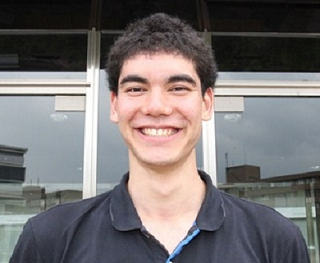 Name: Andrew Lee Kota Mancus
Nationality: United States of America
Major: Japanese, Economics
Program: Japanese Language and Culture Study Program, International Center
Hobbies: Watching Sports, Eating local food on a Trip
Interviewed on July 6, 2010
Thank you so much for allowing us to interview.
Thank you for choosing me.
At first, I'd like to ask; why did you choose to come to Japan?
Well, my mother is Japanese and my father is American, and I was born and raised in America. I always felt like although I was taught Japanese since I was child, I have a very distant connection with Japan because I have never lived here, despite having family in Japan. I have come many times during summer vacation, but I've never lived here, so I thought it would be great to live in Japan for one year and sort of understand more of the culture and improve my language ability that I could somehow in the future become some sort of bridge between Japan and America. I guess I wanted to explore my roots a little more.
What is the most interesting thing about Japan?
I might have to say the people. People are the same in America and Japan but I guess the personality and the way people interact in Japan is different from the way Americans interact with each other. Most of the Japanese people I've met have been extremely friendly and fun to be around. So I enjoy meeting new people in Japan, using and improving my language ability. It's given me a chance to learn more about who I am, and develop myself as a person.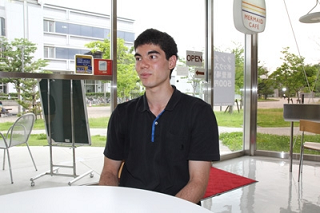 I am sorry this is very personal question. I'd like to ask you which is your identity? You are American or Japanese?
I find myself in big sporting events like the world cup and WBC, I do root for Japan. But in order to come to Japan through my study abroad program, Japanese citizens are not allowed to apply for it. At that point had dual citizenship but Japan is very strict about dual citizenship. When I turned 20, I had to make a choice between Japan or America, and at that point, I guess since I was born and raised in America I feel more comfortable speaking English, so when it comes down to it, I am an American. So I decided to get rid of my Japanese citizenship, stick with American citizenship, and I was lucky enough to be chosen for the scholarship and come to HU.
Were you interested in HU?
At first I was little surprised because I spent last summer in Hiroshima city, working at the Hiroshima Peace Culture Foundation, and that to me was going to be my Hiroshima experience and spend one year somewhere else. So I was surprised to find out that I was coming to Hiroshima University. Now that my full year here is coming to an end, I can definitely say I had a great experience. So at this point, I have no regrets about it.
Glad to hear that. I want to ask you two things: how was your campus life and what did you study?
The biggest part of my campus life would have to be the volleyball team. It was more of a commitment than I initially thought it would be. The team practices 6 days a week for 4 hours a day. Before even coming to HU I was already in contact with them. I sent them an email saying "I'm going to be studying abroad at HU for a year, and if you don't mind I would like to join the team," and they were very welcoming. So I arrived at HU on October 3rd and went to my first practice on October 4th, within 24 hours of being here-completely jetlagged! And on that day, they handed me my uniform and we took a team photo which really took me by surprise. It was a tough experience in the sense that it's a real commitment. Practices run from 5-9pm which interferes with dinner and makes it tough to make plans with friends. But at the same time, I was using that time to enjoy volleyball and form a strong connection with everyone on the team which was an extremely valuable experience for me, and it's something that I'll treasure for the rest of my life.
How do you feel about the Japanese club team customs? As you know there is sempai and kouhai (upperclassmen and underclassmen), and the kouhai have to listen to what the sempai say.
At first it was really difficult for me to understand where I fit into the system. Especially since there were 2 first-years who were older than me in age, but because of the difference in the academic calendar between Japan and the USA, I was further progressed in terms of school year. So at first, I think everyone had trouble deciding whether I would be treated as one of the older guys or younger guys on the team. But they understood that I'm not familiar with the customs, and I was just focused on making sure I would be able to communicate with everyone on the team. Eventually, I was able to be on friendly terms with everyone without having to worry about who I'm speaking with. So for the most part, I was a witness of the sempai-kouhai relationship, which was a great learning experience for me in terms of Japanese culture.
Could you tell me more about your play on the volleyball team?
I'm a middle, which is a position played at the net and it's my job to get blocks and spike quick attacks. But when I first arrived, there was an obvious gap in experience between me and the rest of the guys on the team, so I didn't make it onto the starting lineup until halfway through the year. I was able to make an impact during the Spring League, Shikoku/Central Japan tournament, and the Western Japan tournament !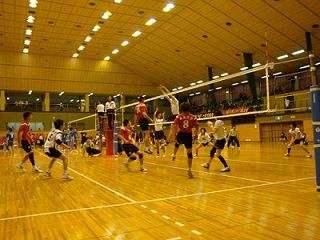 I think it's sometimes hard to balance club sports and studies. How were you able to manage your time?
I think there are two schools of thought on this. Sometimes if you don't have any obligations, you think you have all the time in the world to get your work done, but end up wasting your time and eventually panicking in the end. But if you have a busy schedule, you're conscious of all the things you need to get done so you have to think more about how to use your free time. So this taught me to discipline myself. It was tough, but it was a good learning experience.
You're always walking with a lot of friends. What are your friends like?
I think I have a good balance of international student friends and Japanese friends. Among international students I think it's easy to relate to one another because there's already a connection in the sense that we're foreigners in Japan and everything we're going to experience is new. And most of my Japanese friends are either part of the volleyball team or HU students who are actively seeking international exchange. HU is a very international school, and there are students who go out of their way to help make our experience in Japan a fun and memorable one. I've definitely met a lot of great people here.
I want to ask about your studies. What have you studied since coming to HU?
Most of the classes I've taken are Japanese language and culture classes taught in Japanese. I was free to choose to take classes geared towards international students and also classes with Japanese students. Both were very interesting, but I particularly enjoyed the challenge of sitting in on a regular class among HU regular student.
Was it easy for you?
The workload really depended on how hard you were willing to push yourself. For the international student classes, the students are a mix of those who need the credits to transfer and those who don't. Not everyone would always attend class if they were just there to experience the classroom setting. So it really came down to how much work you put in, which is how much you would get out of the class. For me, this freedom gave me the opportunity to really hone in and concentrate on what I wanted to improve on.
Your Japanese is so good; do you still have any problems with the language?
Yes, definitely. Japanese is hard! My speaking and listening is okay, but I still need to expand my vocabulary, and my reading and writing has a long way to go. But I also feel like Japanese is something that isn't only learned in the classroom. I think I learn just as much outside of the classroom just by having fun with the volleyball guys, making Japanese friends, and just through my daily activities. Of course, by using the language often, I do make tons of mistakes, but without that trial and error, I wouldn't be allowing myself to grow.
So you go out with your friends on the weekend?
Yes. The international students organize something called "the lake party" where they gather outside and drink by the lake. It's a BYOB event so you can decide how much you want to drink, if at all. I think this is how most of us got together and met in the beginning, since nobody really knew each other at first. That still goes on, so we have a good time there.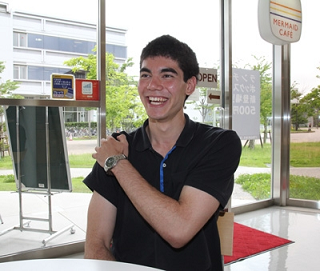 Do you want to spend more time in Hiroshima, or do you want to go back to the USA soon?
Well I only have two months left here which is a bittersweet feeling because I had a great year here and would like to stay longer. I feel really happy when the volleyball players say they wish I could have stayed longer, and definitely feel feelings of sentiment when people say they wish I didn't have to go home. But at the same time, I do have friends in America waiting for me to return, I have to graduate from school, and prepare myself for the next step in my life. But I definitely feel like I will eventually end up back in Japan, so I look forward to one day being able to reunite with the friends I made here.
How will you use your experience at HU to build on your life from here?
Well one of my goals for coming to Japan was to improve my Japanese, which I think I have done to some extent. So hopefully that will help me in my future, as I hope to one day return. Also, the international students at HU came from all over the world, so I wasn't only exposed to Japanese culture, but it was a very international experience. At first, I wasn't sure if there would be a cultural barrier among us because of the different customs and traditions that we are used to, but to my surprise there was no clash, and it proved to be a valuable lesson to help me broaden my horizons as well.
What do you want to be in the future after you graduate from university?
Right now I'm a double major between Japanese Studies and Economics. I don't really have a "dream job" so right now I want to focus on learning more about how the world works. But I do want to find a way to become a bridge between America and Japan and hopefully help improve relations between the two countries.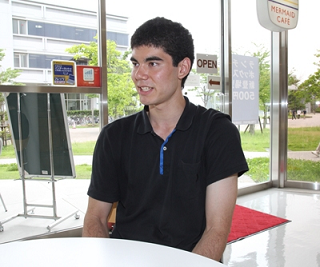 Do you have any advice for future students who want to come to study in Japan?
One thing I learned from experience is that it really takes a lot of courage to come to an unfamiliar country on your own. It's really easy to get lost in the excitement, which to an extent is a good thing, but I think it's important for prospective international students to make goals for what they want to accomplish by coming to Japan before coming. Personally, I preferred to socialize with Japanese people and put myself in an environment that would force me to use Japanese to communicate, which to me was the way to capitalize on my trip to Japan. I don't know exactly when I could come back, so while I have the opportunity, I wanted to build on my current Japanese ability by socializing with Japanese people. If I had come to Japan and spent the year in the library studying kanji, something I could do back in the States, the experience wouldn't have meant as much to me.
I also think it might be a good idea to be outgoing and challenge yourself to do something new. I joined the volleyball team, which was my chance to experience the Japanese sports world. As I said earlier, it wasn't always smooth sailing, but I can look back on my experience and say that I committed myself to the team, didn't give up when it was inconvenient to go to practice, and was accepted as a member of the Hiroshima University Volleyball team. I don't know if there are any other international students who joined a sports team, but I can go home with the pride of knowing that I experienced something that can only be done in Japan, that not even all Japanese students can say they were a member of. The feeling that I was able to leave my mark on the volleyball team in my lone year at HU, and have a place to come back to in the future, is the end product of the work I put into the team this year.
Okay, well thank you very much!
Photo Gallery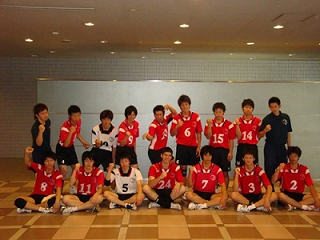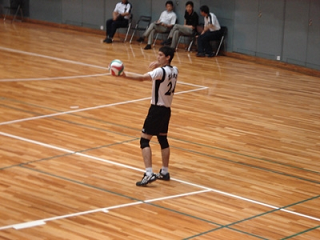 Serving on the Game of Shikoku/Central Japan Tournament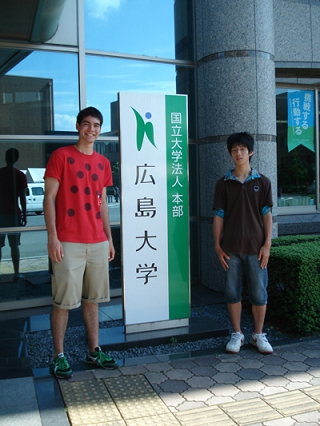 First Time Visit Hiroshima University with His Host-Brother