"Japan was the right choice for me"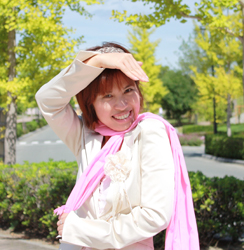 Name: Nguyen Thi Minh Nguyet (MC)
Age: 27
Country: Vietnam
Year: Completed Masters Course
Major: Environmental Sciences, IDEC
Hobbies: Sports (table tennis, bowling, jogging, especially badminton)
For our fourth edition of "Voices", I interviewed Nguyen (MC), a now graduated Masters student in Environmental Engineering. With a passion for understanding the environment in order to solve global environmental issues, Nguyen is ready to step forward to the next phase in her life and her career. Find out how studying and researching at HU has helped Nguyen get the skills and confidence she needs in finding a career.
First, thank you for allowing me to interview you today. What was your motivation to come to Japan?
Hmm...let's see...I came here for many reasons, not just one. For example, when I was a child, I used to watch TV and there were many stories about Japan, like movies and stories on the news. There were features on the atomic bomb, of course, and about the rapid development of the Japanese economy - as you know they recovered their country very quickly - and I was so impressed by that. So at that moment, I really wanted to come here. Also, one of my teachers in Vietnam was a Doctorate student at Kyushu University and he suggested that I come here to continue my studies.
So what drove you to Hiroshima University especially?
I was fortunate enough to recieve support from JICA (the Japan International Cooperation Agency) and in the guidebook I recieved from them, I found Hiroshima University. The university met my background interest in environmental engineering and my academic needs, so I came here to study.
I see. Could you tell me a little more about your major in Environmental Engineering?
When I was in Vietnam, my first majors were in soil sciences and water-related studies. I studied geographic information systems (GIS) and remote-sensing applications in natural resources. Here in Japan, I've continued my studies of environmental sciences but mostly on water, applying GIS and IEC (Ion Exclusion Chromatography) which is an advanced method for water chemical monitoring. I carried out my water studies in the northern part of Hiroshima City as part of an IDEC project with other Japanese students and my professors supported me 100%.
How did your interest in the environment begin?
The environment has become a global issue: we need to protect it, to study it, to understand it even better so that we can understand and solve environmental issues. For example, in my country, everyday when we went out, we had to wear a mask because the air was so dirty. Air pollution is a really big problem in the big cities because they're so crowded. Also in developing countries, we don't have such good transportation systems which also leads to pollution, so I just felt very uncomfortable. So I hope that by being a student of environmental sciences and reading lots about global issues (global warming, desertization, water, etc), I can learn about environmental technology to protect the environment. Actually, I think Japan is one of the best countries to be in to learn about environmental technology. The air is clean here; we have a good environment. The garbage is separated and collected differently too, and I really admire how they were able to set up that system efficiently. That's why I think Japan was the right choice for me.
How many years have you been in Japan?
I have been here about 2 years now. Everything is really nice here. I come from a developing country and in comparison, of course, there are so many differences between the two countries. For example, the economy, traditional customs, living styles, systems - everything is different. We're both Asian peoples, yet there are so many differences (laughs). Of course we have some things in common but mostly there are differences, and I find those differences really fascinating.
What was one of the biggest differences that surprised you?
Surprised me in a good way or a bad way? (laughs) In a good meaning, what impressed me the most was how beautiful and peaceful Japan is and how hardworking and kind the Japanese people are. For example, I would go to IDEC around lunchtime and then work there until very late, maybe 1 or 2 in the morning. Then I would go back to my apartment by myself, but I never felt worried or scared because of the good security here. Everybody looks friendly and they're also helpful. And of course, I don't have to wear my mask when I go out (laughs). Also, my professors and friends are all so hardworking; they're always in the lab or their office, and whenever I need any help, like if I need directions, they guide me to where I need to go. Or if I have heavy luggage, they help me carry it up the stairs and I feel so grateful for their kindness. I travel a lot in Japan and I've never once had a problem.
I'm glad to hear that. What types of opportunities has your time in Japan provided you?
I had the opportunity to cooperate with the local government, IDEC researchers, lecturers, and Japanese students during the IDEC water study project I mentioned earlier. It also gave me a chance to better my Japanese, and since I didn't have to go back to Vietnam to collect data, it really was convenient for me, (laughs). It's very hard to bring water back to Japan for monitoring chemicals and such. It was also a great opportunity to learn about IEC and I was able to complete my research based on that project, as well as learn not just about the Japanese environment, but about Japan itself.
I also attended many conferences like chemical analysis conferences, ecology conferences, etc. I think I went to 5 or 6 of them in Japan and one in Australia too. But it wasn't just for fun (laughs). We had to work hard to prepare and make presentations at the conferences, listen to experts give their presentations…
Were you nervous about presenting at conferences?
Of course I was nervous since I was presenting in front of my supervisors, professors, experts...! So in order to be more confident, I had to prepare very carefully and read over my presentation many, many times as well as practice many, many times before presenting at the actual conference. We present in a group so we have many people who present and my supervisors and TAs helped me a lot. I also received help from the other group members. They helped me to understand Japanese questions and sometimes English questions too. I would also give my presentation in front of my supervisor once or twice before the conference. After the actual presentation, my group and my professors would have a group meeting and we discuss what happened at the conference, the good points and the bad points, things to improve on, etc. So from conference to conference you learn more and more.
Has that feedback helped you to become better and more confident at making presentations?
Of course. At the first conference, well, at all conferences, there are 10 minutes for presenting and 5 minutes for questions. But the first time I presented, I took 12 minutes for the presentation and my professor said that I should try and fit with the schedule and give people more time to ask me questions, which will help me understand my topic better. So the next time, I presented within the 10 minutes and just got better and better every time.
Great! So what do you plan to do now that you've graduated?
Hmm...Of course I have to go back to my home country since I've finished my course here and my scholarship is ending. But, I plan to find a good job, better than my previous one, in research. I actually would like to work for an NGO (non-government organization) for the environment and human rights. I would also like to try and work at a university as a professor.
Do you feel that your time here has helped you to become more confident in pursuing your dreams?
I do. Now that I have a Masters degree, I have the knowledge and experience I need. Before, when I had just graduated from undergraduate studies, I didn't have as much specialized knowledge and didn't feel confident when I applied for jobs because they would ask me how long I had been studying or if I had any practical experience and I had nothing (laughs). But after finishing my course here, I feel much more confident.
Any advice you'd like to give international students who want to study at Hiroshima University?
Right now there are 2 new Vietnamese students who came here about 4-5 days ago, and they asked me the same question (laughs). I told that that in my opinion, you should feel confident and try to make Japan feel like your hometown. I also said don't feel like you are a stranger here -- you should go out and open your heart, make new friends, and discover your life here. And, in order to do that, you have to feel confident and know that everything will be okay. I also told them to follow the rules and not break any laws (laughs). Breaking the law is really abunai (dangerous)! (laughs).
But I also recommended that they try and adapt to the new system because Japan and Vietnam are different. You have to adjust your work habits and learn a new transportation system, etc, when you're here. So I told them to observe others and do what they do, not to just do whatever they want. Also, if you have a problem, don't hesitate to ask people for help -- people here are really kind and willing to help.
But the most important thing is that we have to study since that's what we came here for. Be sure to study, don't be lazy, but don't be too serious all the time. Enjoy studying, and we you have time to relax, relax. Try out to play badminton! (laughs). Go to the lab, go to the library, discuss things with your professor, tutor, and friends... but be sure also to keep a degree of independence too. You can't always rely on others and bother them all the time. Life here can be easy or hard, it's up to you.
Nice PR for badminton (laughs). Have you made a lot of friends through badminton?
Of course. There are around 26 members in our club now -- some students go back to their countries, other new students come in... It's very informal; students play when they have time to play. I usually send a message out to everyone and invite them to come play with us at such a place and time. There are lots of different people who come to play too! Students from Cambodia, Vietnam, Japan, Myanmar, Laos, Nepal, Indonesia, Australia, and many, many more. And even though we speak our own kinds of English, we can still understand each other (laughs). Sometimes it's funny how other countries pronounce words differently than others, so the first time you meet someone with their own version of English, you have to concentrate on what they're saying, but each time you get more and more familiar with their speaking style.
Well thank you so much for allowing me to interview you today and congratulations on your graduation!
Thank you, I think I was really lucky to spend time here. I would like to come back for travel of course, but I would like to continue my studies here if possible in the Doctorate Program.
Well I wish you the best of luck in pursuing your Doctoral degree!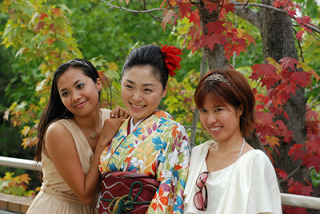 MC and friends enjoying autumn in Japan.