Studying abroad is a way of "mixing" with a different culture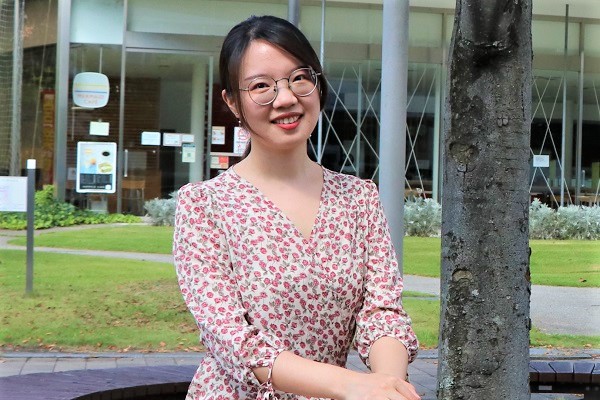 Name: Liu Zhe
Home Country: China
Affiliation: 3rd year PhD Student in the Graduate School of Letters (part of the Graduate School of Humanities and Social Sciences since April 2020)
Hobbies: Listening to music, playing the ukulele, and traveling
(Interview Date: September 22, 2021)
What kind of place is your hometown?
I come from a city called Xuchang, located in the Henan province of China. During the Three Kingdoms Period, the city was temporarily the capital of the Wei Kingdom, and as such, there are various tourist attractions that are related to the Three Kingdoms Period.
For instance, when Guan Yu, one of the heroes of the novel Romance of the Three Kingdoms, was taken prisoner by his enemy Cao Cao, he stayed in his residence reading the book Spring and Autumn Annals (Chunqiu) until dawn. The diligence of Guan Yu has been passed down to future generations and his residence was named "Chunqiulou," which is still carefully preserved today.
When Guan Yu went to leave Xuchang to reunite with his master Liu Bei, Cao Cao was very reluctant to part with him, so he gave Guan Yu a cloak that he had prepared especially for him and asked Guan Yu to continue to serve under him. However, Guan Yu took the cloak on the tip of his sword and rode away.
To commemorate these two heroes, Guan Yu, who was loyal to Liu Bei to the utmost extent, and Cao Cao, who cherished talented people regardless of whether they were friends or foes, a bridge called the Baling Bridge was built at the spot where the cloak was raised, and it is still one of the main tourist attractions in Xuchang.
You used to study at Niigata University before coming to HU, right?
Yes, that's right. During my third year of undergraduate studies I came to Japan for one year as an exchange student. I was able to interact with students from many countries during the lessons at Niigata University, which was very fun! I was also a member of the tea ceremony club and became fascinated by Japanese culture, which led to my decision to enroll in a Japanese university for graduate school.
In Niigata I also learned the harsh reality of winter (laughs). I attended the Ikarashi Campus, which is a large campus close to the coastline of the Sea of Japan. I remember how difficult it was to walk to classes on days when the snow had piled up as high as 20cm, and the difficulty of the Japanese language when taking classes alongside Japanese students.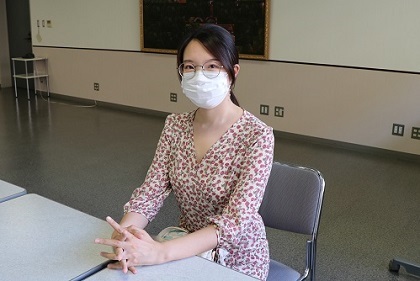 Why did you decide to come to HU for your graduate studies?
As I mentioned earlier, I had decided to go to Japan, and just as I was wondering which university to go to, one of my professors who had studied at HU recommended it to me. They told me that the teachers at HU were kind, and that the campus was spacious and very pleasant.
When did you find out that the main campus is not in Hiroshima city, but rather in Higashi-Hiroshima?
I didn't know that until I arrived! I was surprised once I got here (laughs).
But fortunately, I liked the Higashi-Hiroshima campus right away. I saw the small torii gate floating on the Budou Pond on campus and thought "how cute!" I was also impressed by the international atmosphere created by the International Square, where trees commemorating friendship with many overseas partner universities have been planted. I thought it was interesting to see that there was a mixture of Japanese (torii gate) and international (trees to commemorate overseas partners) things on campus.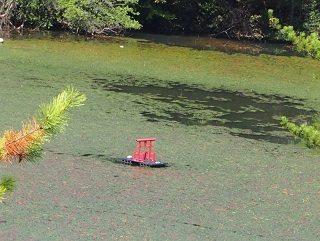 Torii gate floating on the Budou Pond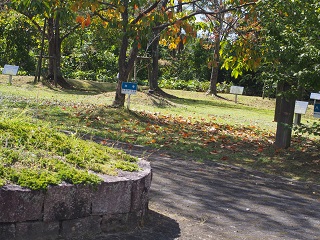 What do you think of the facilities on campus?
I use the library every day. I go there to borrow books, and I also love the archives. There's a peaceful atmosphere in the archive and I feel at home when I'm surrounded by books.
My favorite dish at the cafeteria is Taiwan mixed noodles – that one is delicious! It's on the special menu of the Asian Fair, I go there every year without fail.
What do you think of classes at HU?
Because I enrolled at HU as a graduate student, many of the classes were seminars, with around 20 students at most. I felt that being able to engage in lively discussions between professors and students was very rewarding.
I heard you had a part-time job teaching Japanese online. How do you feel about online classes compared to in-person classes? Either as a student or as a teacher yourself.
I prefer in-person classes, because I believe that a class is not just about the teacher imparting knowledge, but also about the interaction with the students. So, as a teacher, I feel a little uncomfortable during online classes as I can't see the students' facial expressions, and I feel as if I am talking to myself.
As a student, I find that in-person classes have a much livelier atmosphere. I feel a little nervous about speaking up during online classes, even if I want to. So, I think in-person classes are better for me.
However, it's a different story for academic conferences. Usually we have to spend a lot of time and money traveling to these conferences, but now that a lot of them are held online to prevent the spread of infection, it is much easier for us students to attend.
What kind of research are you currently engaged in?
I am a researcher in the Graduate School of Letters, Comparative Studies of Culture and I am doing a contrastive study of language planning in China and Japan. I am interested in how the standard language, script, and writing style of the two countries have been determined in recent times, and what kind of plans the two countries have made for their languages.
That sounds like a very difficult topic!
Not at all (laughs). It is a subject closely related to our lives, as it has had a great influence on the words and characters we use today.
In both China and Japan, the words and characters we currently use are different from those used in ancient times, and have been reformed in modern times. Since then, various language proposals have been debated, and only after the war were those proposals finalized as policy. Even today, adjustments are still being made based on actual language usage.
I heard that there was once a proposal to remove Kanji from the Japanese language.
Yes! That is also part of my research. Sometime around the year 1900, a language policy based on the abolition of Kanji was enacted in Japan.
The reason why such a proposal was made was that at the time many Western countries were much more developed than Asia, and both Japan and China had learned from the West. So, it was thought that if Japan could use a phonetic alphabet like the West, there would be no need to learn difficult Kanji characters, and education and paperwork would be more efficient, allowing Japan to develop like Western countries.
However, in the 1960s, this proposal was abandoned after intense debate in the Japanese Language Council, partly because documents would be difficult to read without Kanji.
So, although the total abolition of Kanji didn't happen, Japanese Kanji were simplified to be easier to use during the Meiji, Taisho and Showa periods. On the other hand, modern Chinese characters (simplified Chinese characters) are even simpler than the Japanese ones.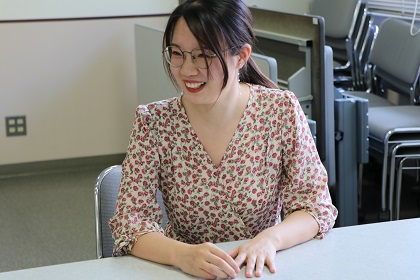 What is the appeal of this research?
I am currently doing a comparative study of China and Japan, and I find it very interesting to see the differences in thinking and culture between the two countries, even regarding the same language policies.
Also, I have never thought about such things from the perspective of a country before. But after I started this research, I started to think about various things from a country-level perspective. I am really happy that I have broadened my horizons, and that I am able to do research at a much deeper level than before, which in turn allows me to appreciate this research even more.
So, are you now working on your dissertation every day?
Yes, I'm desperately writing my paper every day (laughs).
In our graduate school, we usually consult with our professors first to decide on a research theme and how to go about writing it. Then we write it ourselves and submit it to the professor again. In some graduate schools, there are teams of students who work on a common theme, but for us, each student works independently on their own topic, although there are sometimes students who work together if they have a similar subject.
What do you enjoy doing when you are not working on your research?
Going to the Seto Inland Sea! I like the Seto Inland Sea because it is calm and gentle, unlike the Sea of Japan which can be quite windy and rugged. Also, I think the name "Seto-nai-kai" sounds very cute. There are many islands in the Seto Inland Sea, and I especially like the Hill of Hope on Ikuchijima Island. The white marble buildings are very beautiful.
For a change of pace, I used to like traveling around Japan before COVID-19, but nowadays I like to stay at home and watch movies, listen to music or play the ukulele.
What kind of extracurricular activities have you been involved in?
I've never joined any clubs at HU, but I've had lots of part-time jobs!
In my first part-time job, I made sushi at a supermarket. Then, in the second year of my master's degree, I worked as a cashier at the Co-op shop on campus. Also, as I mentioned earlier, I taught Japanese to Chinese students online. My students ranged from high school students who wanted to study in Japan, to adults working for Japanese companies.
After starting my PhD, I worked as an interpreter and salesperson at an electronics store. At the same time, I taught Japanese to technical intern trainees at a Japanese language school in Mihara. Some of the students were from Vietnam and Myanmar, and when we found it difficult to communicate, we used gestures, it was a very enjoyable experience.
And now I work as a PA* at the Student Plaza on campus, interpreting for students who are renewing their residency. I only started this job recently, so there are still many things I am unsure of, and I feel nervous every day. In addition to the long-term jobs I have mentioned so far, I also work as an exam invigilator occasionally.
Through all of these jobs, I have been able to meet and interact with both Japanese people and people from all around the world. I think it is so important to have many experiences to deepen our understanding of different cultures.

*Phoenix Assistant: Students who work part-time at Hiroshima University.
Do you have a message for anyone who might be thinking about studying abroad?
Before coming to Japan, my idea of studying abroad was purely about learning knowledge. However, after 5 years of experience, I now think that while learning is important, it is also so important to feel the culture of the country you are staying in. The same is true for research, and I think it is important to learn local research methods.
Nowadays, the internet is very useful for finding information, but to experience a culture first hand is something that can only be done physically. I believe that studying abroad is a way of "mixing" with a different culture.
Of course, there are many students who currently cannot come to Japan due to the impact of COVID-19. So new options such as studying remotely may have to be considered in the future. Even if that is not the case, it is also true that studying abroad can be very expensive, some parents will worry, and it can be a real challenge.
But, if you have the will to study abroad, please don't give up! Go to Japan, or to whichever country it is that you want to study in! I am certain that one day your dream will come true.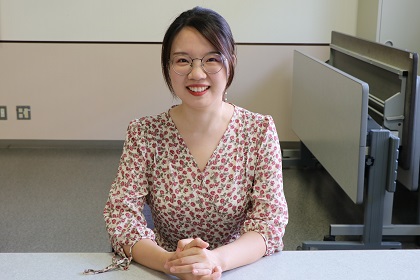 Last question. What is your dream for the future?
My current goal is to return to China after graduation and become a university teacher. And in the future, if I can, I would like to work as a researcher in language planning and policy, doing research that is useful to society in some way.
But my immediate goal is, of course, to graduate (laughs). After graduating, I plan to return to China, but given the situation regarding COVID-19, it might be difficult for me to come back to Japan once I have left. So, while I can, I'm trying to organize everything I've learned in Japan until now in my own way. For example, what did I feel during my six years in Japan? And how should I communicate what I felt in Japan when I return?
I think it is very important to let yourself feel and be inspired by your surroundings when studying abroad. There are many things that cannot be conveyed through videos and photos. In this regard, I think there are still many things for me to experience. So, I would like to make the most of the time I have before I graduate and experience as much of Japan and Hiroshima as I can!
I wish you all the best for the rest of your time at HU, and I hope that your dreams will come true. Thank you very much for taking the time to speak with us today.
Thank you very much, too.
Photo Gallery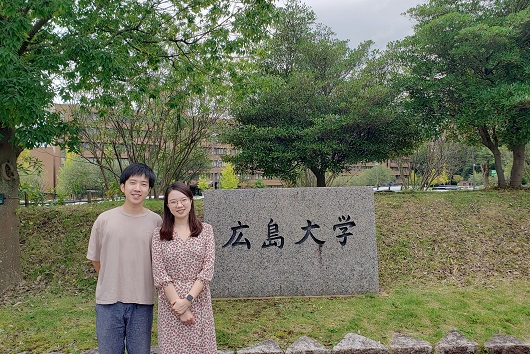 In front of Hiroshima University with my husband
(student at the Graduate School of Advanced Science and Engineering)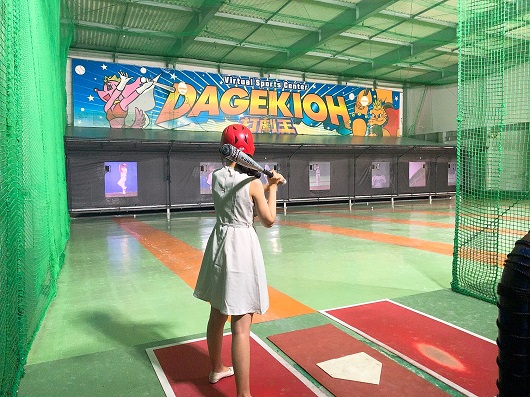 First time trying batting (so difficult!)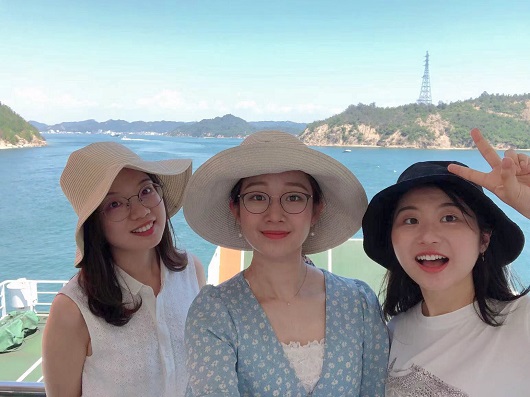 On the boat bound for Naoshima with my friends Zhou and Guo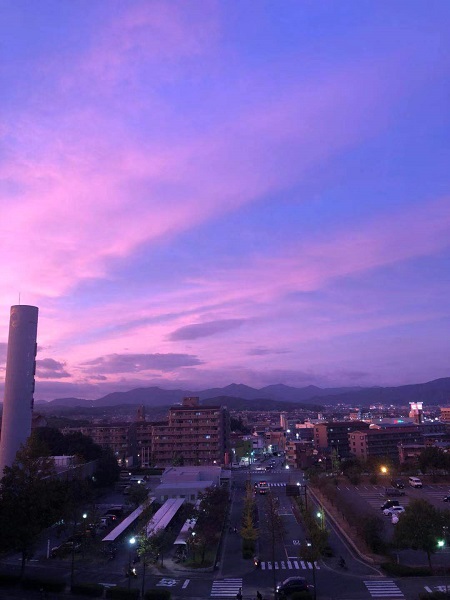 Purple sky taken from the School of Letters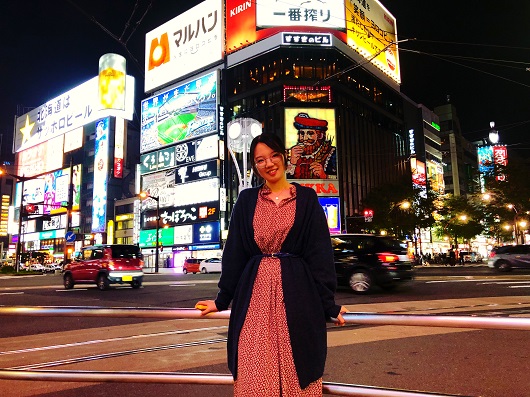 Upon thorough implementation of infection prevention measures, masks are sometimes removed during interviews for the purpose of taking photographs.