"Knowledge is Power"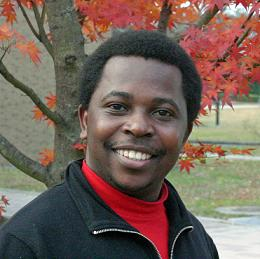 Name: Manasseh Emmanuel
Age: 29
Country: Tanzania
Year: M1
Major: Artifical Complex Systems Engineering (Graduate School of Engineering)
Hobbies: Music, Movies, Soccer
In this edition of "Voices from Abroad," I interviewed Manasseh, a Masters student from Tanzania. Impressed by Japanese technology and communications systems, Manasseh came to Japan to study telecommunications to improve our everyday lives. But telecommunications isn't the only thing he's interested in. Manasseh hopes to be involved in politics someday. But what does telecommunications have to do with politics? More than you might think! Find out why in our 6th Edition of "Voices from Abroad"!
Thank you for allowing me to interview you today. So what brought you first to Japan, and second to Hiroshima University?
In Tanzania, I did my Bachelor of Science in Telecommunications Engineering, after finishing my undergraduate studies I worked for 2 years with mobile (phone) service provider companies as an engineer, I had experience, but was interested to go for further studies in my area. The main considerations at that time were countries that had developed technology. With Japan being among those countries, there was no doubt that I wanted to come, and it happened that I received a scholarship from MEXT*. Japan had all the criteria I was looking for: well-developed communication systems and technology in general.
As for why HU, there was a mentor of mine who had been in Japan for almost 8 years at HU for his Master's, Doctoral, and Post-Graduate for 2 years. Talking to him, he told me that Hiroshima was the best place for me. I almost went to the same research lab as his! (laughs).
Are your classes in Japanese?
Yes, classes are in Japanese, but all of my research is in English, and when I speak to my professors, I also use English. But, one of the most challenging things is that for Master students, I have to take all the courses which are in Japanese which…is not easy. Considering that I just studied Japanese once I came to Japan (studying for 6 months, and then another 6 months), and then I was expected to go to class with technical terms while even daily conversation is difficult... it's not an easy task.
How long have you been in Japan?
I came in April2007, so it's been more than a year and eight months now.
What are your thoughts on Japan and being here?
It's a nice opportunity for me, and even though Japanese is a problem and it's hard to understand lectures, I don't see it as a problem now; I look at is as a privilege to learn a new language. If I had gone to another country, I might have just continued to use English like I do in my country, but now I have the chance to learn another language, though I haven't yet mastered it (laughs). Some foreigners seem to think that learning Japanese is a burden and a problem, but I decided to consider it a privilege.
It takes time (laughs). So what is your research primarily about?
My research is, in layman's terms, on antenna selections in mobile communications systems (mobile phones). It has been proven that when small equipment like mobiles have more than one antenna, it improves the quality of the signal. The more antennas you add, the better quality the signal. However, taking device portability into consideration, you can't add many antennas. My research is on how to utilize at least two antennas, and receive strongest signal from the mobile communication towers which use more than two antennas (technically: antenna selection of MIMO OFDM systems).
Why did you choose to study telecommunications?
What moved me to work in telecommunications engineering was when I was in junior high school. I went to a technical school so I was really interested in technical things. I did civil engineering related work at the technician level, but I wasn't finding myself there -- that's when I realized that I liked electronics and communication systems. When I went to university in Tanzania, Telecoms was the best choice for me.
It is well known that information technologies have a profound impact on a variety of business applications and help improve the quality of service; technology has simplified work and is an essential ingredient in the strategic plan of any organization. Telecommunications is increasingly recognized as a core infrastructure component along with electricity, gas, roads, bridges, sewers, and water systems. To have the privilege of being involved in simplifying the lives of others is what drives me.
So what is your life like here at HU?
Actually, being a researcher is not an easy task (laughs). It is a commitment that sometimes you work hard, but you don't see the results, but that doesn't mean you can give up. I'm almost always busy, but even with researching and working morning to evening, I'm trying my level-best not to be anti-social. I'm trying to have different groups of friends that interact. But, what I can say is that from morning to evening almost, I have to be in the lab. For example, in the first semester, I was trying to juggle classes, being in the lab, conducting research, improving my Japanese...so it was really challenging. Time management was one of the most important things at that time.
Sounds really busy! Did you have any impressions of Japan before you arrived?
Yes. You know, the first impression that I had about Japan came from what they produce because their products are everywhere in the world. For example, in my country, most of the cars are Toyota, Nissan; most electronics appliances are from Sony, Panasonic and Mitsubishi -- all from Japan. From those companies, you can imagine what Japan looks like. The impression I had, which turned out to be true, is that it is a well-developed country in terms of industry and technology. I have been able to visit some of the industries, like Mazda, and I saw the way they produced goods and it really cemented that this country is well organized, using robotics systems, etc. Seeing with my own eyes really proved to me that Japan was a well developed country.
Are there many differences between Japan and Tanzania?
Yes, the differences are really huge. Japan is a well-developed country, and their standard of life is really high compared to my country. But what I can say is that in Japan, people are determined and hardworking compared to my country. I think this is the only place that you can see others working until midnight (laughs). I can't speak for industries, but from their developments, you can see that these people really work hard.
The Japanese love their country. In some other places, everyone is interested only in him/herself; but in Japan, they really love and work for the betterment of their country.
Is there anything that surprised you about Japan?
A lot of things surprised me, but let me talk about 2 things. One that surprised me was that in Japan, people are very smart and very clean. In my experience, it's only in Japan that I can see people just walking around, picking up dust (trash) and putting it in the dust bin. It showed me that Japanese people do things not only for themselves, but they know how to preserve their own environment. It really touched me. I also remember that when I came to Japan -- couldn't speak a word of Japanese --but when I faced a problem and went to a Japanese person for help, even if they don't understand English, they were still interested to direct me and give me information, even using gestures since we couldn't communicate. It showed me how kind they were to foreigners. I'm not sure it's like this in other countries.
Another interesting experience I had is that when I ride the trains, everyone is sleeping, but somehow they don't miss their stop! (laughs).
What about the university? What is the best part about HU?
Right now, I'm in different groups with wonderful people. One of the groups is called the Subaragoi Club, which allows me to interact with different peoples and we have a lot of fun, so I feel good being in Hiroshima. But we always meet to part and we part to meet: I have a lot of friends in my country, but when I parted, I met other friends, which is why I always use the phrase, "we meet to part and we part to meet." Even in these new groups, the only bad thing is when those closest friends are graduating and going back to their home country! You really feel it -- knowing that you'll miss them and they're important to you and were there for you when you needed them. But they have to go, and I only believe that others will come.
Sage advice. So tell me more about Subaragoi -- what do you do there?
Subaragoi is a group of international students and some Japanese students that support students from the student point of view and try to talk and address things about the environment and our daily lives. For example, we conduct seminars about Technology transfer and environmental preservation and how to make the world a better place. Not only seminar, but sometimes now we're starting programs to make people aware of what is going on in the world. For example, some members talk about their research, not using technical terms, but speaking so that even a layman can understand, and with those ideas, awareness grows. We also want to talk to society and work with society. Our members do peer work and volunteering in different areas as well.
Sounds like a great experience. What are your plans after you complete your course?
After completing my Master's program, I'm planning to go for my Ph.D. at HU. After finishing all my studies, I have to go back to my country and my target is to be a politician someday.
A politician? Very different from your studies now! (laughs) Why are you interested in being a politician?
Yes, it is totally different (laughs). But I think that politics is a matter of facts and leading, so you can be any profession. I can also use my profession to speak about and negotiate in those areas (technology). Some politicians do not have sufficient knowledge about their areas and they just do as they please, but if you have the right knowledge, you will do the right thing. I can also use my ideas to review systems and make sure that our country is growing efficiently and progressively.
Politics is a difficult business -- but no matter what good idea you have, or what good intent that you have, if you want something to be implemented, you have to be there in the field. I want to work for the betterment of my country; I have to be in politics to implement policies to change society. All politicians need is vision, love, and putting others first and not personal interest.
"Knowledge is power," right?
Do you have any advice for students trying to learn Japanese?
First: keep the main thing the main thing (your studies). The second thing is to make a lot of friends. For example, all my lab members are my friends and they help: I speak to them using the little Japanese I know, and when the classes are cancelled, they call and inform me. When you show people kindness and value them, they will come to you and you find yourself having a lot of friends. So I have friends in the lab, outside the lab, and I also attend church every Sunday so I have a lot of Japanese friends there who are eager to teach me Japanese. It's a nice place to practice my Japanese (laughs). It doesn't matter if you're an engineer, a lawyer, doing biological things -- just take it, you'll need it, and it's better to have it. Have a positive attitude, because that attitude will drive you to study.
How about any advice for students who would like to study at Hiroshima University?
First, Hiroshima University is among the best universities that you can come and learn at. I would also like to say to all international students, perspective and those who are in Japan, that whatever you do, you should enjoy life, and love and value people. Like I said earlier, when you treat people with kindness, they will come to your side. For example, by going to classes which are in Japanese (and I don't understand), the other students help to translate the material for me, or help me understand kanji, so that I understand the material. I really knew the value of people in Japan, and when you value people, they really love you, and if they love you, they're going to give you their best.
Well thank you so much for letting me interview you today, Manasseh. I wish you luck in getting you Master's degree.
Photo Gallery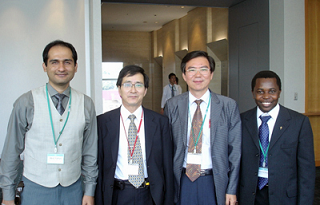 At an academic conference.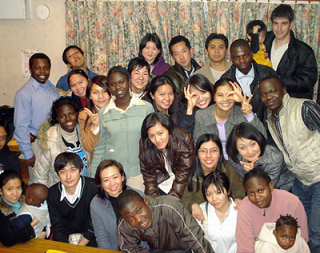 With a Bible study group.