"I've become a more international person"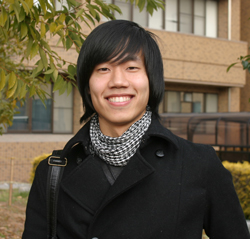 Name: Jungu Bae
Age: 22
Nationality: Korean
Major: Biotechnology (Faculty of Engineering)
Program: Undergraduate, Junior (Yr 3)
Hobbies: Sports (everything from soccer to basketball and beyond), American TV Shows (Prison Break, Heroes, Friends, etc)
In our seventh edition of Voices from Abroad, I interviewed 3rd year undergraduate student Jungu Bae of Korea. Jungu's impressive Japanese ability has him considering graduate school in Japan, but his linguistic abilities don't stop there. Since coming to HU, he's acquired a drive for learning English which has not only helped him to grow academically, but also personally. How so? To find out, read on!
Thank you for allowing me to interview you today. So first, why did you decide to study abroad in Japan?
I didn't actually have an interest in study abroad at first, but when I was a junior in high school (3rd year), I learned that there was a study abroad program in Japan that provided a scholarship, as well as has an entrance exam that didn't include my worst subject (Korean), so I thought I'd apply (laughs). Besides that, I thought that the educational environment there would be a good one for me, since science is much more developed in Japan than in Korea.
I see. So how did you come to be at Hiroshima University?
Well you see, the Japan study abroad program in Korea chooses 100 students each year, and then sends them to various universities based on the score they received on the entrance exam. With my score, my professor advised me to go to Hiroshima University, saying it would be best suited to me, so I started to make preparations.
Did you study Japanese before coming to HU?
Actually, when I was in my first year of middle school, there was an elderly woman I knew who spoke Japanese like a native, and so for 1 year she taught me Japanese. So when I started high school, I chose Japanese as my second language, but what I learned there was mostly a review of what I learned in middle school (laughs). When I was accepted to the study abroad program, I took a 6-month intensive Japanese course at Kyung Hee University in Korea, and then another 6-month intensive Japanese course once I arrived in Japan before being accepted to HU.
Sounds like a busy schedule! What were your impressions of Japan when you arrived?
Well, Korea and Japan are pretty similar. It was like "well, the signs are in Japanese, but that's about it!" Japanese people looks like Korean people, so it didn't really feel like much of a foreign country. If you ask me my impression of HU, what really stuck out to me were the buildings. All the Faculty buildings had the exact same design and shape -- nothing really changed and they all looked the same from the outside. At Korean universities, the buildings have a modern look and a really stylish. I was pretty surprised (laughs).
Oh wow, so Korean universities are stylish. So what is your life like as an undergrad?
Well, when I was a freshman (1st year), I joined the soccer club and I also played a lot of tennis. Actually, it was my first time to play tennis, since I hadn't played at all in Korea. But there was already a "Korean tennis group" which was like a club, and I learned how to play tennis there from my upperclassmen. It was a lot of fun actually and I made lots of Korean friends through the club. I go to classes, relax and drink with friends; it's fun. At first I mainly hung out with other Koreans. Since we were from the same country, we could speak in Korean, our personalities meshed well, and it was easy to become friends. We helped each other out and my Korean upperclassmen often gave us advice or talked with us about things. The program that I'm here on usually sends about 4-5 new students to HU every year, and since the upperclassmen look after new students, I've never once had any problems here. They explain how to do things here and explain the university to new students so that they can easily and smoothly adjust to their new life here.
Sounds like you have a great support system here. Is there anything that really stands out to you in your experiences here?
One thing that makes me glad I came to study abroad here is that for the first time, I actually wanted to study English. Of course I wanted to study Japanese too, but at HU, there are many people from many countries all around me. We're all studying Japanese, but for the most part, nearly all international students can already speak English. I was really amazed. It was like "I want to speak English too!" So I started to study English not in the traditional way, but in a more conversational way. For example, I really listened to English, would watch TV shows in English...I just really wanted to hurry and be able to talk to everyone in English. I of course did study English in Korea, but that was just for exams. It was always a pain, like "I don't wanna study!" (laughs) which is why it didn't really work out. When I was a freshman at HU, I took English classes with Japanese students, and then when I was a sophomore, I took an English conversation class, but by that point, my English had really improved thanks to all my international student friends, so I was able to make friends with the teacher, who was a foreigner (laughs).
When I came to HU, I thought for the first time in my life that studying English was something fun. I mean, I could use what I learned immediately with my new friends. My circle of friends expanded, and I was able to communicate cross-culturally. I would go to Lake Parties with international students and eat, drink, and communicate together. By doing so, it became really fun to study English and it really stuck with me. I think the best way to study is by socializing.
Have you been to the yearly International Friendship Party?
Yes, but what I see happen a lot is that international students will group with others from their country, say Korea, and those students only. That's not what international exchange is about. Of course there are exceptions to this, but if you're given such a great opportunity (for international exchange), I think students should have a more open mind about it. If not, there's no way international exchange and communication can begin. If there were more of those kinds of events or parties, then maybe more students would become open minded. It's not like Koreans don't want to socialize with others, it's just that without the chance to meet other people, it's difficult to expand your circle of friends. I mean, if you suddenly approach a stranger, it's kind of strange, right? But if it's at a party, there is nothing strange about it -- in fact, I think it's much easier to approach them.
You're absolutely right. It's difficult to just go in there alone. So, do you have any plans to continue your education post-graduation?
Yes, I'm thinking about going to graduate school, but likely at a different university. Don't get me wrong, Hiroshima University is a great university, but if I stay, it's almost too easy -- I'm used to the environment and the system already. So, by going to a different university, I think there might be more opportunities waiting. By trying lots of different things and meeting new people, I can experience new things and grow as a person. Once I get my degree, I'll return to Korea and gain more experience before looking for a job in Japan.
Your aim is to work in Japan? That's great!
Well, if I'm going to have to work anyway, Japan is in a solid state, and I want to be able to make use of the Japanese I worked so hard to learn, instead of letting it go to waste. I could probably use Japanese to a certain degree in Korea, but not as much as in Japan (laughs).
I think you're right (laughs). So what would you say you gained at HU?
Hmm...I suppose it's that I've become a more international person. If I had stayed in Korea, I probably wouldn't have learned about the rest of the world. I might have become one of those people who is surprised when they see a foreign face (laughs). But by coming to HU and by meeting different people and socializing with them, I came to understand that regardless, we're all the same human beings.
You've said a great thing there. Finally, do you have any advice for those who'd like to study abroad or are currently studying abroad?
I suppose it's that just by socializing with people from other countries, there is a lot that you can learn. I think this is particularly important for those who have never been outside of their own country. If you create a wide network of people from around the world and not just from your own country, it will certainly be to your benefit.
Thank you so much. That was great advice, Jungu. I wish you the very best with the remainder of your undergraduate life, and hope you'll do your best in your further studies down the line.
Photo Gallery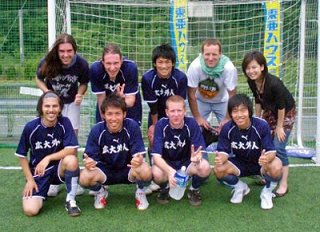 Jungu (bottom, right) and fellow soccer teammates.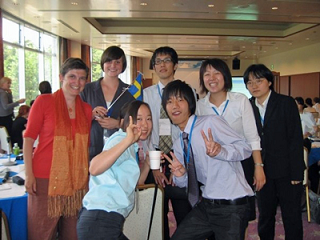 INU Student Seminar on Peace and Global Citizenship (August 2008)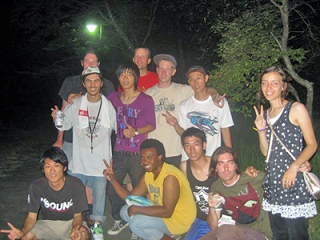 With other International Students at a Lake Party.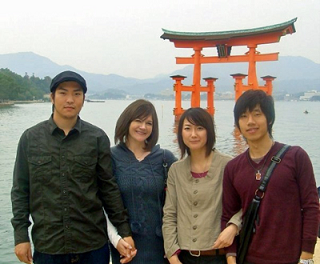 At Miyajima's famous Itsukushima Shrine.