Updated on September 18th, 2018
"Workshop on mental healthcare support for those who have been affected by the Torrential Rain 2018" was held
On September 11, 2018, the "Workshop on mental healthcare support for those who have been affected by the Torrential Rain 2018" was held by Training and Research Center for Clinical Psychology at Graduate School of Education, Hiroshima University (HU). The participants of this workshop are expected to learn the basics of disaster relief. In the total of 22 people including HU faculty and graduate students joined the workshop.
From around October, the Center's Counseling Office is going to start providing free counseling services to those who have been affected by the Torrential Rain 2018.
Updated on July 23rd, 2018
"Team UKYO" has donated HU 20 boxes of OS-1 Powder (Oral Rehydration Solution for Dehydration)
On July 18, Hiroshima University received 20 boxes of OS-1 Powder (one box contains seven sachets; each sachet to be diluted with one liter of drinking water) from Mr. Ukyo Katayama, a former Formula 1 racer, who now heads "Team UKYO" (a cycling team) in Higashi Hiroshima. After seeing a news report where the student volunteers from HU working under the scorching sun in the areas affected by the torrential rain in July, he decided to donate boxes of OS-1, which Mr. Ukyo often consumes during cycle races, to those volunteers from Hiroshima University.
Mr. Katayama, who has had glorious achievements as a Formula 1 racer in the past, now keeps himself busy with many activities including mountain climbing and cycling. He came to give a lecture to the students at Hiroshima University in July 2014.
The received OS-1 powder will be made available to those students at Hiroshima University, who will go to work as volunteers in the areas affected by the torrential rain.

Updated on July 18th, 2018
Hiroshima University Archives has undertaken restoration of the water-damaged documents from the torrential rain disaster
Hiroshima University Archives undertook some restoration on July 17, after receiving water-damaged documents from the local elementary school. They incurred damage during the torrential rain disaster in West Japan.
During the torrential rain, Fukawa Elementary School in Asakita-ku in Hiroshima city was flooded with muddy water, causing the school documents to be submerged in water. Based on the "Mutual cooperation agreement on the protection of historical materials at the time of a disaster," Hiroshima City Archives requested Hiroshima Prefectural Archives for support, and Hiroshima Prefectural Archives in turn requested Hiroshima University for support. This led to book-restoration to be conducted on the Higashi-Hiroshima campus. Click here for more details.
The infection control unit from the Japan Medical Association Team, supervised by Hiroshima University, has started its operations
Under the supervision of Hiroshima University, a special unit for infection control from the Japan Medical Association Team (JMAT) started its operations at one of the evacuation shelters in the disaster-affected areas in Hiroshima prefecture on July 13th to support the victims affected by the Torrential Rain 2018.
The first team of the Unit with two doctors including Professor Hiroki Ohge and another doctor, and one nurse from Hiroshima University Hospital, visited the Kumano Municipal Gymnasium in Aki-gun (address: 5-10-1 Kawasumi, Kumano-cho, Aki-gun).
Hiroshima prefectural government in collaboration with the Hiroshima Prefectural Medical Association is in charge of dispatching the unit. Doctors and nurses from hospitals/medical institutions in Hiroshima prefecture, who are experts on infection control, will visit the evacuation shelters.
The unit aims to ascertain whether or not there has been any outbreak of infectious diseases, and to engage themselves in evaluating the risk for the outbreak of infectious diseases in the evacuation shelters.
HU received 6,000 bottled water from the volunteers in Minamisouma city
On July 15 2018, about 6,000 bottled water were delivered to Higashi-Hiroshima campus from the volunteers in Minamisouma city in Fukushima. These bottles are meant to be a relief supply for the victims of the torrential rain that struck West Japan.
Out of 6,000 bottles, 4,000 of them have been distributed to the residents in Nakakouchi (Kouchi-cho, Higashi-Hiroshima) where the water supply has been cut, and also to the volunteers from the Higashi Hiroshima Council of Social Welfare. As for the remaining 2,000 bottles, they are going to be made available for the student volunteers who will be working at the areas affected by the disaster.
Following the Great East Japan Earthquake and the Fukushima Nuclear Disaster, Minamisouma city and Hiroshima University concluded comprehensive cooperation agreement in August 2013. Since then, the two parties have been cooperating in a wide range of fields related to community health care, industrial development, education, and environment.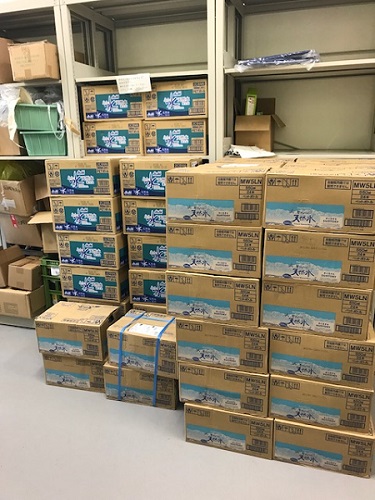 Updated on July 12th, 2018
Free health consultation service for pregnant women and infants in the disaster-stricken areas of the torrential rain is available at Kasumi campus
(Update - Aug 31) The servie ended on 30th August, 2018.
Free health consultation service for pregnant women and infants is available at Kasumi campus as follows. Consultation over the phone or via email is also available. Please note that not all the staff speak fluent English. Click here for more details.
Place: Room 305/Room 504 of the Laboratory of Midwifery and Maternal-Child Nursing
Building for the Program of Health Sciences, School of Medicine (campus map)
Hiroshima University (Kasumi campus)
Opening hours: 9:30-17:00
Front door of the building is locked during weekends and on national holidays. To those who are coming to the rooms during weekends, please call 082-257-5362 when you arrive in front of the building. Staff will open the door for you.
Contacts:
TEL/FAX: 082-257-5352, 082-257-5362
E-mail: maternal(AT)hiroshima-u.ac.jp
*Please replace (AT) with @ when sending messages.
Updated on July 11th, 2018
Start Dispatching Student Volunteers
The student volunteer group "OPERATION TSUNAGARI" has begun sending student volunteers to disaster-stricken area to help removing mud. The group sent 70 volunteers including students who do not originally belong to "OPERATION TSUNAGARI" to Saijo-cho (Fukumoto, Osawa), Takaya-cho area.
Students stuffing sandbags with mud which swept through the farm land(growing vegetables)
Updated on July 10th, 2018
"HU Students Provided Food with the Drivers Who Were Stuck on the Roads Due to the Disaster." Appeared on the Local Newspaper, Chugoku Shinbun
The local newspaper, Chugoku Shinbun, reported "Fifteen HU students, including Daiki Miyasako and Shota Nakamura, have provided rice balls and drinks with the drivers who were stuck on the major roads in Higashi-Hiroshima city." on the local news section of Kure and Higashi-Hiroshima area.
As of July 9th, 2018
In the afternoon and evening of 9th July, the following free foods were supplied to around 150 international students of Hiroshima University:
- 120 cans of emergency food that were stored in the stock depot of Hiroshima University Hospital
- 770 "Momiji-Manju" (small, maple-leaf-shaped sweets) and "Shakushi-Senbei" (rice-spatula-shaped crackers) kindly offered by Yamadaya Co., Ltd.