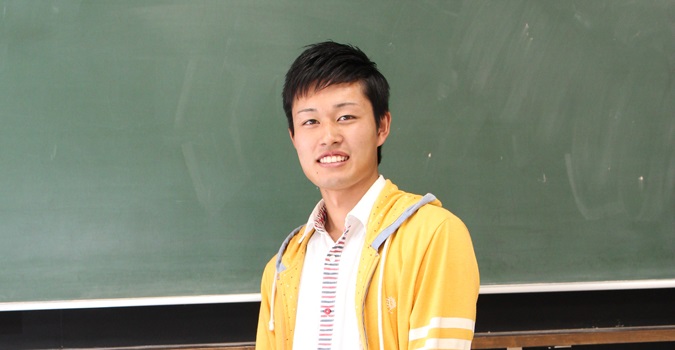 "HU Student Interview Series" gives our prospective students an insight into the perspective of HU students. On the 34th interview in this series, we talked to Mr. Kandai Kawano, who graduated from Kumamoto Prefectural Uto Senior High School, Kumamoto Prefecture, and a sophomore of the Department of Mechanical Systems Engineering, the School of Engineering. Mr. Kawano entered the School of Engineering to study about robots and the automatic operation of machines. We interviewed him about why he decided to apply for Hiroshima University, and his future goals.
Why did you decide to apply for Hiroshima University?
I decided from the various faculties and the point that students come from many places. I thought I could meet many people with different backgrounds and majors, and thought that it would be a great incentive to me. The fact that there are many exchange students also attracted me. I wanted to improve my English skills, so the global campus seemed interesting to me. In addition, HU is selected as one of the universities with "The Top Global University Project," and it has collaborative laboratories with MAZDA. From these points I thought HU has a high research capacity, and I had a good impression toward Hiroshima University.
My club's coach who I respected told me, "Hiroshima University is a place where you can concentrate in your studies," and it meant a lot to me too. He was an HU alumnus, and I decided to apply for Hiroshima University because I thought that would make me a great person like my coach.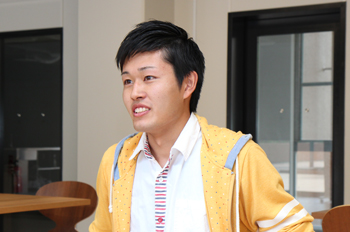 Mr. Kawano says, "The huge campus is also one of the attractive points of HU."
Why did you decide to apply for the Cluster 1 (Mechanical System Engineering) Program, School of Engineering?
I originally liked machines. I had the opportunities to listen to lecture at my school and go to a factory tour of the Japanese automobile maker when I did a homestay in America. From these experiences I became interested in machines.
What boosted me was the research I did in my senior high school. My senior high was selected as one of the Super Science High Schools and we did a research in separate groups. Our group theme was "Automatic Operation of Disaster Rescue Robot". We built the robot and did the programing of its operation. Even though I struggled operating the way we wanted it to be, it was a very fun moment for me rather than a difficult one. I decided to apply for the Cluster 1 Program, School of Engineering, because I wanted to study about robots, automatic operation, and machines.
After graduating, I'm willing to move on to graduate school. My goal is to work as an engineer abroad. I want to be a field director of a car factory like the one I saw in America. To achieve my goal, I want to study hard and learn more about mechanical engineering.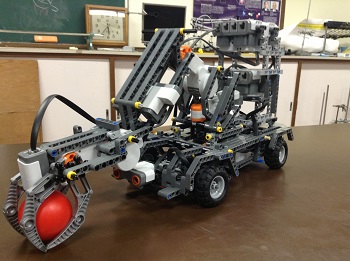 The disaster rescue robot Mr. Kawano used in his research. It recognizes the obstacle and removes them. Mr. Kawano says it was difficult setting up the automatic movements to move its arm down measuring the distance between the robot and the object.
Please tell us about your entrance exam preparation times. How did you study and when did you start?
I started studying very hard for my entrance examinations after I retired from club activities, so that was the June of my third year in my senior high school. The preparation class of the entrance exams started using the spare time since we had no more club activities. The timetable was fixed every period every day, so I studied the other subjects at home. My style of studying was to do all around study everyday.
I've had a hard time studying mathematics. I was good at basic problems solved with using only one formula, but not with advanced problems using multiple formulas. It's often said that, "It's a matter of getting used to mathematics," so I asked my teacher for some tips, solved many problems, and tried to overcome my weak points.
When I got stuck in my studies, I exercised (for example going for a jog) to refresh myself.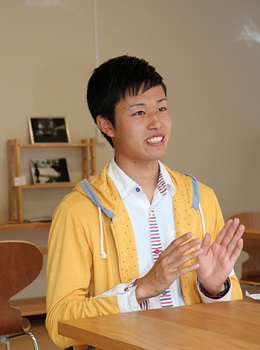 "All round study" is Mr. Kawano's studying style.
Please tell us about your campus life. What are you studying in the School of Engineering?
In my freshman year, I was studying for the basics, which knowledge will be essential for my major field of study. But of course basic studies in university was something more advanced than what I learned in senior high school. In the workshop classes it was fun using machines like lathe, welding, and processing the materials. It made me think manufacturing is fun.
In the sophomore year Specialized Education classes like "Machine Design and Drawing" and "Programming" started. I'll have more Specialized Education Classes later on and I'm excited about it.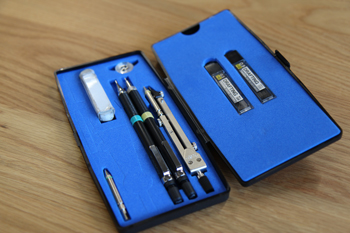 Stationaries for Machine Design and Drawing - the necessities of classes
 
When I don't have classes, I try hard studying English by talking to international students in English, or reading English novels. In HU there are various kinds of events and international exchange programs. For example in the "Conversation Partner" you can improve your language skills with international students. I studied abroad to the University of Auckland, New Zealand, for about 2 weeks this March using the "START Program". When I visited there, I didn't have trouble in ordinary conversation but it was difficult for me to keep up in the classes. It made me motivated and think, "I want to improve my English skills".
You went abroad! What impressed you in New Zealand?
I was impressed with the other HU students who went together and with their language skills and activeness. Every one of them had great personalities. It was an incentive to me and it made me think that I want to be better in what I'm good at. I was the captain of the soccer club in my senior high and now I'm the representative of a club in the university, so I'm confident that I have the skill to put the team together. I think in the future I will need the skill to "Get everyone to work together as a team" as an engineer in charge of supervising. I want to develop my leadership so that I can proudly say that it's my strength.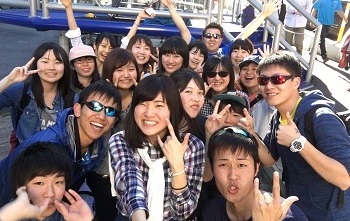 The picture with the START program members (Mr. Kawano in the right)
He also participated in the classes for the local students.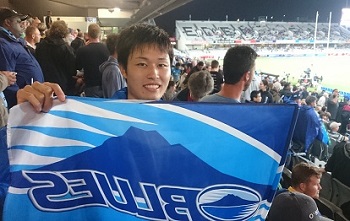 Watching a football game during his stay in New Zealand
So you are the representative of a club! What club are you in?
It's a soccer club. I've always wanted to make a place where people can enjoy exercising freely, whether they have played soccer or not. That's the reason why I started the club "whistle" with my friends when I was in the freshman year. The club has about 70 members in all, and plays once in a week. Although, it's a new born club so I want to focus on firmly establishing the policy of our activity.
Besides that, I'm a member of the "Drama" Section of E.S.S. (English Speaking Society). We practice for our English play about three days in a week. It helps me improve my English and it is pretty fun because I like being in front of people.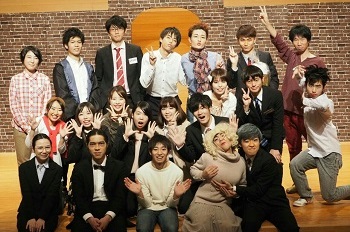 With the E.S.S. members
(Mr. Kawano in the 3rd from the right in the back row)
Lastly, please give a message to students thinking about entering Hiroshima University!
I think studying for the entrance exam is hard work, but I think the key to growing your strength is how much you can push yourself in to it when you feel tough. Your positive attitude towards study is important too, not "demanded to study". There aren't many opportunities to push yourself hard for something, so I want you to do your best. Of course, it's important to take a break too. Good luck.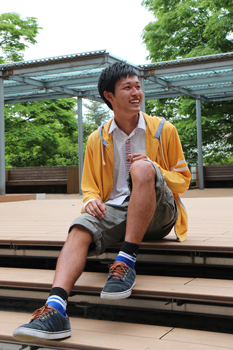 May 16th, 2017
Reports and Photograph: Public Relations Group (F, O)
Location: Omoshiro Lab (1st Floor, Building C, School of Engineering)