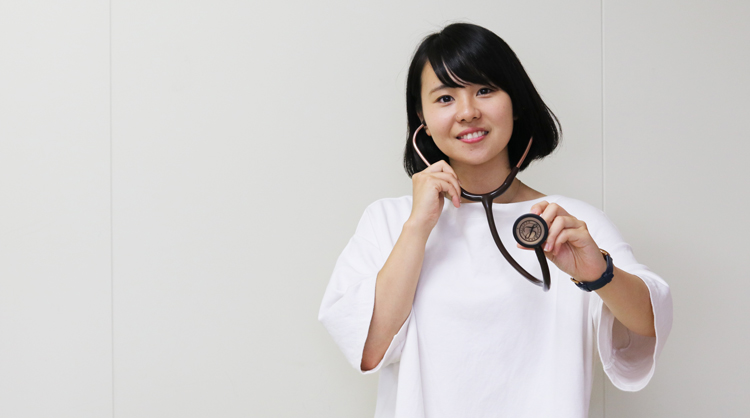 "HU Student Interview Series" gives our prospective students an insight into the perspectives of HU students. On the 35th interview in this series, we interviewed Ms. Yukiko Ikemoto, who graduated from Konan High School, Kagoshima Prefecture, and a sophomore of the Nursing Course in the Program of Health Science, the School of Medicine. We asked Ms. Ikemoto, who passed the General entrance examination (February Term), about the entrance examination days and the campus life.
You can choose subjects in the arts and humanities fields for university entrance examinations. That's why I chose the Nursing Course of Hiroshima University.
I grew up as watching my mother's back who is a nurse. So as I thought about my major, the choice of "Nursing" came quite quickly and naturally to mind. In my high school days I looked after players at a basketball club as a care taker. As you can see, I liked supporting people from back then.
"I want to go to a university in Tokyo." I had a longing toward big cities, but after talking with my parents, I decided to find a university a little more close to my home town, Kagoshima.
However, as I had the background in liberal arts and humanities, there was an obstacle for me. In the nursing course of most universities, the necessary subjects for the entrance examinations are in the fields of sciences and mathematics. On the other hand, for the Nursing Course of Hiroshima University, I was able to take the exam in either humanity subjects (Japanese and English) or science subjects (Mathematics and English), which I found perfect for me.
I also had a strong image of university hosting students of various fields. There was a choice of learning Nursing in a college offering a single course of study, but I wanted to go to a university with various courses and students.
That's the reason why Hiroshima became my first choice.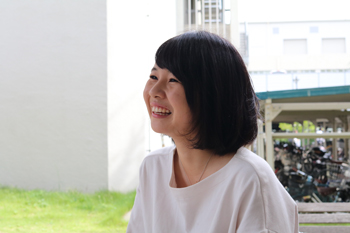 "My parents and I, we all agreed to aim for Hiroshima University"
Planning my study for the entrance exam in a span of long term, mid-term, and short term
In my high school days I didn't have much concentration. I don't want to say it out loud, but I used to daydream during classes (Haha). So I ended up failing the entrance exams and studying one more extra year. A lecturer in my cram school read my personality, and helped me set goals and improve my academic skills strategically. This became a turning point in my exam preparation days. I set not only the study plan for each subject in a year, but also goals for each month, each day, and even each lesson. By completing each goal, I gained confidence, and even when I struggled, it was easy for me to catch up on my study schedule as the mid and long term plans were already set.
When I was preparing for university entrance exams after my high school days, I changed my choice of science subject for the National Center Test for University Admissions into "Chemistry". I haven't studied Chemistry in high school, so it was a start from zero but by studying along the plan it went well.
I feel the attitude of "trying hard strategically" goes with the club activity and part time job I'm doing now too. I think the habit you earned in your entrance exam days can be surprisingly useful later on.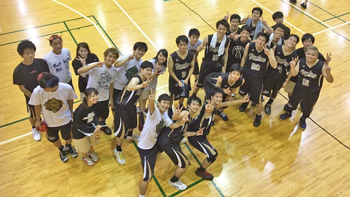 Ms. Ikemoto became the caretaker of the basketball club in the university too.
"The speed of the rapidly changing attack and defense is very exciting."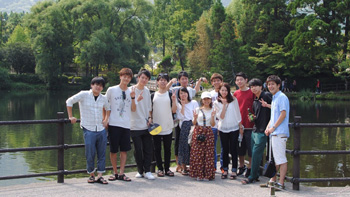 Lately Ms. Ikemoto went on a trip to Oita.
Studying nursing made me feel want to grow my humanity
Studying nursing changed my idea. I learned that just pursuing medical knowledge or nursing skills backed by theory is not enough. There are various people who need nursing, for example, from newborn babies to the elders. That is why I started to think it's important to consider the feelings and lives of patients.
Hiroshima University's values are, not to mention about the number of Schools, but a variety of departments and courses at each School, and its abundant subdivided studies and hospital department. Talking with my friends with different major gives me unexpected surprises and opportunities to look at nursing science from different aspects.
Since my goal is to become a nurse, I want to grow my humanity. I think people's humanity won't grow unless you interact with many people, and get to know their experience or values. I think the current environment around me is making me grow.
When my friends and I feel like treating ourselves, we go to the Starbucks Coffee at Kasumi campus. It's a very exciting time.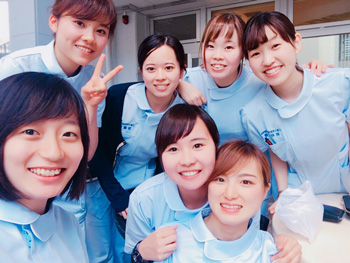 Ms. Ikemoto with her friends from the Nursing Course. In sophomore year, with the gender ratio about 15:1, female students surpass male students.
Becoming a public health nurse or a midwife is also included in my career vision
In the Nursing Course of Hiroshima University, if you manage to earn the needed credits, you will be eligible to take "the National Examination for Nurse Registration," "the National Examination for Public Health Nurse," "the National Examination for Registered Midwives," and the School Nurse License (1st class).
I like children so I want to do pediatric nursing in the future. However, my feelings might change in the future and in order to widen my possibilities I want to obtain registered public health nurse and midwife licenses as well. Earning all the necessary credits in the four years of undergraduate is difficult, so I'm also thinking of going on to graduate school.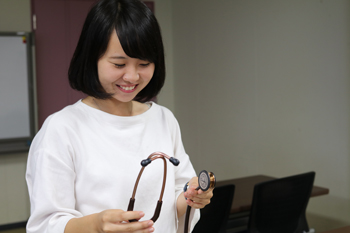 The color of Ms. Ikemoto's stethoscope is brown.
A message to future Hiroshima University students
The study for university entrance exams itself might not have many things that lead directly to your future. But don't be a pessimist when you try, just think of it as a road for your next step, and work hard at it positively. In the next step (your university), your network will spread widely compared to your high school days, and by interacting with others, you can find who you want to be in the future.
September 13, 2017
Reports and Photograph/ Public Relations Group (I, O)
Location/ Kasumi Campus