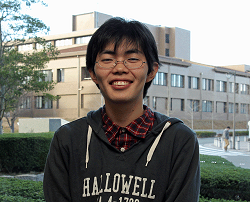 2nd Year, Faculty of Letters
Takashi Doi
<Graduated from Matsuyama Minami High School, Ehime Prefecture>
"HU Student Voices" gives those who would like to enter HU an insight into the perspectives of current HU students.
In this, the tenth interview in this series, we talk to Takashi Doi, a second-year student in the Faculty of Letters.
Mr. Doi is taking advantage of the wide range of options, trying a variety of things. We talked to him about studying for the entrance examination and life on campus.
What made you decide to take the entrance examination for Hiroshima University?
It was during my first year of high school that I began to become aware of it. Many of the senior students were coming to Hiroshima University, so it felt familiar, plus the fact that it was only an hour from Ehime by high-speed ferry appealed to me.
My reasons for applying here were rather vague to start with, but as I looked into it in greater depth, they became clearer. I came to Hiroshima University for an open day when I was in my second year at high school, and I was initially surprised to find that it was in the countryside. But the campus is spacious and the buildings are attractive, and there are a lot of faculties, so I decided that I liked Hiroshima University.
Why did you choose the Faculty of Letters?
I was torn between the liberal arts courses in the Faculty of Integrated Arts and Sciences and the Faculty of Letters, but I wanted to study philosophy, which I'd been interested in for a while, so I decided on the Faculty of Letters, which has the Philosophy, Thought, and Cultural Study course.
When did you start studying for the entrance examination? What methods did you use?
I started attending a cram school quite early on, but initially that was just to supplement my studies at school, and I only began studying in earnest for the entrance examination during my third year of high school. I studied for the National Center Test for University Admissions at my cram school, but I studied for the secondary examination in the school library, because it had a lot of useful material.
The library had a decade's worth of Hiroshima University entrance examination preparation workbooks that had been donated by past students. I steadily worked through these and they helped me to understand the general approach taken in the examination questions, as well as giving me greater confidence in myself.
What did you struggle with the most when studying for the entrance examination?
In late November, just before the National Center Test, I felt that I was running out of steam. I became ill and had to recuperate at home, so I was panicking a bit then. But I thought, "Nothing worse than this will happen!" and I got my energy back once I recovered from my illness.
My high school homeroom teacher, who helped me a lot, was strict and often said to me, "You'll fail if you carry on like that!" and "You need to study more!" and I think it was because of those words that I was able to keep studying, without slacking off. When the examination was over, it might have been the feeling of liberation, but I felt strangely confident that I had passed.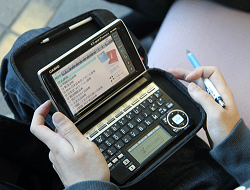 The electronic dictionary and mechanical pencil that have been Mr. Doi's favorites since high school
Your premonition was right. Now tell us about things after you entered university. What makes you glad you came here?
I'm physically a lot stronger since I've been living on my own. I don't often cook for myself, but I have to eat breakfast, or else my brain won't work, so I often have a hot breakfast at the university co-op canteen.
What are you studying right now?
Before coming to university, I wanted to study philosophy, but I took a geography class in the second term of my first year and I found it really interesting. So now I think I'd like to study geography.
I'll have to decide on my specialist field once I'm in the third year. Geography has two branches – physical geography and human geography – and right now I'm interested in physical geography. I want to learn about the composition of the Earth and its topography in the past.
What are your dreams for the future?
I haven't really thought about the future yet, but I'd like to be able to make use of what I'm studying right now.
Are you involved in any extracurricular activities?
A friend who is also in the Faculty of Letters invited me to start up a Sports Chanbara club with him this year. Sports Chanbara is a sport in which competitors fight each other with "air-soft" swords that don't hurt even when they hit you. There are various weapons, including short swords, long swords, and spears, and you can choose whichever you prefer. As well as one-on-one duels, there are melees in which teams fight against each other.
When you hit the other person just right, the weapon makes a resounding "thwack!" so it's a great way of relieving stress. We usually practice at the Higashihiroshima Sports Park and we sometimes take part in tournaments.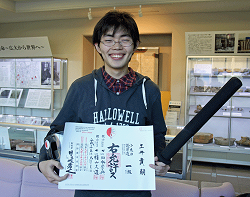 A certificate Mr. Doi received at a Sports Chanbara tournament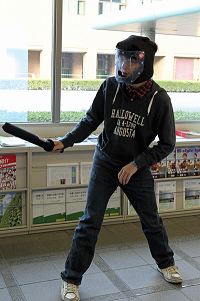 Finally, what message do you have for high school students thinking of taking the entrance examination for Hiroshima University?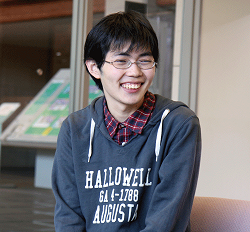 Hiroshima University offers a lot of freedom and has a laid-back, easygoing atmosphere, which is very appealing. You should definitely come and experience the atmosphere here.
There are so many options once you get to university. I'm doing humanities, but when I was in the first year, I had the opportunity to see the "skelpyon" frogs created by Hiroshima University, which have transparent skin so you can see the internal organs. I also got to actually dissect a frog.
That's what I think is so good about Hiroshima University – you can do so many things.
December 24, 2013
Article: K2
Photograph: S (PR Group)
Location: PR and Information Office (2nd floor, Administration Bureau)