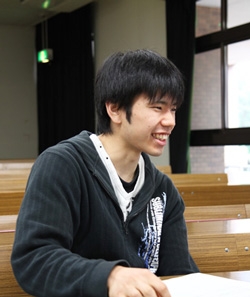 3rd year, School of Physical Science, Faculty of Science
Ryoji Sakakibara
<Graduated from Hamamatsu Kita High School>
"HU Student Voices" gives those who would like to enter HU an insight into the perspectives of current HU students.In this, the second interview in this series, we talk to Ryoji Sakakibara, a third-year student in the School of Physical Science, Faculty of Science.
Mr. Sakakibara, who says, "I love physics!" is an athlete who works out five days a week at the Gymnastics Club.He works hard both at his studies and his sporting activities; we interviewed him about his experiences in taking the entrance examination for HU and his life on campus.
Why did you decide to take the entrance examination for Hiroshima University?
I had various reasons, but there were two decisive factors. I did well at the National Center Test for University Admissions, and I felt confident when I was able to answer questions from past examinations for HU which were included in an anthology of past questions called "Akahon."
The same weighting was allocated to scores in the National Center Test for University Admissions and those in the secondary examination for the School of Physical Science of the Faculty of Science, for which I took the entrance examination.In fact, until I took the National Center Test for University Admissions, my first choice university was actually a different national university, but that university put more weight on scores in the secondary examination.That's why I took the entrance examination for HU. It meant that I could take advantage of the scores I obtained in the National Center Test for University Admissions and could feel confident in taking the secondary examination.
Another reason was the Gymnastics Club.I've been doing gymnastics since I was in high school, and I wanted to continue after entering university.
I looked at the HU Gymnastics Club website and found its wide range of equipment very appealing.
Did you take the entrance examinations for any other universities?
Yes. I took the entrance examinations for two private universities.I'd passed the examination for one of them before taking the examination for HU, but I'd wanted to enter a national university from the outset.
Didn't you feel that Hiroshima was rather far from Shizuoka?
No. I wanted to go to a strange, new land (laughs).Also, there were alumni from my high school who were already at HU, and there was a teacher at my high school who had graduated from HU.The teacher told me that HU devoted a great deal of energy to educating its students.
Why did you take the entrance examination for the Faculty of Science?
I've enjoyed studying mathematics and science since I was an elementary school student. I've always been particularly interested in physics.
I enjoy developing a theory from scratch. That's why didn't hesitate in deciding on the School of Physical Science in the Faculty of Science.
I'd also like to go to the graduate school.
What are you studying now?
Right now I'm studying quantum mechanics, which is about the movement of molecules and atoms.In addition, I'm studying the basics of various specialist research fields, in preparation for my assignment to a laboratory in the fall.
I'm interested in accelerator physics and beam physics.Even before entering HU, I had ideas about what I wanted to study.I'm hoping to be able to join the laboratory of my choice.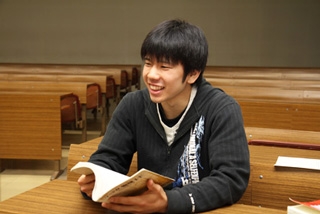 Mr. Sakakibara brought from his parents' home the anthology of past questions that he used when studying for the entrance examinations, in order to go over the basics.
What do you find interesting about studying physics?
Physics involves the steady accumulation of fundamental principles.That's what's interesting.What I studied in the first and second years is really useful to me now.I think I'll continue to build up such fundamental knowledge in the future.
―Somehow, your expression has become more animated. Now, tell us about your campus life.
First of all, what was your first impression of HU?
I visited HU for the first time when I took the entrance examination.When I got off the Shinkansen bullet train, my first thought was. "Wow, it's really rural."I'd just assumed that Hiroshima University would be located in Hiroshima City (laughs).I just have to say this.
The Faculty of Science is located in Higashihiroshima City.But you have to look on the bright side and think, "Well, it's nice to be in the countryside."
Hiroshima University is located near the center of Higashihiroshima City, and it's not an especially inconvenient place to live.
Please tell us about a typical week for you.
Now, I attend an average of three classes a day, from Tuesday to Friday.In addition, I practice gymnastics five days a week and work part-time three days a week.
I'm busy but every day is fulfilling.
The Gymnastics Club has won first place in the Chugoku region's five-university championship three years running!The club has also won in a championship that included the Shikoku region as well.Our next goal is taking part in a national championship!I'm working hard with the other members in an effort to go up to a higher level.However, we only have a few members - fewer than 10....
We're now recruiting new members!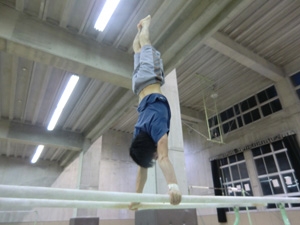 Practicing a handstand on the parallel bars in the HU gymnasium.
In that case, I hope lots of people who like gymnastics come to HU. So what do you think are HU's particular good points?
Various faculties are gathered together on one campus.In the liberal arts education program in the first year, students from different faculties attend the same classes together.I think that's great.
In addition, there's the fact that you can lead a balanced university life.All of the students have a variety of experiences while doing what they want to do, including part-time jobs and club activities, as well as study.I talk with my tutor about various things when we have meetings about my grades. The tutor supports me in activities other than study.
Your life seems to be very fulfilling (smile). Finally, what message would you like to send to those who are thinking about applying to HU?
HU is a place where you can live a balanced campus life.
I hope you'll lead a fulfilling university life here!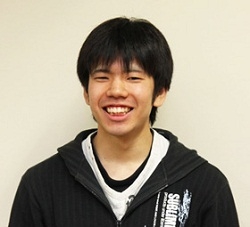 June 7, 2011
Reporting and editing: PR Group
Location: Faculty of Science lecture room