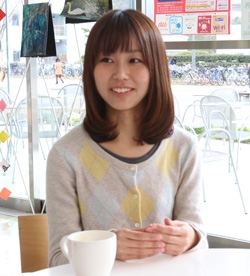 1st Year, School of Dentistry, Faculty of Dentistry
Reika Takasato
<Graduated from Shimonoseki-Nishi High School, Yamaguchi Prefecture>
"HU Student Voices" gives those who would like to enter HU an insight into the perspectives of current HU students.
In this, the 11th interview in this series, we talk to Reika Takasato, a first-year student in the Faculty of Dentistry.
We talked to Ms. Takasato about how she had taken university entrance examinations again after obtaining a bachelor's degree in the arts, and is now studying at the Faculty of Dentistry, with the aim of becoming a dentist.
What made you decide to take the entrance examination for the Faculty of Dentistry?
I originally studied psychology in the Faculty of Letters at another university. After graduation, I started working at a company, but I realized that I wanted to become a dentist, so I took university entrance examinations again and entered the Faculty of Dentistry.
Eating is an essential human activity. I wanted to help all kinds of people by becoming someone who can work closely with them to maintain the teeth that are vital to their daily lives. I was probably also influenced by the fact that my father is a dentist.
Why did you choose the Faculty of Dentistry at Hiroshima University?
I was living in Yamaguchi Prefecture when I took the entrance examination, so I wanted to go to a university nearby, preferably either a national or a public university.
Given my results in the National Center Test, I decided on Hiroshima University.
Was it difficult to switch from the arts to the sciences?
It was really hard and I needed a lot of courage. <Laughs>
After deciding to take my second university entrance examination, I studied independently for six months. But as there were subjects that I hadn't studied at high school, because I was taking the National Center Test with a focus on the arts, I realized there were limits to what I could do alone, so I decided to attend a cram school. At the cram school, everyone around me was doing their best and we all encouraged each other, as well as helping to tutor each other in our respective strong subjects, so I think it was a really good environment for me.
I chose a different social studies subject from the one I'd studied the first time I took the entrance examination, and quite a bit of time had passed since I'd taken the National Center Test the first time around, so it would probably be fair to say that I studied all of the subjects from scratch.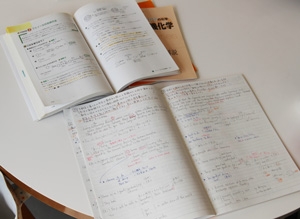 Books and notes for her study
What methods did you use to study?
Initially, even if I'd made mistakes on a question or hadn't understood it, I didn't often go back and review it. But there were quite a few times when I made mistakes again on questions that I had the feeling that I'd seen before, so I took to repeatedly studying the places where I'd gone wrong, until I understood them.
Did you prepare for the interview in any way?
I entered in the second round of selection, so the secondary examination consisted of a short essay and interview.
For the short essay, I summarized my opinions on questions about current affairs set by my teacher at cram school, as well as reading the newspapers. We also had interview practice sessions at the cram school. Rather than just thinking about things in my own head, I believe it was helpful to have been able to practice putting those thoughts into words and expressing my opinions.
Now tell us about things after you entered university. What do you think about the classes at Hiroshima University?
I'm still only at the stage of taking liberal arts classes, but my impression is that the lecturers strive to make sure that each and every student understands and thinks. As a result, I've changed from just listening and copying down what's written on the board, to actually thinking about what's being said when I'm in class.
When I get to the third year, I'll have to choose between research and clinical practice. I haven't taken any specialist classes in dentistry yet, but I'm aiming to become a dentist, so I want to take the clinical practice route.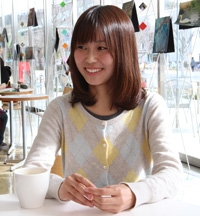 Tell us about your extra-curricular activities and your part-time job.
I'm a member of the Jazz Society. I was in the wind band when I was a high school student, but I started playing the bass during my first year at university. I haven't participated much recently, but I've performed a few times at live music clubs.
I have a part-time job at a restaurant in central Hiroshima.
I also go to a salsa class once a week. It's for beginners, but it's really interesting.
You're certainly trying your hand at a few different things! Are you thinking of studying abroad at all?
I went to Australia for two weeks on the START Program(*). I originally applied at the encouragement of a friend, but I also wanted to take part in order to become more sociable. I'm not very good at English, so I couldn't communicate very well with my host family for the first week and I wanted to go home, but by the second week I made up my mind to talk anyway, even if I couldn't make myself understood. I think my English improved compared to my ability before I took part, and my TOEIC score definitely improved.
I'm studying Spanish as my second foreign language, so I'd like to go to Spain next.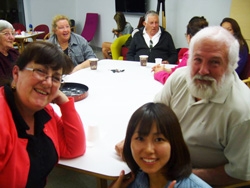 My host family in Australia
What kind of dentist would you like to be in the future?
I don't really have a clear picture as yet, but I want to be a dentist with whom patients can feel comfortable.
Finally, what message do you have for high school students thinking of taking the entrance examination for Hiroshima University?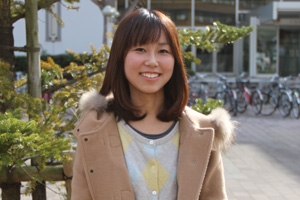 There are likely to be many times when things feel tough while you're studying for the entrance examination. But you're almost certainly maturing in ways that you won't yet have noticed. Don't give up; keep doing your best.
* START Program: A short-term overseas training program for new undergraduates with little experience of other countries. Participants visit a university with which HU has an exchange agreement, as well as the surrounding area, allowing them the opportunity to interact with local university students. The program lasts two weeks during the long university vacation and part of the cost is subsidized by HU.
February 5, 2014
Article: S
Photograph: i (PR Group)
Location: la place (Mermaid Café, Hiroshima University Branch)