"HU Student Interview Series" gives our prospective students an insight into the perspectives of HU students. On the 42nd interview in this series, we have interviewed Mr. Shaun Sutoh, 1st year student from the Department of Integrated Global Studies (IGS) in the School of Integrated Arts and Sciences, who graduated from Tiffin School in the United Kingdom.
Mr. Sutoh was born and raised in London, the capital of England. After becoming fascinated by the Department of Integrated Global Studies at Hiroshima University, where lessons were in English and many international students were enrolled, he decided to take the entrance examination. We asked Mr. Sutoh, who is working on the reconstruction support activities in Fukushima, and also studying for qualifications to fulfill his dream of becoming a pilot, about the reason why he decided to enroll at a Japanese university and his student life at Hiroshima University.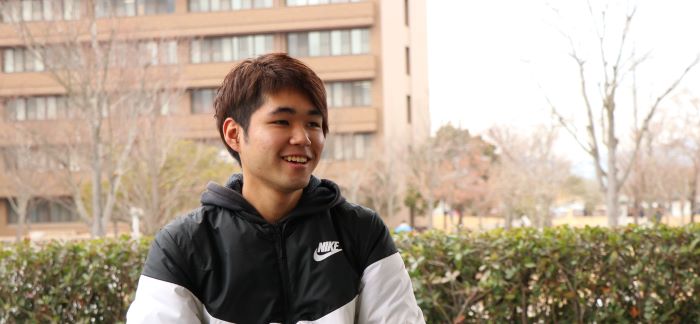 Although you have been living in the UK for 18 years, you are fluent at Japanese.
Since I attended a local school up until high school, I was able to naturally acquire the English language, and I passed the EIKEN Test in Practical English Proficiency Grade 1 exam in the third year of middle school. My parents are both Japanese, so the conversation at home was in Japanese. I also attended the Japanese Saturday School in London, where I was able to study the Japanese language. From the first year of elementary school to the third year of high school, I learned the same content that students in Japan study. So, I think I was fortunate to be living in an environment suitable for mastering both English and Japanese.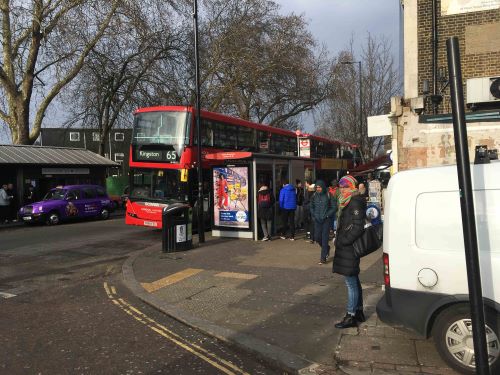 Born and raised in Ealing
I often watched Japanese TV programs, and Japanese food was prepared most of the time, so I didn't really feel British at home. Also, my home is located in a town called Ealing, situated in western London, where many Japanese people lived, so I actually had many Japanese friends.
Why did you decide to go to a Japanese university?
Although there are many good universities in the UK, living costs and tuition fees are extremely high, so most students apply for the student loan. Also, regarding employment, unlike Japan, there is no employment system for new graduates, and with the UK leaving the European Union, I thought that finding a job after graduation was a difficult task.
As a result, during high school when I had to think about my future, I considered going to a Japanese university. I focused on national universities, looking for institutions that accept Japanese returnees, and I became interested in Hiroshima University when I came across the department of IGS which conducts classes in English.
Regarding the entrance examination, I took the AO exam for international applicants. For the first selection process, I submitted an English essay of around 400 words along with the application documents, and for the second selection, I participated in an online interview using Skype from the UK.
Now that you have actually enrolled at HU, what are your thoughts about the university.
I felt that the university is well prepared to accept students from overseas like myself. I was able to complete the move-in procedure for the student dormitory before coming to Japan, and I felt that the dormitory fee was cheap and that the student support was substantial compared to other universities.
I have been visiting Japan, almost every year during the long summer vacations, but this was the first time I have actually moved my resident card to Japan and live as a Japanese citizen. Before entering the university, since life in the UK and Japan is quite different in terms of insurance, mobile phone contracts, usage of medical institutions, etc. I was worried if I was going to manage living in Japan. However, when my student life at HU started, thanks to the substantial student support, many of the concerns I had were resolved. It is very nice to have a meal card (annual pass for the on-campus cafeteria) so you can have meals at the campus cafeteria anytime during the day. Although, Higashi Hiroshima City, where I am studying right now is totally different from London, I actually quite like this environment with rich nature.
How is the Department of Integrated Global Studies, which has only just started?
IGS is a new department that started in 2018. There are many international students in this department and students from various backgrounds study together. Since this department is very small with only about 40 students per grade, we get along really well and got to know each other in about two weeks after entering the university. One of my favorite moments in the first year was that, three weeks after enrolling at HU, almost all first-year students went to eat yakiniku (Japanese barbecue) and spent time together at the Karaoke until 5am.
At IGS we often hear the phrase "IGS as One Family". Literally, there are no barriers between seniors and juniors, and the teachers are very friendly; it seems like we are actually one family. When we encounter difficulties, we work together to overcome them, and I think I was able to live an ideal and enjoyable student life.
When I meet my friends, who are Japanese returnees from the UK, they tell me that they forget how to use the English language because they rarely use it in Japan. In that respect, IGS, where lessons are taught in English, is the perfect environment for me to maintain my English language skills. Also, Japanese students and professors often ask me questions about English. Until now, I had been using English without thinking much about it. However, coming into IGS, I now have more opportunities to think about English than I did in England, and I think that my English ability has improved while helping other students around me.
What are you currently studying at IGS?
At IGS, I am currently studying tourism, focusing on how the activities of tourism and travel have developed in the world, and the recent fashion of tourism. For example, topics include dark tourism, which is tourism associated with death and tragedy, or contents tourism, which is travel behavior motivated by creative elements of popular culture, such as anime, movies and literature. Also, I am learning about modern tourism trends, such as the rising popularity of low-cost airlines (LCCs) and renting accommodations like the Airbnb.
In addition, I am studying the geography of Japan, including the natural features and demography. During my time at secondary school in the UK, I majored in geography, so the classes in HU is like an extension of my high school studies. You will also study about how to collect reliable data, which is extremely important when writing the graduation thesis.
In IGS, at the end of the 1st year, students need to choose a field of study from the three fields (culture and tourism, peace and communication, environment and society), and during the 4th year, they must base their graduation thesis on that subject. I am planning to choose the culture and tourism field and study tourism in greater depth.
Apart from the IGS classes, is there anything you are challenging?
At Hiroshima University, there are many events and projects that students can participate in, such as English presentation contests and field trips. During the summer holiday last year, Professor Funck, the IGS Department Head kindly invited several students from IGS to participate in the Fukushima Prefecture Study Tour 2019, and I took part in this trip. While learning and experiencing the recovery situation and the charms of Fukushima Prefecture, we also collaborated with the public relations department of Fukushima to promote the prefecture.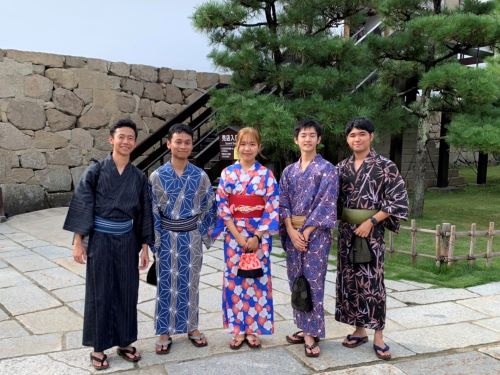 Trip to Fukushima with friends
IGS students can also take classes from other departments and faculties. At HU, regardless of the department or school, classes are offered in English and Japanese, giving an opportunity for international students to study in various fields. In my case, I am very interested in aviation and transportation technology, so I took a general education course called "Science of Transport and Transportation" which is taught by professors from the School of Engineering.
So, you have a clear dream of becoming a pilot.
Every day, I was watching planes fly over my house since my home was located near London Heathrow Airport, which is the 7th busiest airport in the world. Also, my parent loved travelling, and they often took me abroad, so it really didn't take me long before getting hooked on aviation. In elementary school, I always wondered, "how can such heavy pieces of metal get airborne?"
After entering university, not only am I taking lectures on tourism and aviation, but I have also started studying to obtain qualifications as an aeronautical radio operator, and as a weather forecaster. Also, I am currently learning German, aiming to achieve the grade 2 qualification for the proficiency of the German language. In these four years, I would like to gain various qualifications and experiences to hone myself and realize my dreams as a commercial airline pilot.
By the way, are there any exams you studied for in the UK?
At high school in England, you will choose and focus on studying four subjects. In my case, I chose mathematics, physics, economics and geography. Then, in the summer of your final year, you will take the high school graduation (academic completion certification) test called the A-Level.
I think students in Britain may have more free time than students in Japanese high school because they are only required to study four subjects. I often had troubles, maintaining my motivation while studying for A-Level. In particular, when the content taught in the classes became difficult, I often lost my motivation to study. During those times, I usually listened to music and watched funny videos on YouTube for a change to refresh myself. Also, by gathering with friends who are taking the same lessons and sharing the information from the class, I was able to reconfirm the contents and understand the important points efficiently.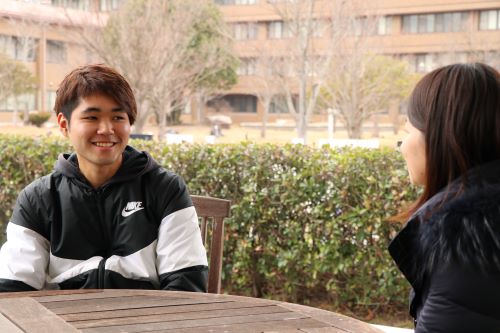 Regardless of the country you are in, when studying for an exam, it is important not to lose sight of your future goals. By imagining your future self, I think you will try to figure out how to achieve your dream or how to become your ideal self, and naturally this will become the motivation for studying.
Finally, a message to future Hiroshima University Students.
There will always be hardships when studying for exams. You may also feel uneasy when you face a problem. In that case, do something fun and take a break. And once you have refreshed, please stand up and try again.
The painful feeling is proof that you are putting massive effort, and I think that if you do not give up, this will lead to results you can be satisfied with. Believe in yourself and give it your best shot. You can do it!
January 14, 2020
Interview and Photograph: Public Relations Group (K)
Location: HU Central Library