"HU Student Interview Series" gives our prospective students an insight into the perspectives of HU students. On the 46th interview in this series, we talked with Mr. Shintaro Nakayama, who graduated from Takaoka Minami High School in Toyama Prefecture and is currently a 4th-year student studying at the School of Applied Biological Science Fisheries Biology Course.
Mr. Nakayama's love for the black sea bream led him to apply to Hiroshima University, far from his hometown in Toyama Prefecture, to study in Professor Tetsuya Umino's laboratory. With a smile on his face, he says, "It's fun to be able to study my favorite fish, the black sea bream, in the laboratory I've always wanted to work in."
Please tell us about your encounter with the black sea bream.
I have always been fond of living organisms, and since I grew up in the countryside, I used to play in canals and rivers, catching crayfish and loaches as a child. I had never been into serious fishing before, but when I was in the sixth grade, I fell in love with the black sea bream that I saw in my friend's book on sea fishing, and I wanted to try to catch it myself! So, I started reading and researching. When I was in junior high school, I happened to go sea fishing and met a reporter from a magazine called "ちぬ倶楽部*1 (Chinu Club)." The issue of the magazine in which I had my picture taken introduced a fishing method called "float angling fishing," and I started using the same method since then.
(*1) Black sea bream fishing magazine (Nagai Publishing Co. Ltd.)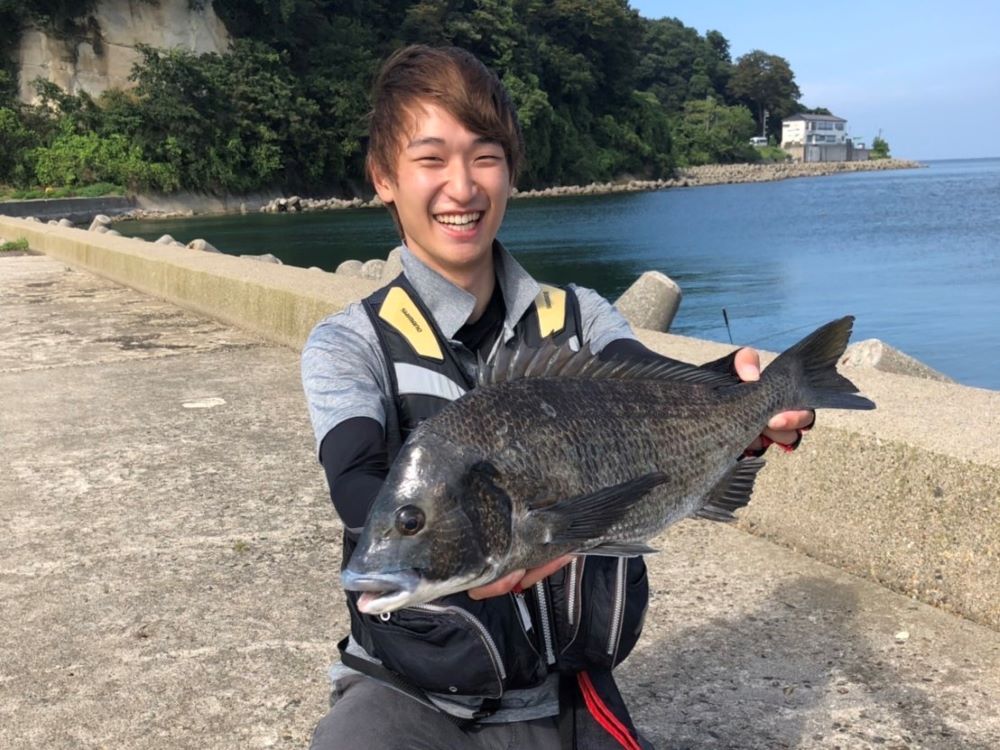 Together with his beloved black sea bream
When you were in junior high school and high school, did you devote yourself to fishing?
I was a member of the volleyball club in junior high school, so I only started serious fishing in the fall of my third year after I retired. Black sea bream fishing required a special rod, and also, the bait was quite expensive, so I had to save up my pocket money and New Year's gift to go fishing. I was taken fishing by a person I met at the "Chinu Club," and somehow, my grades would drop if I didn't go fishing... (laughs). In high school, I was required to join a club in my first year, so I joined a relaxed club where I could go fishing on my days off.
What was the main reason why you decided to study at Hiroshima University?
I wanted to study more about the black sea bream and catch more of them, so as I looked for universities and the different schools, I learned that Professor Umino of Hiroshima University was researching black sea bream. I wanted to learn more about the black sea bream under the supervision of Professor Umino, so I decided to enter the School of Applied Biological Science at Hiroshima University.
There weren't many people from Toyama who decided to enroll in a university in Hiroshima, were there?
As far as I know, I think none of my friends or acquaintances planned to enroll in a university in Hiroshima. When I took a mock examination for Hiroshima University, it was not held in Toyama Prefecture, so I had to go to neighboring Ishikawa Prefecture.
Did you encounter any difficulties when you were preparing for the exam? Also, was there anything you practiced when studying for the exam?
Since there was no one around me who was applying to Hiroshima University, I was worried. I tried to solve as many past exam questions as possible. I also focused on studying the sections that I was weak in and worked on them. Studying is important, but I think it is also important to refresh and relieve stress as well as have confidence.
After entering the School of Applied Biological Science, was it straightforward for you to join the Umino Laboratory?
In the second semester of the second year, each student at the School of Applied Biological Science is allocated a course, and so I joined the Fisheries Biology Course*2. Then in the second semester of my third year, I was assigned to a laboratory, and I joined Professor Umino's laboratory, which was my dream laboratory.
(*2) Old course name for students enrolled before 2018
So this was the first time you met Professor Umino.
No, actually, I visited his lab when I was a freshman... Because I was working part-time at a fishing tackle store near the university, I met a senior member of the Umino Laboratory, and he invited me to come to visit the lab. I also met Professor Umino then, but I was too nervous to talk much (laughs).
Could you tell us about the research that you are working on?
The black sea bream is considered "protandrous," where the fish changes from male to female as it matures. However, when I go fishing, it is not uncommon to catch small black sea breams that are female or large black sea breams that are male. So, I became curious and wondered about the sex change from male to female. Because there are only a few examples of research on sex change in black sea breams, I felt it was necessary to examine the topic, so here I am conducting the research.
How do you conduct research in the Umino Laboratory?
In addition, I go to the sea not only for my research but also to help other lab members with their sampling and research. During the black sea bream spawning season (between the end of March to the end of June), I go to the sea at least twice a week. I don't have a specific fishing spot, so I fish in various places.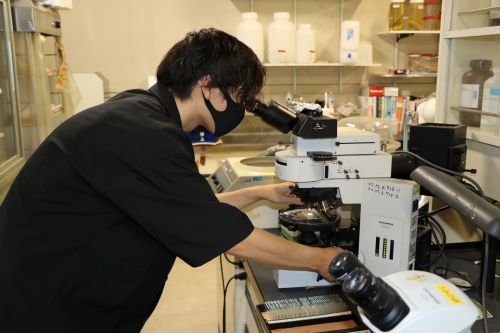 Examining the specimen under a microscope
Typical Weekday Schedule:
| | |
| --- | --- |
| 9 a.m.~9:30 p.m. | Wake up and have breakfast |
| 10 a.m.~12 p.m. | Research at the laboratory |
| 12 p.m.~12:50 p.m. | Lunch at the cafeteria |
| 12:50 p.m.~4:30 p.m. | Research at the laboratory |
| 4:40 p.m. | Return Home |
| 5 p.m.~11 p.m. | Part-time job at the fishing tackle store |
| 11:10 p.m.~ | Return home and have dinner (generally cook by myself) |
| 1 a.m. | Go to bed |
Do you have a lot of interaction with the local community when you are fishing?
In my case, when I was fishing for small black sea bream for my research, I was sometimes asked by people fishing around me, "What are you going to do with such a small fish?" They tell me, "You can only catch small ones here" (laughs). Because I work part-time at a fishing tackle shop, customers sometimes bring me fish of the size I collect. When I post a message on the lab's Facebook page saying, "I'm collecting fish like this," the general public sees it and tells me about areas where I can fish such sizes or sends me frozen fish they have caught. I think it's unique to this laboratory that we can connect with local people.
In the Umino Laboratory, it seems that you also put a lot of effort into extracurricular activities and volunteer activities.
The members of our laboratory take turns appearing on a local radio station's "Fish de JOY" segment. In the program, we report our research and recent catches. I have also appeared on the show in April of this year. Although I have not been able to participate in this project myself, the lab has been selling chinu kara (fried black sea bream) at events to promote fish-eating. We have also been giving classes to elementary school students to protect the local rivers.
What do you plan to do after graduation?
I plan to go on to graduate school to continue my research on sex change in the black sea bream. After that, I would like to work in the fisheries industry as a prefectural employee. At first, I was thinking of returning to Toyama, but the fishing environment in Hiroshima is so good that I'm having a hard time deciding (laughs).
Finally, please give a message to the junior students who are aspiring to study at Hiroshima University.
If you want to study at Hiroshima University, even if you don't know anyone at all when you take the entrance exam or enter the university like I did, please do not worry and take the entrance exam and enroll.
In the School of Applied Biological Science, not only those who have enrolled at the university with a clear vision of what they want to do in mind but also those who have not yet found what they want to do in the future can choose courses and laboratories after studying the various fields. The school has an environment where it is easy to find what you want to do and what you want to learn. See you at the School of Applied Biological Science!
October, 2021
Interview and Photograph: Public Relations Group (H)
Location: Lobby of the School of Applied Biological Science