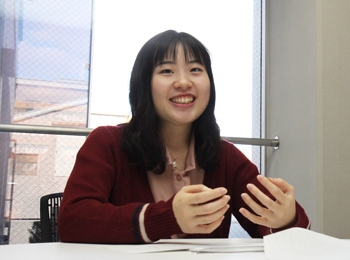 3rd year, Socio-Cultural Studies, School of Integrated Arts and Sciences, Faculty of Integrated Arts and Sciences
Shiho Hirano
<Graduated from Kuremitsuta High School>
"HU Student Voices" gives those who would like to enter HU an insight into the perspectives of current HU students.
In this, the third interview in this series, we talk to Shiho Hirano, a third-year student in the Faculty of Integrated Arts and Sciences, who is now engaged in job-hunting.Ms. Hirano has experience of a diverse range of activities, including being a student reporter, editor of a public relations magazine, member of the entrance examination publicity team, and campus guide; we interviewed her about her experiences as a student preparing for entrance examinations and her university life.
Why did you decide to take the entrance examination for Hiroshima University?
I thought that I could do the things I wanted if I studied at Hiroshima University's Faculty of Integrated Arts and Sciences.
I tend to head straight for what I find interesting.
It was the same when choosing my high school: I decided to go to Kuremitsuta High School because I aspired to join the broadcasting club.
I got advice from a graduate at a discussion session organized by the broadcasting club, and based on that advice, I decided to go to Hiroshima University.
What was the advice?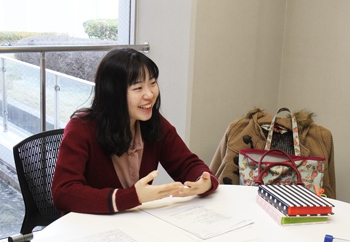 It was "You should develop all-round ability and a sense of humanity by being interested in all sorts of things."
Those words affected me because the person concerned works at a broadcasting station.
After that, I searched for universities with key words, "all-round ability" and "humanity," and that's how I encountered the Faculty of Integrated Arts and Sciences of Hiroshima University.
Originally, I couldn't narrow down the list of faculties at which I should study, because I was interested in so many things.
However, the Faculty of Integrated Arts and Sciences gives me the opportunity to study both arts and sciences. Above all, I felt there was the potential to "be able to do various things."
When did you start preparing for the entrance examination?
I started preparations during the summer of my second year at high school.Until then, I was entirely focused on club activities.
I thought that things might not turn out well if I continued that approach, so I started thinking about the entrance examinations in earnest.
I had a talk with my parents and, while still thinking about the general entrance examination, decided to try via the Admissions Office Entry System, as it seemed more suited to my character.The Admissions Office Entry System for the Faculty of Integrated Arts and Sciences consists of a short essay and interview after getting through the document screening process. I thought that this system would allow me to take advantage of my good points, because I'm good at talking to people and promoting myself.
Did you attend a preparatory school or cram school, or use a private tutor?
No. I took full advantage of the classes and teachers at high school.
For example, during the general studies class before the summer vacation in the third year of high school, we had an assignment entitled, "Prepare your statement of purpose for the university for which you want to take an entrance examination.".All the other students seem to have completed the assignment by preparing their statement in class. But I thought, "I can use this as preparation for the actual entrance examination!"
After that, I worked out my statement through repeated corrections, enlisting the assistance of the careers guidance teacher and my Japanese language teacher.I was actually able to use the statement when I wrote about my reasons for wishing to enter Hiroshima University for the document screening round of the Admissions Office Entry System process.
My high school teachers also helped me to prepare for the short essay and interview after I was successful in the document screening round.As I wanted several teachers to check my preparations, I spent my lunch breaks chasing various teachers (laughs).Even I'm surprised at how I was able to work so hard.I'm sure that I was full of energy because of my dedication to club activities (laughs).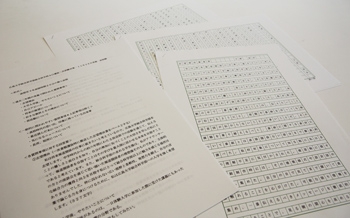 Drafts of Ms. Hirano's statement of purpose following repeated corrections
You are energetic! Did you attend the open day at Hiroshima University?
Yes. I visited the Faculty of Integrated Arts and Sciences.In addition to the open day, I also participated in the "one-day experience program at the Faculty of Integrated Arts and Sciences." I remember finding the trial ethics class particularly interesting.
Once you actually got to HU, what struck you as being particularly good?
I specialize in sociology but I also study French in the foreign language class.
I am now writing a graduation thesis on the theme of family sociology. In learning French, I have opportunities to learn about family society in France.
On such occasions, I find out new things through the intersection of two totally different kinds of study: sociology and French.
I don't think I'd be able to discover these things if I studied only one subject.The links between my own interests lead to new, profound discoveries. That's what's interesting.
Another good thing is the friendships here.As the Faculty of Integrated Arts and Sciences has a mixture of arts and science programs, it's fun to talk with friends who take different programs.Talking about other fields, with which I'm unfamiliar, is intellectually stimulating.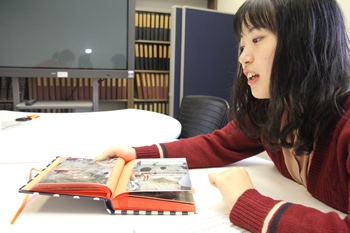 Photographs of Ms. Hirano and her friends. She recounted anecdotes about each photo.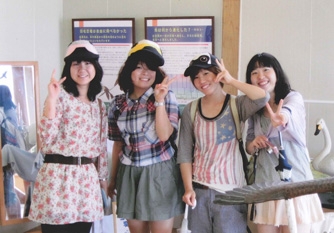 A visit to Matsue City in Shimane Prefecture for a training exercise in conducting surveys at Lake Shinji and Nakaumi Lagoon (furthest right: Ms. Hirano)
We can tell from the photograph how close you all are. Finally, what message would you like to send to those who are thinking about applying to HU?
If you're interested in Hiroshima University, do ask yourself why this is.Then, work out where your interest actually lies in terms of subject areas.
Rather than simply focusing on wanting to enter university, I think it's twhat you want to do there that's important.That will be your goal once you actually get to university.Believe in yourself and do your best. Good luck!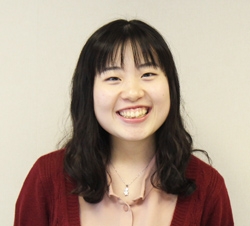 December 13, 2011
Reporting and editing: PR Group
Location: BIBLA Group Space, Central Library