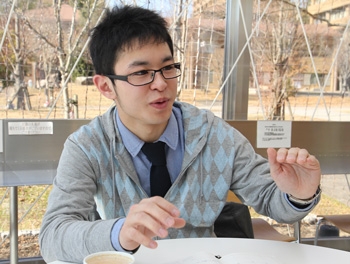 Cluster 4 (Social and Environmental Engineering), Faculty of Engineering 2nd Year, Vehicle and Environmental Systems Program
Satoshi Tanaka
<Graduated from Seifu Senior High School, Osaka>
"HU Student Voices" gives those who would like to enter HU an insight into the perspectives of current HU students.
In this, the fifth interview in this series, we talk to Satoshi Tanaka, a second-year student in the Faculty of Engineering.
Mr. Tanaka has built up a wealth of overseas experience through various international study programs, while also working hard at his studies in the Faculty of Engineering; we asked him about taking the university entrance examination and his daily life at university.
Why did you decide to take the entrance examination for Hiroshima University?
I decided from an early stage that I wanted to attend a national university, but it was only after taking the National Center Test for University Admissions that I began to think about Hiroshima University as my first-choice university.
I looked for a university based on my test results and whether I could study what I wanted to, and I happened upon Hiroshima University.
The other decisive factor was the fact that HU is a university, as opposed to a college with a single course of study. That's because I wanted to get to know people from a variety of faculties.
What did you want to learn?
I wanted to study aircraft structures.
I discovered that I could do that at the Faculty of Engineering at Hiroshima University.
From the time I was a child, I had many opportunities to travel by plane, and I'd been thinking about the fact that the shape of aircraft hasn't changed for decades.
With cars, for example, there are various designs, aren't there?
In the same way, I began to wonder whether there shouldn't be various aircraft designs as well....
That's why I want to study aircraft structures and think up various designs, in order to make planes more interesting.
When did you start to study for your entrance examinations?
It was around the latter half of my second year at high school.
I thought that it wouldn't be a good idea to try and cram it all into a short period, so I decided first of all just to go to the library every Sunday, in order to study, so that I could keep going for a long time at my own pace.
My friends were always with me, so we helped each other out by asking each other questions. After studying, we'd go out and have fun together, so we were able to keep it up.
Tell us about what study methods you used.
In my case, I used the same anthology of past questions over and over again, and aimed to get to the stage at which I understood the whole book completely.
I was anxious about the sciences, so I took particular care about studying for those, in order to ensure I had a solid understanding of everything from the foundations up.
My study method remained unchanged for both the National Center Test and the secondary examination.
The diary I started to use in my third year was really helpful.
At the beginning of the week, I'd decide on that week's goals and then make a note of what I'd been able to do each day.
I think it was good, because I could see at a glance what I'd been able to do and what I hadn't.
Visualization is very important.
Immediately before the examination, I was conscious of having an order of priorities in regard to what I ought to do.
I think it's important to do the amount that you can steadily, without getting flustered.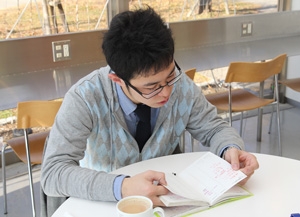 Mr. Tanaka tells us about his memories of studying for the entrance examinations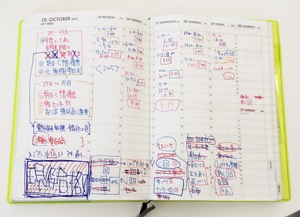 The timetable in his diary is chock-a-block!
Did you attend a cram school or preparatory school?
I thought that if I went to a cram school, I wouldn't be able to maintain my own pace, so I didn't attend one.
At any rate, I took care to properly digest everything that was at my disposal.
Did you take the entrance examinations for any private universities?
My high school was in Osaka, so I took the entrance examinations for a few private universities in the Kansai area.
My first preference was for a national university, so although I didn't really think of them as an option for further study, they did motivate me in that they helped me to get used to entrance examinations.
What kind of daily life do you lead at university?
What I realized after coming to Hiroshima University was that the campus was much more international than I'd imagined!
I pass lots of international students just walking through the campus, and frequently find that friends of friends are international students.
I myself have made use of the university's study abroad programs to go to the USA and Taiwan.
In addition, when I went to Latvia on the Cabinet Office's International Youth Exchange Program, I had many valuable experiences, including a meeting with the President of Latvia.
Perhaps there's an image of study abroad as something you do to brush up your linguistic ability, but I want to learn about various foreign cultures.
Of course, you need linguistic ability if you want to learn about the culture, so I want to steadily build up my skills in this area.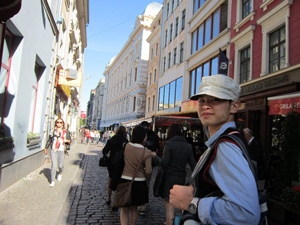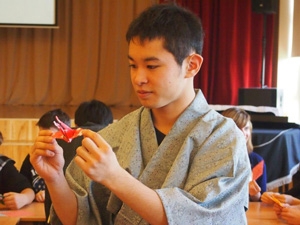 Mr. Tanaka introduces Japanese culture overseas
You've built up a lot of experience overseas. What dreams do you have for the future?
I'm in a science-focused faculty, but I'm also interested in foreign culture, so I'm conflicted about which path to take - sciences or arts.
But I've come to think that it would be good to have people who can play a role in the middle ground between the sciences and the arts.
In the future, I think it would be good if I could become someone who could serve as a bridge between the sciences and the arts.
Finally, what message would you like to send to those who are thinking about applying to HU?
I think your feelings right now about what you want to do at university are very important.
When you enter university, you'll have a lot of freedom, but please do nurture and cherish the feelings you have right now, so that you don't lose sight of what you really want to do.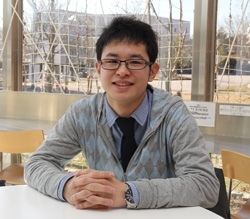 December 27, 2012
Reporting & Editing: PR Group
Location: la place (Mermaid Café Hiroshima University Branch)