"HU Student Interview Series" gives our prospective students an insight into the perspectives of HU students. On the 37th interview in this series, we interviewed Ms. Honomi Tanahashi, who graduated from Jonan High School, Tokushima Prefecture, and a senior in the Program in Human Life Sciences Education, Cluster 4: Life-long Activities Education, School of Education. We asked Ms. Tanahashi, who is a doer and follows whatever catches her interest, about her entrance examination preparation days and her campus life.
Interviewer: Ms. Mayuko Yamamoto
Public Relations Student Staff (4th year, School of Education)
Having been into making things -sewing, designing, and cooking, from young age
It was in August of my third year in high school that I decided the university and department of my choice. I made my mind after participating in the Open Campus of Hiroshima University.
It took a while for me to decide which department I should apply for because I had many interests. As the first step, I participated in some academic and career seminars in my second year of high school. I've always liked making things since my childhood - I used to sew with my grandmother, and I was participating in the handicraft activities. I was also interested in stationery designs as I like stationery. Moreover, the career path of going to a vocational cooking school or becoming a school nurse seemed attractive too, so I couldn't decide one.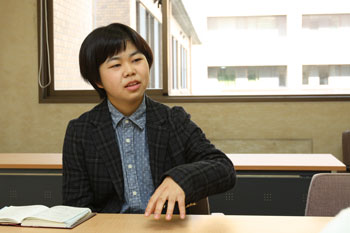 In August on my third year of high school: Choosing Hiroshima University from my choice of program
When I had to decide my path after high school, which was on my third year of high school, I chose to apply for the Program in Human Life Sciences Education in the Cluster of Life-long Activities Education with my intuition and because of the following three reasons. One of them was that I liked making things. I wanted to be involved in handwork, rather than "producing something" in the field of Engineering. Second of them was because I believe "food, clothing and shelter" are the fundamental and universal desires of human beings. I think that people can pursue their education when their lives are stable. Last one was because I wanted to think about the elderly people. Because I was brought up in a rural area, I became interested in how the elderly people who make up most of depopulated areas can live happily.
After deciding what I want to study at university, my choices of university were narrowed down. Out of these universities, I chose Hiroshima University because I can learn home economics and obtain various licenses at the university. Furthermore, I like the atmosphere of the city and I've always wanted to come to Hiroshima since I was in junior high.
As to my major, I chose the Program in Human Life Sciences Education in the Cluster of Life-long Activities Education, School of Education, because I can learn home economics. While this program is offered in the School of Education, students in this program will have various choices of future path other than being a teacher. In fact, I'm aiming for the home economics teacher's license for junior high and senior high, and besides them, I'm also planning to take the "food specialist" qualification test.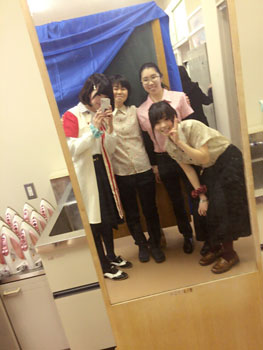 Ms. Tanahashi made a blouse in the apparel class.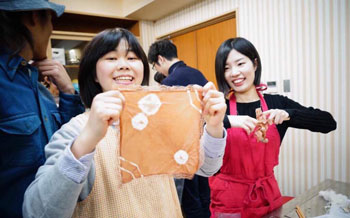 Experience of cloth dying with her seniors (a part of her hobby activities)
I want to cheer up other people with the power of food
After university, I'm going to work in a human recourse company. My ultimate goal of life is to become like a lady working in a cafeteria - like a lady full of vitality that cheers other people by cooking and serving food, and would say "Stop worrying too much! Have this and it'll make you happy" when someone is down.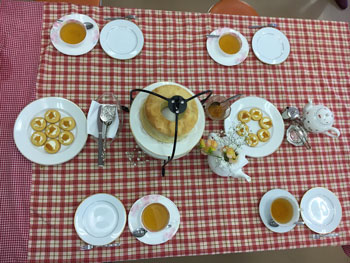 A picture of table coordination from home economics class
Keeping up my motivation for study by changing the study places – studies in a park and a bath tub?!
It was in August on my third year of high school when I started studying intensively for the university entrance examinations, and that was when I decided to apply for Hiroshima University. Until then, I took notes at classes, and studied only for regular tests. This was also when I started studying Politics and Economy.
I didn't go to any cram school, so I studied at school and asked teachers when I had questions. I didn't pay any extra money to study for university entrance examinations. I couldn't be productive when no one was around me, so I studied at school from morning till night, and had a rest at home thinking that home was the place to take some breaks.
In order to keep up my motivation, I looked up my list of "things to achieve," and sometimes changed the place to study. I studied, for example, in the restroom, a park, and the bath. Park was my favorite place, and I used to memorize some classic Japanese words. It actually worked well for me. Other than that, I used to listen to English sentences on a Walkman while on the move.
My study strategy was to carefully re-study textbooks and overcome my weak points. When it was around October and November, I felt nervous, and worried if my strategy was alright as my scores did not improve much. However, I overcame my anxiety by sticking to my own strategy – solving problems that I got wrong again and again until I got the right answer. I also created a notebook of "my weak points" that I can review.
Benefits of integrated school! I actively took classes from other Schools.
One of the benefits of Hiroshima University is that I can take classes from other Schools. Therefore, I took classes from School of Applied Biological Science and School of Science since I was interested. The professors helped me out although I was from the different school, and I found them very heart warming.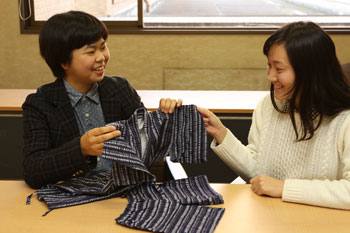 "What I learned will be useful in the future," says Ms. Tanahashi holding a Jinbei she made in her classes.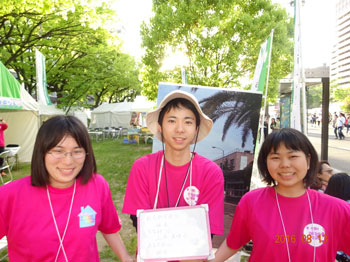 Exhibiting a Hiroshima University booth in the "Flower Festival"
 
The facilities I like in Hiroshima University are the Office of Plants Management (I don't think most of you might know), the Accessibility Center inside the Student Plaza, and the libraries. In the Accessibility Center for example, you can see the brand new item to help the disables and it's very interesting.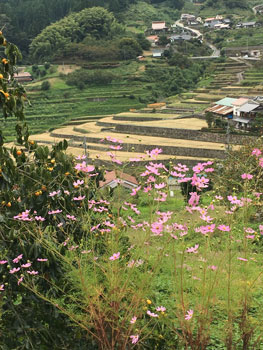 Ms. Tanahashi is doing a research on Nakatsutsuga Ini area in Aki-Ota.
The theme of her graduation thesis is about how the landscape preservation of the terraced rice fields affects the elder people of the depopulated area.
To the university preparatory students: It's ok to make mistakes, and talk to as many people as possible after entering the university
The experience of university entrance examination became nourishment for my life. Make your own goal, and go straight for it. Don't be afraid to make mistakes or fail. I think it's rather good to make mistakes or fail. If you never make mistakes or experience failure, I think your actions will become dull. The important thing is to try, and when you bump into a wall, just find another way.
After you enter the university, talk to as many people as you can. In universities there are various people with various backgrounds, which is one of the advantages of universities. You can earn a lot of things by opening your heart and having a conversation with others.
I think studying for university entrance examinations is hard work, but think of it as a part of your life events and do your best!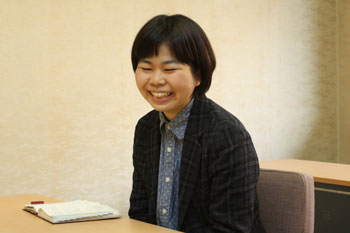 After the Interview –Interviewer's Comments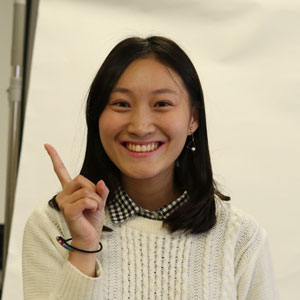 Ms. Tanahashi has experienced a lot of things and has her own idea in each of her experience. I was motivated by her in her interview.
Ms. Mayuko Yamamoto
Public Relations Student Staff (4th year, School of Education)
November 17, 2017
Photograph: Public Relations Group (Y)
Location: Small meeting room, School of Education