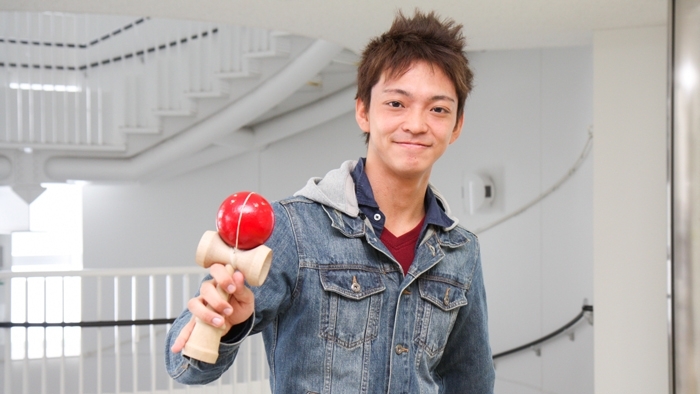 1st Year, Faculty of Medicine, School of Medicine
Yuta Satoda
<Graduated from Hiroshima Gakuin High School>
"HU Student Voices" gives our prospective students an insight into the perspectives of HU students. As the 16th interview in this series, we talked to Yuta Satoda, a 1st year student in the Faculty of Medicine.
Mr. Shiraishi says he worked hard to get into the faculty of medicine because he wants to become a doctor that is active worldwide! With careful planning and tireless efforts, he passed the entrance examination on the first attempt. Also, he has talent in Kendama. He has won best in Japan before. In the "Kendama World Cup Hatsukaichi 2014" held in Hatsukaichi city in Hiroshima prefecture, he won fifth place. His talent is acknowledged from the world.
We asked him about his campus life and how he studied for the entrance exam.
What triggered you to apply for the Faculty of Medicine?
When I was in my first year of High School, I had the opportunity to experience learning in the Philippines. The host family that took care of me was wealthy and I stayed in a comfortable home. On the other side, I saw the slums and I still remember feeling very confused. There is such a big gap even in the same country… From that experience, I strongly felt that I wanted to fight against medical gaps and poverty. This triggered me to study hard to get into the School of Medicine.
When did you start studying for the entrance examination?
I started studying in May of my third year in High school, which was when I retired from my club activities. At the time, I mainly studied math, physics, and chemistry, focusing on the second round of tests given independently by each university. After the "Pre-National Center Test for University Admissions", I started to study hard for the actual Center Test.
Can you tell us more specifically what you did to prep for the National Center Test?
I focused studying on Mathematics IIB and Japanese. The mathematics portion of the National Test, especially "IIB" questions are a different type from the type of questions in the second round of tests. The "IIB" questions in the National Center Test are a fight against time. To save even one second, I memorized many formulas.
In the Japanese section, some questions are worth eight points. I believe Japanese plays a big role in how well you score as a total. I did not score well in the"Pre-National Center Test for University Admissions" so in order for me to get used to the different problem structures in the test, I bought workbooks from every cramming school and practiced solving the questions on time.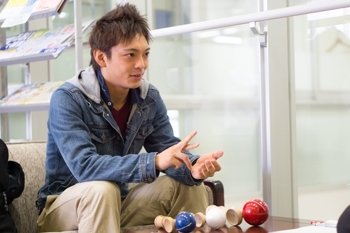 If you're aiming to score higher than 90% on the National Center Test, "One mistake in the Japanese section is a big loss"
Do you have any original ways of studying?
This is not limited to studying for the entrance examination, but I do think I study English differently from everyone else. From Junior High school to the first year of High School, I continued to pronounce example sentences and texts in the textbook aloud. This is to hammer in correct sentences. I think it was very effective to master the "patterns" and "flow" of English. From the second year of High school, I focused on memorizing vocabulary and phrases. Even during this time, I continued my style of saying it aloud. Before the third year of High school, I tried the past National Center Test English portion and got all the questions correct. It gave me confidence that my way of studying worked. It's not something that has an immediate effect, but it's important to recite English.
Did you go to cram school?
I started going to cram school from the April of my third year in High School. I felt very competitive and it boosted my motivation because the students around me were very smart. On weekends, I went to the study rooms with my friend and studied there from morning to night. More than eleven hours.
Eleven hours! That requires much perseverance! What did you do when you wanted to take a break?
I would practice kendama during my break. I could focus better when I thought, "After finishing this question, I'll try that kendama skill!"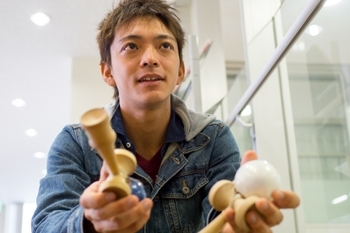 Mr. Satoda says he continued Kendama while studying for the university entrance exam
Why did you apply to Hiroshima University?
Actually, I scored very well on the National Center Test so for the first examination, I applied to another university outside of Hiroshima prefecture. I ended up needing to apply to Hiroshima University in the second examination but Hiroshima University is in my hometown so I feel safe and I am completely satisfied. I like that Hiroshima University has eleven faculties. I anticipated that I could make a broad community here.
Please tell us more about after entering university. What parts did you like about Hiroshima University?
There are many things! I made many friends outside of my faculty during the fresher's orientation camp because it was a combined camp with faculty of medicine, dentistry, and pharmacy. There is a wide variation of circles too. I am also part of the basketball and dance circle other than kendama. I go to the library often because I can study well there.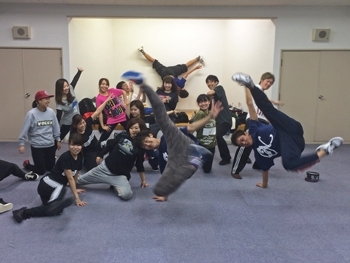 A photograph of members from the dance circle
You placed fifth place in the "Kendama World Cup 2014", what are your future goals?
I didn't know about "Extreme Kendama", originally started overseas, until I entered university. I feel very inspired seeing international players do elegant and acrobatic performances. When I see a skill I like, I always ask them to teach it to me. I want to continue improving myself and do well in big competitions.
Kendama is a great way to start up a conversation. I can have a lively conversation with people I just met and foreign people if I perform kendama. Maybe I can use kendama when I communication with my future patients too.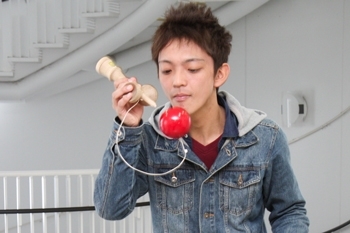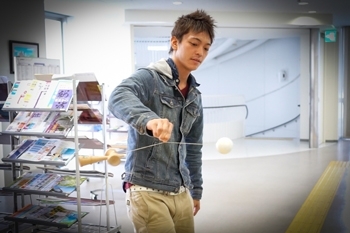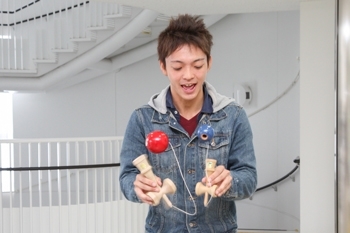 The skills performed by Mr. Satoda are speedy and powerful
What is your future goal?
I am not completely sure yet, but I want to become a general practitioner. I don't want to separate patients depending on the organs, like if it's the heart, go to circulatory organ section, or if it's the lungs, go to the respiratory organ section. I want to play a role as someone who always looks at the body from a comprehensive point of view. I want to become a doctor that is active worldwide as well.
Lastly, please give a message to students aiming to study at Hiroshima University
Compared to High school, you can make various friends in university. It's a free and flexible environment where you can study what you want and do activities that interest you! Give it your all, enter Hiroshima University and enjoy youth together!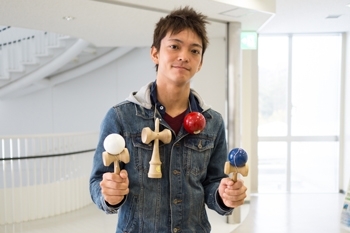 February 10, 2015
Reports and Photograph: i, N (PR Group)
Location: Student Plaza 2F