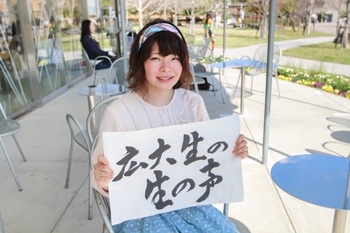 Faculty of Engineering (Electrical, Computer and Systems Engineering), 3rd Year
Akari Kawakami
<Graduated from Hiroshima Prefectural Miyoshi High School>
"HU Student Voices" gives prospective student an insight into the perspectives of current HU students.

In the 13th interview in this series, we talked to Ms.Kawakami, a 3rd year student of Faculty of Engineering (Electrical, Computer and Systems Engineering).

Why did she become interested in Faculty of Engineering where the number of female students is still small? We asked her about a trigger to apply to HU, how to study for the entrance examination and her campus life.
Why did you become interested in studying engineering?
I thought that the demand for computer-related business would increase in the future and studying the field would help me to obtain a stable vocation. I was interested especially in computer programing and wanted to be a system engineer, so I decided to study information system in Faculty of Engineering.
Why did you choose Faculty of Engineering of Hiroshima University?
Honestly, I wondered whether I should apply to Hiroshima University or other national technical university. The other university had only science subjects in their exam. It was attractive for me since I could avoid art subjects including English and Geography, which I was not good at.

I ended up choosing Hiroshima University because of the number of female students on campus. As you know, the number of female students in engineering field is relatively small. Although the cluster 2 (Electrical, Computer and Systems Engineering) of my faculty I belong to has only 10 female students, I thought that I could make many female friends at Hiroshima University, the large comprehensive university consisting of 11 faculties and 11 graduate schools.
Now, I really enjoy talking about philosophy with my friend from Faculty of Letters and meeting many people having various backgrounds. I visited to Miyajima island with international students, too.
Of course, not only the number of female students. I could get high score in National Center Test for University Admissions which score was large part of entrance examination. Also I felt familiar with Hiroshima University since many teachers in my high school were alumni. Those facts also encouraged me to choose Hiroshima University.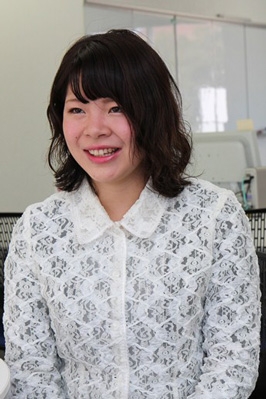 Did you apply to other private universities?
No. I was interested only in national universities so didn't consider choosing private universities.
When did you start to study for your entrance examination?
In winter of my second year of high school. At that time, my English score in the practice exam was third worst in my high school. It caused my sense of crisis. Since I had good grades in math and Japanese, I thought " The only thing I should do to pass Hiroshima University is to improve my English. " and felt motivated.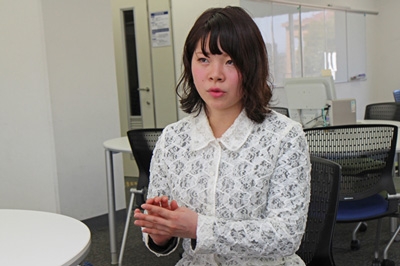 How did you improve your English?
I didn't go to any private tutoring school after regular school. What I did first was to read grammar books from the very beginning. I re-started learning English from the basic "I am". This method made me notice that English also had regularity like that of math. I started enjoy studying English and my English grade gradually got better.
Also, I try to use English positively, for example reading a long article every day and translating lyrics of my favorite English songs into Japanese.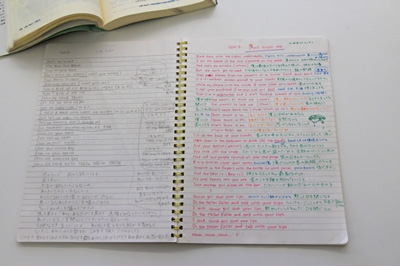 English lyrics translated into Japanese
It's very interesting that founding the similarity between English and your favorite math caused big change in your English studying! Otherwise?
I did count down the day of the exam and plan my study schedule for all subjects. At first, I set the goal of my ability for a year later and what I should do in a month, in half a year to achieve the goal.
I see. How about your class?
As a college student, you have not only the class you obtain the knowledge from teacher's lecture but also exercise style class you practice the knowledge. For example, in the programming class, we were asked to create a software program for calculating. I liked the process of considering how I could apply the knowledge I learned in the lecture to create the programming.
Are you involved in any student activities?  
I've ever taken calligraphy lessons from the second year of my elementary school. Since I wanted to continue it, I joined the calligraphy club on campus. Recently, I was promoted to the level of "grand master" in the category of writing observing examples.
Also, I'm a member of the fashion group " Ma-Ma-Do". We make and remake costumes. We even hold our fashion show at university festival in fall. I l like making something by myself so I enjoy thinking about new idea while looking at dresses. It's just like what I do when I create a software program.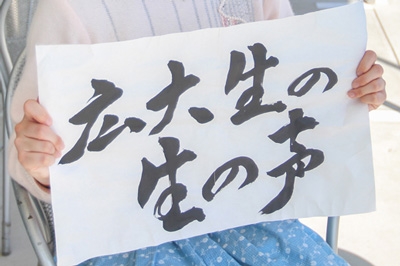 Ms. Kawakami's handwriting "Hiroshima University Student Vox Pop."
Finally, please give a message for high school students interested in Hiroshima University.
People around you might have encouraged you to study harder for the entrance exam. However, I'd like to say "Take it easy!" It's very important to spend all day doing nothing to keep your motivation.
I really enjoy my campus life here and it's very fruitful. I hope all of you will spend rewarding time on campus.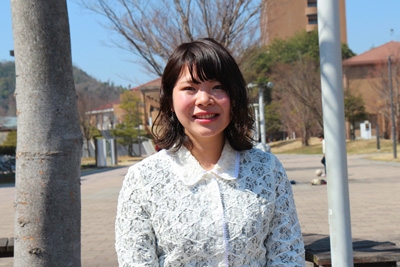 March 17, 2014
Article: i
Photograph: N (PR Group)
Location: Cenral Library, "La Place" (Mermaid Coffee Hiroshima University Branch)