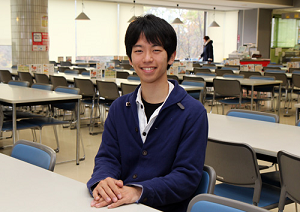 1st Year, Faculty of Education
Taichi Goda
<Graduated from Mishima High School, Ehime Prefecture>
"HU Student Voices" gives those who would like to enter HU an insight into the perspectives of current HU students.
In this, the ninth interview in this series, we talk to Taichi Goda, a first-year student in the Faculty of Education.
While diligently studying with the aim of becoming a teacher, Mr. Goda is also involved with a university club and has a part-time job. We talked to him about taking the entrance examination and his life at university.
What made you decide to take the entrance examination for Hiroshima University?
I've always dreamed of becoming a teacher and my homeroom teacher at high school recommended Hiroshima University. So during my second year of high school, I visited Hiroshima University for the first time, for an open day. The campus is attractive and spacious, and most importantly, it seemed like a place where I could properly learn the basics that you need to become a teacher, so I decided on Hiroshima University.
What made you decide to become a teacher?
Both my parents are teachers, so that influenced me, plus I was fortunate enough to have good teachers at elementary and junior high school. My mathematics teacher at high school was also really good and very considerate toward the students.
What kind of teacher do you want to be?
I want to be the kind of teacher who doesn't just think about studying, but can also think about things with his pupils and have fun with them. That's why I want to spend my four years at university really mastering the basics that I'll need as a teacher, and also really enjoying myself and making lots of good friends.
So you decided on your occupation early on. Have you ever wavered in your choice of career path?
The Hiroshima University entrance examination was the only one I took and I was good at mathematics, so I did wonder whether I should opt for the School of Mathematics in the Faculty of Science. But I decided that if I wanted to be a teacher in the future, I'd be better off with the School of Mathematics in the Faculty of Education.
When did you start studying for the entrance examination? Was there anything that you struggled with?
I was in the athletics club at high school and I started studying in the summer of my third year, when I stopped taking part in club activities. I studied alone, without going to a cram school, but I didn't feel particularly rushed. I worked out what I still needed to master and concentrated on those areas.
I'm not very good at English, so initially I just tried to memorize my vocabulary notebook, but I realized that that wasn't working for me, so I bought an anthology of past texts and questions for the long-passage test and worked on memorizing the vocabulary in the texts. I did panic a bit immediately before taking the entrance examination, when I happened upon questions that I didn't understand, but I just faced up to them and did my best. Really wanting to go to Hiroshima University was the biggest motivator for me.
Your hard work paid off, then. Now tell us about things after you entered university.
I'm being taught the basics that I need to become a teacher, just like I thought I would be when I came for the open day. I've been lucky enough to have good teachers again, and good friends too.
The facilities here are great – I study with my friends in the library and eat at the canteen pretty much every day.
Are you involved in any extracurricular activities?
I've joined the P.D.E. a cappella club. I've always loved singing and I often used to go to karaoke. During the University Festival and the Yukata Festival, some of the other members and I performed songs near the Faculty of Integrated Arts and Sciences. I also have a part-time job as a teacher at a cram school, because I thought it would be good experience for becoming a schoolteacher in the future.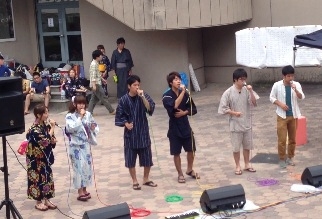 Performing songs with other members of P.D.E. during the Yukata Festival
(Mr. Goda is third from the left)
Finally, what message do you have for high school students thinking of taking the entrance examination for Hiroshima University?
I believe that if you really have a strong desire to go to Hiroshima University, you'll be able to become a student here. The most important thing is that you do your best every day with that goal in mind.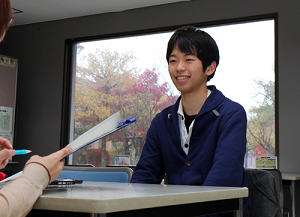 November 25, 2013
Article: K2
Photograph: S (PR Group)
Location: North Welfare Center No.2 (opposite from the Faculty of Education)