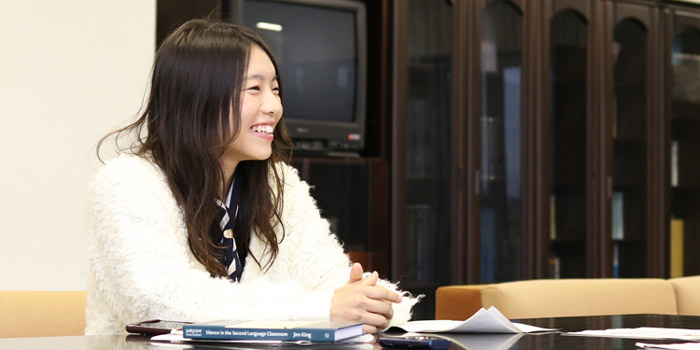 "HU Student Interview Series" gives our prospective students an insight into the perspectives of HU students. On the 30th interview in this series, we talked to Ms. Arisa Suizu, who graduated from Karyo Senior High School in Yamaguchi Prefecture, and is currently in the 4th year of the School of Integrated Arts and Sciences.
Ms. Suizu says that when deciding which university to apply, after taking the National Center Test for University Admissions, she pondered over and over, and finally chose Hiroshima University. Now, as she is about to complete her undergraduate degree, we listened to her story about the past four years in Hiroshima University. When asked the number of people she has encountered at university, Ms. Suizu said, "Well... I think the total will be way over 500 people." We interviewed her about how she felt at the time of entrance exam preparation times, her study abroad experiences in four countries, what she had studied at the School of Integrated Arts and Sciences as well as her graduation thesis.
Please tell us why you decided to apply for the School of Integrated Arts and Sciences.
When I asked myself what I wanted to do at university, I came up with the answers that I want to study English more, experience international exchange, and study abroad. Actually, I decided to apply for Hiroshima University after taking the National Center Test for University Admissions. My first choice was a different national university until then, but my examination results were not well enough... My tutor at the cram suggested the School of Integrated Arts and Sciences at Hiroshima University saying, "There, it provides flexible foreign language class options, and allows you to do what you want to do." It was a challenge for me to take the Hiroshima University's entrance examination, so I had a hard time deciding upon applying.
I see. You struggled over deciding. Please tell us about how you were feeling back then.
"Should I apply for the university where I have more chance to get into?" or "Should I apply for the university where I want to go even though there is a risk of failing the entrance examination?" I could not make up my mind and kept thinking for about a week after the National Center Test for University Admissions. My family even had a family meeting for me (ha-ha). Considering my character, I thought it would be better to try the entrance examination for the university I want to go, and try again next year if I couldn't pass, rather than to apply for the university that is not on the top of my list. Therefore, I decided to take Hiroshima University's second entrance examination.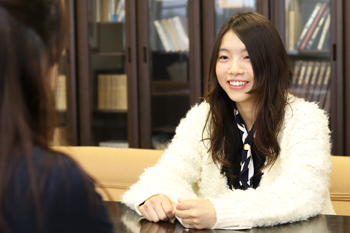 Looking back on her entrance examination times, Ms. Suizu says, "I struggled over deciding but, encouraged by my family, I finally decided to apply for Hiroshima University."
What made you interested in study abroad and international exchange?
The senior high school I went to puts effort into English education so it offers quite many international exchange opportunities, such as homestay programs and accepting international students from overseas. I was really interested in those international exchanges but since I was too busy with my club activities at that time, I could hardly participate in them even I was in such circumstances. Therefore, I wanted all the more to join some international exchange activities at university.
So, you devoted yourself to club activities in high school. What kind of club activities did you do?
I played badminton. I have been playing it since elementary school, and in senior high school, I even played in the Inter-High School Championships.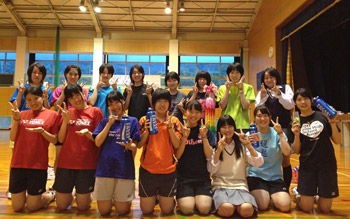 Photo of Ms. Suizu with her Badminton club members taken before the qualifying round of the Inter-High School Championships
Wow! You went into the Inter-High School Championships? Well done. By the way, when did you start preparing for the entrance examinations?
I seriously started preparing around July in my third year of High school, after I retired from club activities and started going to a cram school. At first, my choice was only going to a public university, but since I joined the Open Campus of a national university in August, I came to think that national universities could be a good destination too. It was when I seriously started preparing for the National Center Test of seven subjects in five curriculum areas. So, I may not be a role model for exam-takers (ha-ha).
You have to study many subjects for the National Center Test for University Admissions, so it is hard to achieve well-balanced study strategies, isnt' it? Please tell us your style of studying.
Before getting down to studying, I set plans and objectives for the day such as "I'm going to solve this question" or "I'm going to memorize this part." Then, if there was a day when I did not achieve these objectives, I arranged my schedule to do more the next day. As a matter of fact, I don't like math much so I did not really want to study it back then (ha-ha). I tried, however, to study each subject evenly, not to focus on only my strong subjects or weak subjects.
What did you do in the time between the National Center Test and the Secondary Examination?
The designated subjects for the secondary examination was only English for both the first round and second round, so I focused on solving English exam problems from the previous years, then asked my English teacher in high school to correct them. She was very supportive and kindly said to me, "Come to school anytime. I will watch you study," so I went to school every day, even all the required classes were over and going to school was not obligatory. Other teachers were supportive as well; they sometimes came to the classroom for the 3rd year students to see and have a chat with me because I was self-studying there, or turned the heater on to warm the room up before I came to school. Their supports definitely helped me pass the examination.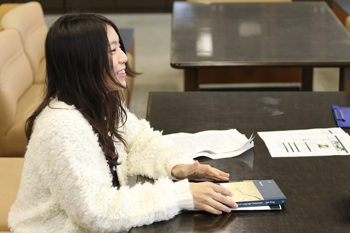 Ms. Suizu says, "Asking questions and being taught directly was the best way for me to understand."
Whilse you were studying, what did you do when you wanted to refresh your mind?
When I needed to be refreshed, I went convenience-store-hopping with my mom and spoiled myself with the sweets from the stores. Of course I wanted to play Badminton but I forced myself to wait until I pass university entrance examinations (ha-ha). My friends around me, who had already gotten accepted into universities through "Admissions on Recommendation" or "Admissions Office Examinations" in the early stages in the entrance exam season, encouraged me by saying, "Arisa, I know you have been trying hard. You will definitely pass the examination," and giving me letters. I really appreciated their kind words of encouragement. My friends, family, and teachers… just knowing that I have people praying for me helped me get going.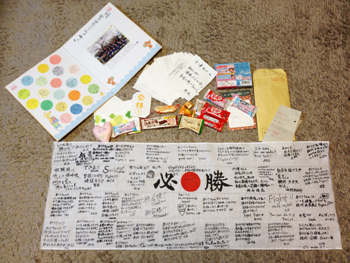 Messages of encouragement and gifts from teachers and friends gave emotional support to Ms. Suizu during the exam period.
Please tell us about your story after entering Hiroshima University. Did you have a chance to experience things you wanted to do; international exchange and study abroad?
Yes. I did a 2-week homestay in Australia with the START (Study Tour Abroad for Realization and Transformation) program during the spring break of my 1st year. I enjoyed my stay with my host family, even though I couldn't speak English well at that time and the most I could do was just try to understand what they were saying. I still keep in touch with my host family in Australia.
After that, I participated in the university's short-term study abroad programs to Taiwan, Spain, and Philippines. I even went back to Philippines for two weeks on my own and went to language school there.
You have been to many countries. What was the most striking thing about your study abroad experiences?
I'm not sure if you call it a cultural difference or a difference in habit, but I felt that the concept of time in each country I went to was completely different from Japanese one. Other than that, when I went to Philippines, I was told to travel in an "open car" (a Japanese word for a convertible car), but the car was actually a pickup truck with chairs in its open cargo area. The chairs were not even secured to the vehicle, so I was desperate not to fall off the truck. The HU students I studied abroad with were so precious to me, and we are really close like "war buddies." Some of them have already graduated from university but we still keep in touch and sometimes meet up for meals. Recently, I had a trip to Kyoto with my friends from the "Taiwan Short Visit" three years ago.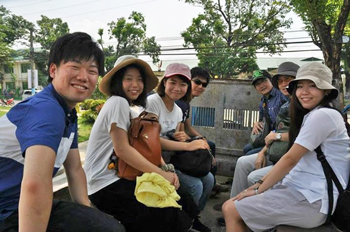 Photo on an "open car." "We traveled in a swinging 'open car' for about 2 hours. It was an unforgettable memory," says Ms. Suizu.
How are the classes in the School of Integrated Arts and Sciences?
In the School of Integrated Arts and Sciences, you can take a wide variety of classes beyond the framework of "Humanities courses" and "Science courses," so I really enjoyed studying in this School. In the first year when students are able to take classes of their interest, I took classes in the fields of "Sport Psychology," "Natural Environmental Sciences," "Geology," not to mention "Languages." At the end of the first year, students choose their specialized core course of study. For my major, I chose the Language Studies Course where I can learn mechanisms of language and methods for the analyzing structures of languages; in my case, English.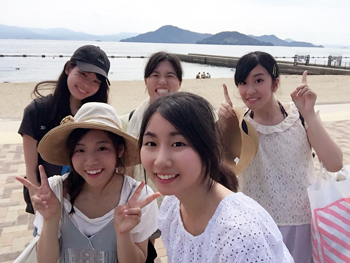 Ms. Suizu with her friends from the Language Studies Course
You have obtained an English teaching certificate.
Yes. I was greatly influenced by my teacher in high school who cared about me while preparing for the university entrance examinations. I came to think that it is admirable to be able to cherish students' dreams and goals as if they were your own and spare all the efforts for your students, just like my teacher did. I had never been interested in teaching until then, but I decided to earn a teaching certificate after entering university.
What I struggled the most when teaching during my teaching practice was to have enough time where students actually talk English. Nowadays, in many English classes, the teacher talks in English more than the students. I am majoring in "Second Language Acquisition," and because I have obtained an English teaching certificate, I have the most interest in the field of "English Learning in Classrooms." I chose this research theme for my final thesis.
Your teaching practice experience is connected to your graduation thesis. Please tell us in detail about your graduation thesis theme.
I'm researching about students' "silence" in foreign language (English) classes. This research is based on the previous research that Asian students in particular tend to become quiet in classroom compared to European and American students. For my graduation thesis, I'm writing about an analysis of reasons for Japanese English-learners (students) keeping quiet in classroom; Are there any differences in their reasons for being "silent" when the teacher is an English-native speaker and when the teacher is a Japanese-native speaker? To make a comparison, I visited and observed classes at Hiroshima University, and also asked some students to answer my questionnaire.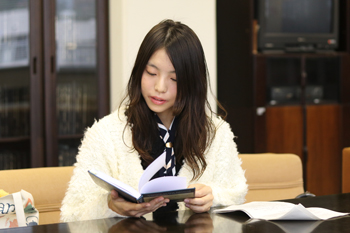 Ms. Suizu turning over the page of the book about previous research, which became the base of her graduation thesis. She says, "Because it is written all in English, it was hard just reading it."
It sounds very interesting. What are the reasons for Japanese students remaining silent, for example?
When the teacher is a native speaker, students wouldn't speak up because they are not confident if they are completely following what the teacher is saying, as he/she speaks all in English. When the teacher is Japanese, reasons could arise from Japanese cultural factors including unspoken understanding; students wouldn't speak up in the class because they don't want to interrupt the class, because they don't want to stand out, and for many other reasons.
You are almost finishing your undergraduate course. Please tell us your future goals and dreams.
I would like to engage in "Education" in some ways in the future, but I have not decided what exactly I'm going to do yet. Becoming an English teacher is of course one of my career options, but other than that, recently I have gotten to know "teacher training," where you train teacher-to-be students or support them. After undergraduate studies, I'll continue my studies at the Graduate School for International Development and Cooperation. My research seminar at the Graduate School specializes in teacher education. I could not participate in a long-term study abroad program during my Bachelor's course, so I'm planning to try one on my Master's course. I still have plenty of time, so I will take my time to think about my future plans while in Master's course.
By the way, do you still play Badminton?
Yes, I still love badminton. I'm in a circle of around 60 members called "Shuttles." We practice twice a week but it is not plenary; you can go when you feel like it, so I like its flexibility. We pair members up, regardless of gender, and enjoy playing doubles matches!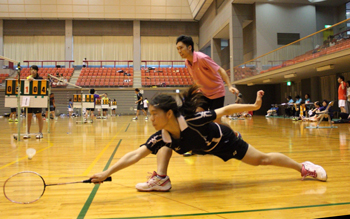 Ms. Suizu says, "Although I think 'enjoying is the main thing,' I play seriously at competitions."
It sounds like you have been having a university life full of encounters with friends in the School of Integrated Arts and Sciences, while studying abroad, and in the Badminton circle. How many people did you encounter during the past four years?
Well... If you count the people in the circle and my part-time workplace, the total would be way over 500! I'm not the kind of person who thinks ahead, but I'm more like, a type of person who does things I feel "I want to do this now." Now when I think back, I think having done whatever I wanted to do brought me many encounters with people, and led me connect with them.
Finally, please give a message to the future Hiroshima University students!
This is what someone told me, but I think, "The important thing is not 'where you are" but it is "what you do there." I'm in a place where I never imagined I would be when I was a high school student, but Hiroshima University is lots of fun and I could do so many things I wanted to do in here. Now I can say with no doubt, "I'm glad to come to Hiroshima University!"
There might be a time when you worry about which university to go or when you cannot go to the university you want to go, but I don't want you to take it as a "failure." Wherever you end up, find your passion within you such as "I like this" and" I want to do this", then follow your heart!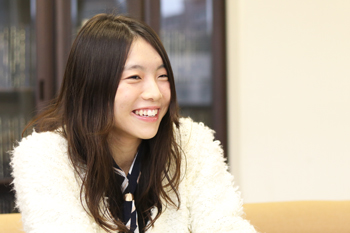 December 22, 2016
Report and Photograph: Public Relations Group (Y, i)
Location: Common Room in the School of Integrated Arts and Sciences