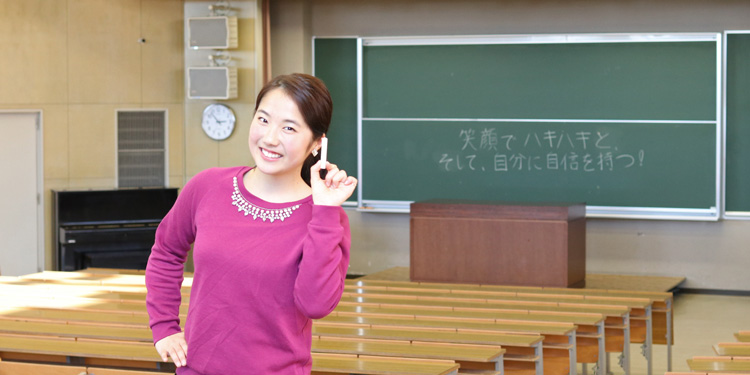 "HU Student Interview Series" gives our prospective students an insight into the perspectives of HU students. On the 31st interview in this series, we talked to Ms. Kanami Mibukawa, who graduated from Ginga Gakuin Junior and Senior High School located in Fukuyama City, Hiroshima Prefecture, and is currently in the 3rd year of the School of Education. She has talent in figure skating and has gone into the All Japan Figure Skating Championships. We asked Ms. Mibukawa about difficulties unique to the Admissions Office Entrance Examinations, her classes at Hiroshima University and her figure skating activities.
Please tell us what triggered you to apply for Hiroshima University.
I chose Hiroshima University because I did not want to leave Hiroshima, my hometown, but what triggered me the most was the Open Campus. When I participated in the Information Session for the School of Education, the teacher said something drastic like "The more you go to the university, the more you become stupid." Of course he meant "dumb" in a good way but for me, as a high school student, it was so surprising that I could hardly believe what I had just heard. His story however drew my attention more and more, and I started to feel strongly that I want to study in this university. Actually, he is my current tutor (ha-ha). Another memorable thing at the Open Campus day was the smiles of the teachers and the staffs. The university left me a great impression on me.
Well, things you actually saw and heard at the campus made you apply for this university. Was there a reason why you decided to enter the School of Education?
For a long time, I love interacting with children. You know, children can enhance their capabilities with just a little trigger, so I thought it would be great if I can be a teacher who can draw the potential out of children. This is why I decided to apply for the School of Education.
What made me decide to choose the Program in English Language and Culture Education in the School of Education was a trip overseas. When I actually spoke in English and was understood, I was overwhelmed by a sense of happiness "my English was understood!" Since then, I got into English more than ever and wanted to study more about it at university.
When did you start preparing for the entrance examinations?
I started preparing around June of my third year in high school. It might be late compared to other students studying for university entrance examinations. As a matter of fact, my life had been hectic with skating practices ever since kindergarten, and sometimes I practiced until 2 a.m. Therefore I could afford my time and energy just to fulfill the minimum of study required. For this reason, I earnestly listened to classes and, when I had something unclear, I asked teachers during the classes until I fully understand. Because I had little time, there were many times when I studied in the car on my way to practice.
Were the things you have gained from figure skating helpful at the entrance examinations?
I think I could make use of my mental strength at the interview selection in the Admissions Office Entrance Examinations. Figure skating requires you to perform in front of people, and you have to keep smile on your face no matter how hard or tired you feel. Thanks to the pressures I have experienced at skating competitions and the expression ability I have gained through skating, I did not feel any mental pressure at the interview selection.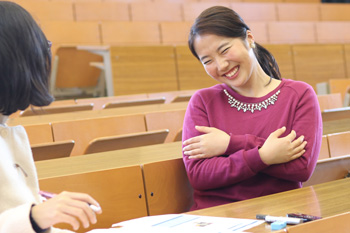 Ms. Mibukawa says, "My mental strength gained through figure skating helped me at the Admissions Office Entrance Examinations."
What did you put your most efforts in among the written examinations while studying?
I found English free writing hard so I put the most effort in it. Of course I memorized many English words, and read may books and newspapers as well, but what I did the most was to solve past exam problems. I solved past problems from Hiroshima University Admissions Office Entrance Examinations over and over, and then, asked my teacher to correct my answers or to help me solve problems.
What are you mainly studying now?
I have completed my study abroad and teaching practices, so I'm currently studying about "Education Laws and Legislations" and "General Education for Teaching Professionals" for the Teacher Employment Examinations. While learning at the university I strongly felt that expressing with body movements is crucial when teaching children. Research on a method of improving listening abilities through body responses, known as "Total Physical Response," is currently carried out. It is still early to start writing my graduation thesis, but I'm hoping that I can put together ideas about teaching methods that incorporate "body response" and "gestures," based on previous studies.
Please tell us about your study abroad and teaching practice experiences.
I studied abroad to the University of Edinburgh, England, for 6 months through the study abroad programs that the Program in English Language and Culture Education provides. The study abroad program I participated allows credit transfer, which means that the credits you earn at your destination university will be approved as credits in Hiroshima University, so I could study abroad without taking a semester off. At the University of Edinburgh, I took "Academic English" classes, in which international students from a variety of countries discuss politics, social issues, and many other themes, not to mention education-related classes.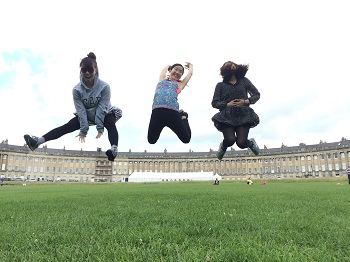 A big jump in Edinburgh, England!
I went on a teaching practice in October of my third year. It was really challenging to create 10 class plans and actually give those classes in just a month. Although it was tough, I tried my best to give classes where students can proactively participate in. I thought students will not like a teacher who speaks in a low voice, has no expressions, and seems nervous, so I kept three things in my mind when teaching: never lose smiles on my face, speak clearly and crisply, and be confident.
Sounds like you're a teacher who makes your students bright and cheerful. What do you usually do on your days off or after classes?
Even after entering university, I still play figure skating. I can have on-ice practices only on the weekends and holidays, so I go running to improve my physical strength during weekdays. When I wanted to try something different for my training, I once joined practices at a Karate Club. While figure skating attracts its audience with players' smiles, when you do Karate, you never flash smiles. So in that sense, Karate is completely opposite to figure skating. It was great to try something completely different from what I usually do. I even feel that I could improve my expression ability through trying Karate.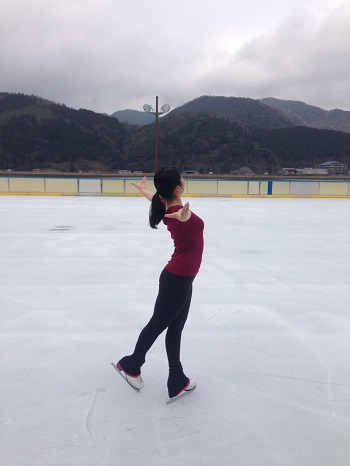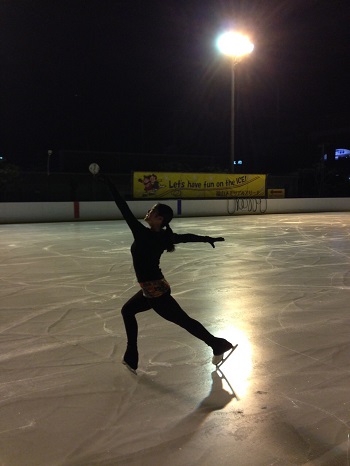 Practicing at the outside ice rink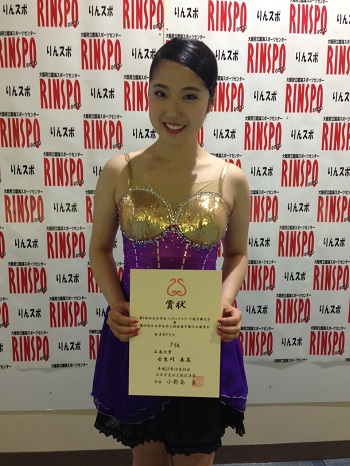 Ms. Mibukawa won 7th place at the West Japan Intercollegiate Championships in 2015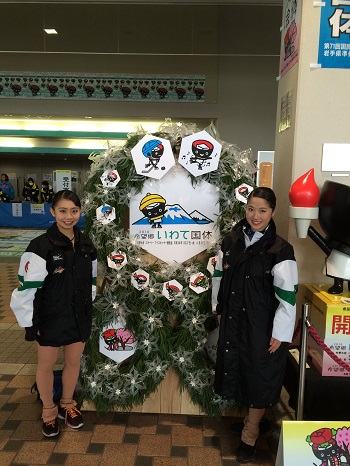 The total results of the Hiroshima Prefectural representatives including Ms. Mibukawa came 9th at the National Sports Festival of Japan Winter tournament.
Is there anything else that you feel you have changed or gained after entering Hiroshima University?
Well, through interacting with many people, I think I stopped sticking too much to my knowledge or my way of thinking. By listening to stories from my friends and teachers who have different backgrounds or hobbies, I could broaden my perspective. Moreover, I was able to utilize case studies and theories that I had learned at the School of Education to actually instruct skating.
Please tell us your future goals and dreams.
My current goal is to become an elementary school teacher, because I think elementary school teachers can spend their time with their students all day long and can watch over their students grow by their sides. I thought I would have some opportunities to read picture books aloud to my future students, so I started practicing it. When practicing, I look myself in the mirror to make sure I'm expressive, and keep in mind to read slowly and loudly.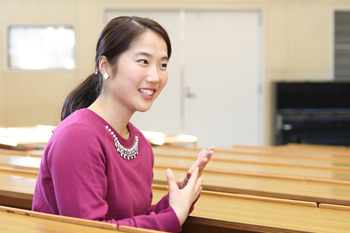 Ms. Mibukawa telling her future goal of becoming a teacher
What kind of teacher do you want to be?
A teacher who keeps smiles on her face all the time, so her students can enjoy coming to school. I also want to be a teacher who is always humble, and can understand the pain of others. Now, I'm in charge of instructing elementary school kids at a skating school in my hometown. I have many occasions to interact with elementary students and their guardians, so that makes me want to be an elementary school teacher more than ever. The joy I get when my students overcome what they could not do and say "thank you" to me with their smile drives me to pursuit my dream.
Lastly, please give a message to students thinking about entering Hiroshima University!
Hiroshima University is a more wonderful university than you could ever imagine. Right now, you may be having tough time preparing for university entrance examinations, but try your best in order to enjoy your university life. I'm wishing you the best.
Also, other than studying, I think it would be better for you to have something you are good at, for example, "I'm an early bird" or "I love reading." Even something small will do. If you have something that you can do as a breather or something that no one can beat you at, I think that will be your advantage in the future.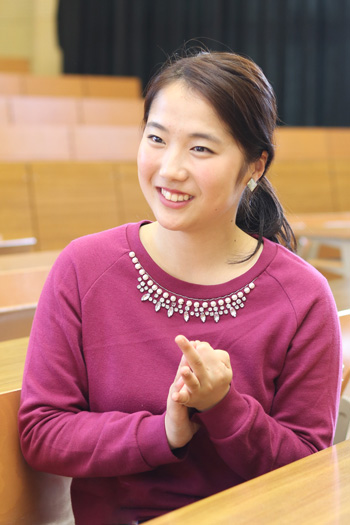 January 6, 2017
Report: Public Relations Group (G, i)
Location: Lecture room in the School of Education