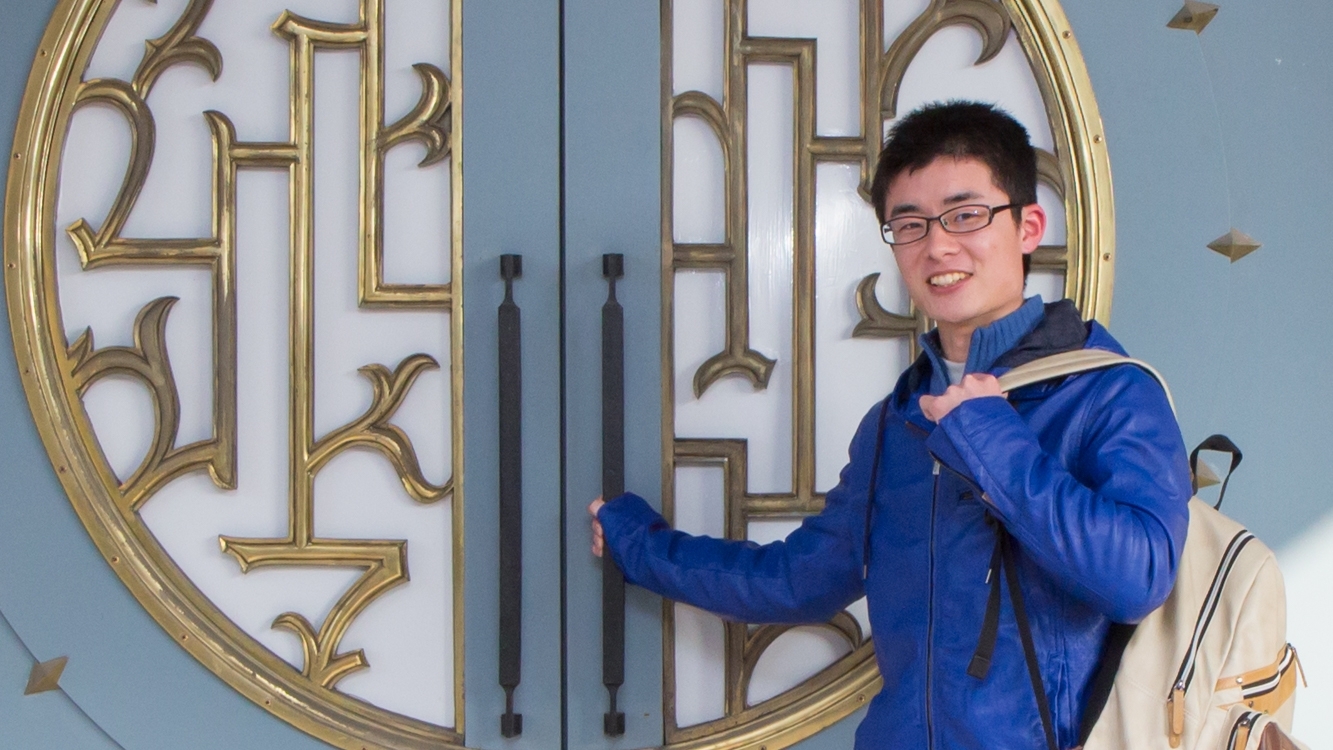 1st Year, Faculty of Science, Department of Earth and Planetary Systems
Naoki Shiraishi
<Graduated from Oita Prefectural Hita High School>
"HU Student Voices" gives our prospective students an insight into the perspectives of HU students. As the 17th interview in this series, we talked to Naoki Shiraishi, a 1st year student in the Faculty of Science.
Mr. Shiraishi says, "Looking back at my High school life, I was truly blessed with wonderful teachers". He succeeded in passing the university entrance examination through support from his former teachers and hard work. We asked him about how he studied for the entrance exam and his campus life.
Why did you to apply for the faculty of Science?
I like looking at stars, and I always had interest in the history and the origins of the universe. I wanted to learn about planets and outer space in university because it's filled with mystery and it's in such a big scale. On the other hand, I want to become a teacher in the future so I needed to decide if I wanted to go into the faculty of Science or a program in Science education (Faculty of Education).
What was the final factor that made you decide on the Department of Earth and Planetary Systems?
I wanted to gain a high degree of specialization. I felt I could learn various things I didn't know in this Department. Also, even if I am in the Faculty of Science, I am still able to obtain a teacher's license.
When did you start studying for your entrance examination?
I started to become aware of entrance examinations when I retired from my club activities in June, but I wasn't in "Exam study mode" yet. This is because my examination preparation was mostly based on school classes. It consisted of class work, and preparation/review of class. The teachers in my High school taught us so well; I was blessed with wonderful teachers.
What a great environment! Were there any methods your teacher used that really worked for you?
I felt my English teacher's correction guidance was especially effective. English questions for Hiroshima University are very difficult and there is also an English essay in the examination. I felt, whether or not I could overcome the English questions, and how well I can write the English essay will decide if I could pass the entrance examinations or not. It's easy to leave practicing for English essays aside because it's not something you can study alone. With the help of my teacher's corrections, I wrote the English essay with confidence on the examination day.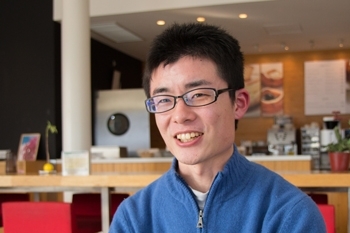 Mr. Shiraishi put emphasis on practicing for the English essay portion of the examination
So you passed your Entrance Examination! Did leaving Oita and starting life in Hiroshima give you any nervousness?
I didn't have anxiety because I thought knew "I'll be able to manage it one way or another".. At the Fresher's orientation camp, I easily made friends with students in my faculty and department; I also met many people through my circle. It's exciting and fun that there are students from all over Japan.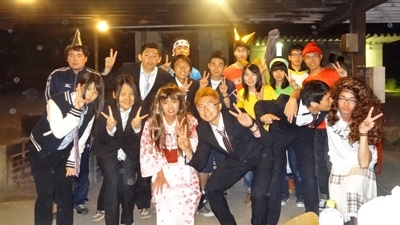 Wearing costumes during orientation camp
What kind of circle do you belong to?
I belong to a track and field circle called "Runners". I was part of a track and field club when I was in High school, so I wanted to continue running in university. We run around the outer boundary of Hiroshima University for normal training. It's about 10km to run around the campus three times. Normally we train on our own pace and participate in team competitions together.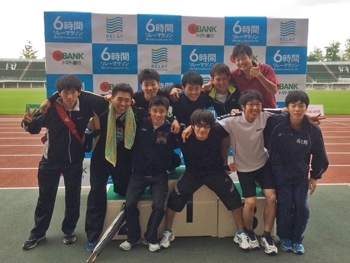 At the competition held in Okayama
What was it like taking classes in Hiroshima University?
Before coming to Hiroshima University I didn't have much interest in the Earth's interior because I had strong interests in outer space. However, after taking classes on the structures of the Earth's interior and changes in the Earth's environment, I was deeply moved. "We don't give much thought to Earth every day, but the structure of Earth is amazing!" We also visited the Institute for Amphibian Biology (that is famous for the research on frogs) and went to Kyushu to do a field work on land layers and rocks. It's the perfect environment for someone who loves Science.
Are there any classes you would like to take in the future?
During my first year of university, I took many Science classes, so from my second year, I will like to broaden my classes to include "History" and "Literature". I am able to take classes outside of my faculty so I want to learn classes from various faculties.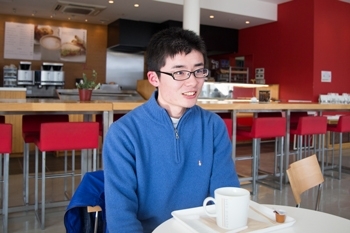 Mr. Shiraishi is eager to learn about subjects other than science
How do you feel about Hiroshima University's support?
In the Department of Earth and Planetary Systems, there was a personal talk with my teacher when they gave me my grades for the first semester. They gave me guidance about credits and campus life. They told me, "The world becomes bigger if you try a part-time job" so I started a part-time job as an apartment locator in Co-op from fall.
What kind of skill did you acquire from your job?
I feel my communication skills have improved because this job requires you to go to many apartments and accurately convey the appealing points and information about each room to your customer. Soon, it will be the season to guide around incoming freshman. I am excited to meet the new students before anyone else.
What are your future goals?
I want to become a High School teacher in my home town. I want to teach the brilliance of science while bringing up talented students that will carry the next generation. In High School, I will need to teach not only earth science (which is my specialty) but physics, chemistry, and biology. It is essential to completely understand the basics. On top of that, I want to gain a high degree of specialization on Space and the Earth before I graduate from university.
Finally, what message do you have for high school students thinking of applying to Hiroshima University?
"Receive joy through sufferings". When you are tired from all of the studying, please remember this phrase. There is always happiness at the end of sufferings. Even though the studying now might be strenuous, there is a fulfilling campus life waiting for you.
Hiroshima University has excellent research facilities. I am sure you can learn everything you want to learn, and research anything you want to research here. The Ministry of Education, Culture, Sports, Science, and Technology chose Hiroshima University as one of the top universities in the Top Global University Project (*). Let's learn together and make many fun memories as Hiroshima University will continue to develop more and more!
(*)The 'Top Global University Project', aims to bolster the international competitiveness of Japanese universities by providing priority support to universities dedicated to thorough university reform and internationalization. HU aims to be ranked among the world's top 100 universities, continually producing global human resources and creating new forms of knowledge.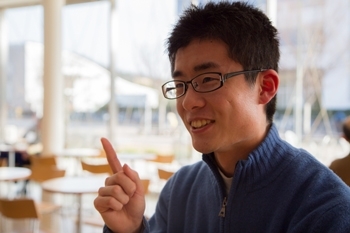 February 23, 2015
Reports and Photograph: i, N (PR Group)
Location:"La Place" (Mermaid Café Hiroshima University)