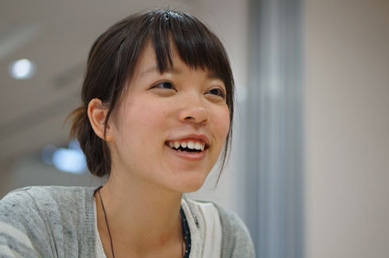 No.14
1st Year, Program in Music Culture Education, Faculty of Education
Kanako Takahashi
<Graduated from Music Course of Oita Prefectural Midorigaoka High School of Arts>

"HU Student Voices" gives our prospective student an insight into the perspectives of HU students. As the 14th interview in this series, we talked to Takahashi Kanako, a 1st year student studying at Faculty of Education.
Ms.Takahashi had been studying vocal music since her high school. After graduation from the local two year college, she came to Hiroshima University. We interviewed her about the reason she chose Hiroshima University and her campus life.
Why did you choose Faculty of Education? 
After graduation from vocal music course of Oita Prefectural Midorigaoka High School of Arts, I went on to vocal music course of Oita Prefectural College of Arts and Culture. I planned to obtain a teacher's license for high schools by long distance education after finishing the course while studying at the other course of the college.
However, as the result of reconsidering my career, I decided to apply to national or public universities where I could obtain teacher's license while studying music professionally.
What made you decide to apply to Hiroshima University?
At first, I was attracted by its homepage. Since I like to talk with people from other countries, a lot of international events on campus which I couldn't experience at the college seemed very interesting to me.
Now I'm taking French class so that I can communicate with many people not only in English.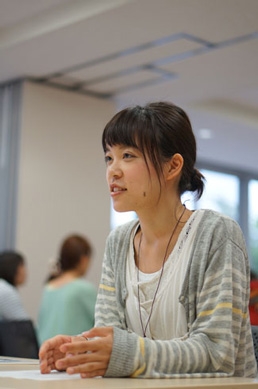 What is your difficulty in studying for the entrance examination?
As examination subjects of National Center Test, I had to take Biology, Japan History and Mathematics IA. The problem was that I'd never taken those courses at my high school. I bought text books and started to study those subjects by myself, but I really struggled with Mathematics IA. Then my high school teacher introduced me a tutor who helped me a lot.
I also practiced singing for a few hours every day in preparation to the practical test held in the entrance exam. I missed the days although I had been very busy.

At that time, I couldn't see the goal of my studying. I often felt discouraged that I never passed the test. I was encouraged by looking at Hiroshima University's website and imaging myself studying on campus.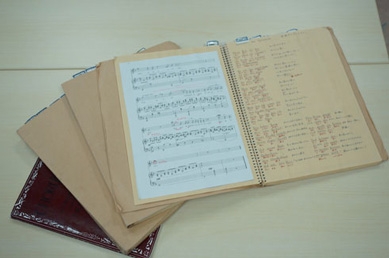 Musical score for practicing vocal music (She sings in its original language!)
You passed the exam the hard way. What do you like about Hiroshima University?
In my previous school, we weren't allowed to take the lessons of string instruments if we've never practiced them. At Hiroshima University, you have to take a practice class of any instruments even if you are a beginner. So I enjoy the practice class very much even though playing unfamiliar instrument is very hard for me.
I'm also taking a practical class of opera, which is opened to sophomore students. Freshman students like me can't get a credit in this class but we are allowed to participate.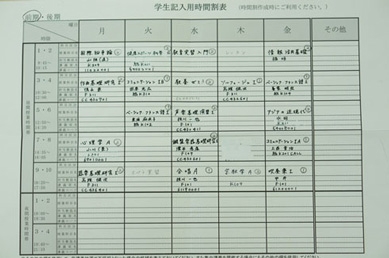 Timetable for the 1st semester
What's the fun of your campus life?
I often participate in international events to enjoy communicating with international students. International Luncheon is held on every Thursday (12:10~12:40)and International Café is held on Tuesday (18:00~20:00). I go to these events alone. I'm not nervous about it because I can make friends with students from other faculties.
I'm living in the student dorm so I can enjoy talking with international students there, too. I've made friends with students from China, Vietnam, the U.S., the UK, Thailand, Indonesia and so on.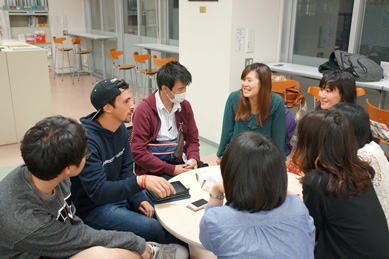 Please tell us your future goal.
Since I entered to this comprehensive university with effort, I'd like to challenge various things on campus so as not to regret later. After graduation, I want to become a music teacher in my hometown.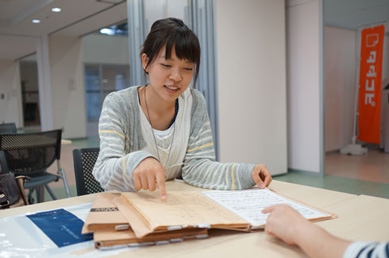 Finally, please give a message to prospective students aiming to study at HU.
At Hiroshima University, various courses and events are held so you can experience many things if you want. I'd like you to challenge what you want to try.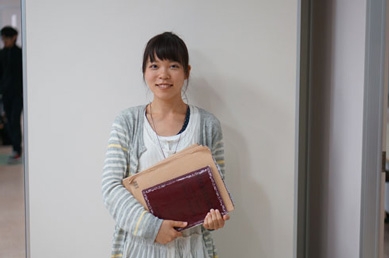 May 20, 2014
Reports/M2
Photograph/i (PR Group)
Location/Student Plaza