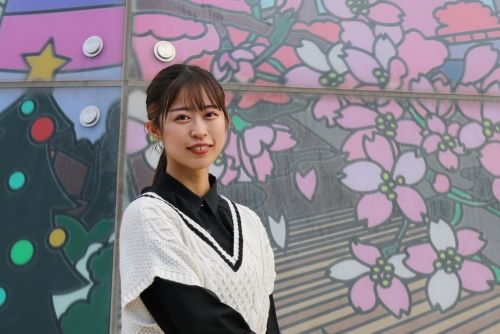 "HU Student Interview Series" gives our prospective students an insight into the perspectives of HU students. On the 47th interview in this series, we talked with Ms. Tsugumi Inoue, who graduated from Hiroshima Prefectural High School and is currently a 3rd-year student studying at the School of Medicine.
While she is busy with her studies and volunteer activities, she also enjoys her hobbies, such as dancing and club activities. Her motto is, "It is better to regret doing something than to regret not doing it." She spoke to us about her studying methods in high school and her campus life.
What made you decide to apply to Hiroshima University?
When I was in high school, I worked as a high school peace ambassador. Now, I wanted to support the activities of high school peace ambassadors as a university student supporter based in Hiroshima. The reason I wanted to become a doctor was that I learned about the serious shortage of doctors in the mountainous areas of Hiroshima Prefecture. Because I wanted to support the community as a doctor, I decided to apply to the School of Medicine at Hiroshima University through the Hometown Admission Category, which is dedicated to training students to be medical professionals who will be responsible for providing community healthcare in Hiroshima Prefecture.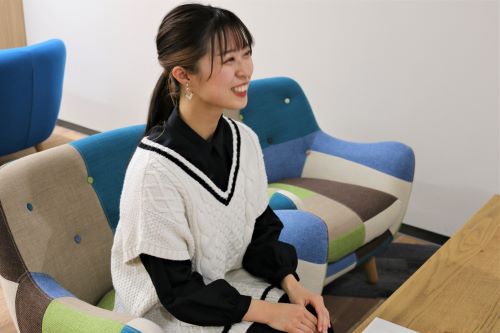 Ms. Inoue expressed her desire to be involved in community healthcare in Hiroshima as a doctor
When did you start studying for the entrance exam?
In retrospect, I feel that completing my daily classes and assignments at school contributed to my studies for the entrance examinations. From the winter of my second year of high school, I started going to a preparatory school and studied with my friends until around 10 p.m. I was especially fortunate to have a senior from my high school as a tutor, so I was able to ask questions about what I didn't understand and discuss my future plans. In the summer of my third year of high school, I participated in a study camp organized by the prep school for three days and two nights, where I devoted myself to studying with my friends from early in the morning until late at night. Through such experiences, I feel that I was able to improve myself.
What was the most difficult part of studying for the exam?
When I was a first-year high school student, it was difficult for me to balance my activities as a high school peace ambassador with my studies, and there were many parts of my studies that I did not understand deeply. In my second and third years of high school, I had a hard time going over what I had learned in my first year while also learning new things.
What was the best thing about enrolling at Hiroshima University?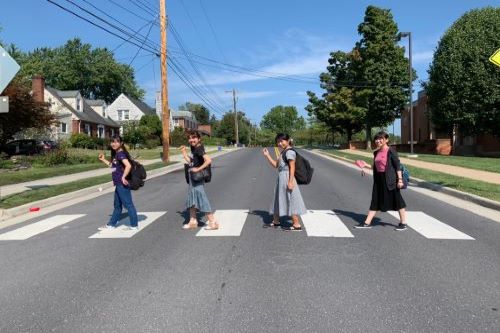 At the university campus while studying in the US (Ms. Inoue is on the far left)
There are many things, but I would say that the university provides a good learning environment. I enrolled in the School of Medicine through the Hometown Admission Category, so the teachers in charge of my studies support me very well. For example, I can receive advice about studying for exams based on the teachers' own experiences as students, and I can enjoy my university life with peace of mind because I can receive detailed explanations about my career path after graduation from my earlier years at university. In addition, I studied abroad in the US during the summer vacation of my first year at university, and in Spain during the spring vacation through the study abroad program of Hiroshima University. In the US, I shared a room with a roommate in the university dormitory, took classes together, and went shopping together. What made an impression on me about the classes there was that the geography teacher was unique, and the students were very active and passionate about the classes.
Please tell us what you are currently studying.
Currently, I am studying clinical medicine, which involves learning about the ailments of the different medical departments. I am learning about the underlying causes of each disease, what sort of diagnostic testing is needed, and how to proceed with treatment. Specifically, classes are divided into sections such as "Gastroenterology," "Cardiology," "Ophthalmology," "Dermatology," and "Pediatrics," and students take exams every week. For example, in the pediatrics class, we were divided into groups to discuss what diseases were suspected using data from actual patients, and then we had to research and present what additional tests should be performed to diagnose the disease. Another unique class at the School of Medicine is the "Medical Research Training" in the fourth year. Students are assigned to laboratories both on- and off-campus for research training, which lasts for four months. Compared to other universities, the training period is much longer. From next spring, I am planning to conduct research on myelodysplastic syndromes of atomic bomb survivors at the Nagasaki University Atomic Bomb Disease Institute.
Typical weekday schedule with classes:
| | |
| --- | --- |
| 7 a.m. | Wake up / Commute to university by train and bicycle |
| 8:40 a.m.~12 p.m. | Class |
| 12:10 p.m.~12:40 p.m. | Attend hometown seminar for Hometown Admission Category / Lunch |
| 12:50 p.m.~2:25 p.m. | Class |
| 2:25 p.m.~2:35 p.m. | Go to the convenience store on campus with friends |
| 2:35 p.m.~4:10 p.m. | Class |
| 5:30 p.m.~7:00 p.m. | Attend Dance Lesson (Hobby) |
| 8 p.m. | Return Home |
| 8:10 p.m.~ | Dinner with family |
| 9 p.m.~10 p.m. | Part-time Job (Private tutor) |
| 10 p.m.~ | Free time, exam preparation, etc. |
| 12 a.m.~ | Go to bed |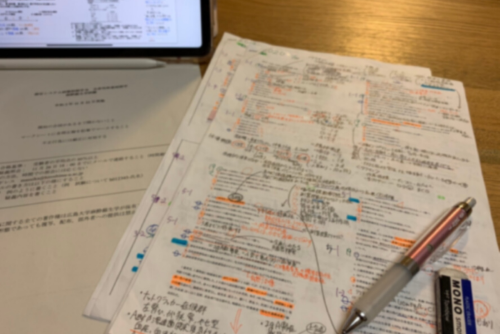 Deepen understanding by jotting down important information
Please tell us about your university life outside of your studies.
At university, I am a member of the badminton society and the tea ceremony club. In the summer of my first year at university, I participated in a training camp where I had fun playing in the river, watching fireworks, and eating fish that we caught in the fishing pond.
I have also been learning dance since I was in the first grade of elementary school, and I continue to do so today. The other day, I had the opportunity to perform in a dance concert.
As for volunteer activities, in my first year of university, I applied for the Hiroshima City A-bomb Survivor Awareness Program, hoping to make use of my experience as a high school peace ambassador, and have been participating in monthly training sessions to become a "Memory Keeper" to pass on the A-bomb experience of Shouso Kawamoto, an A-bomb survivor to the next generation.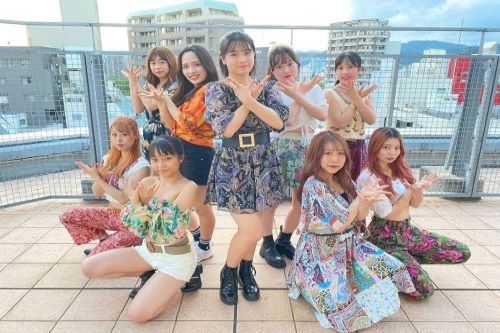 At the K-Pop dance performance (Ms. Inoue is on the far left in the bottom row)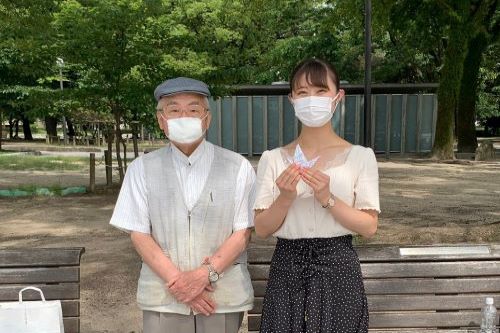 At the Peace Memorial Park with Mr. Kawamoto
What made you interested in peace-related activities?
It all started when I heard from a senior at high school who was working as a high school peace ambassador. When I was in my third year of junior high school, I started participating in a petition that high school peace ambassadors would submit to the United Nations. When I was a first-year student in high school, I was selected as the 18th High School Peace Ambassador from Hiroshima, and I also had the honor of giving a speech at the Conference on Disarmament held at the United Nations European Headquarters. As a member of the Japanese government delegation, I expressed the wishes of the A-bomb survivors of Hiroshima and Nagasaki in the solemn atmosphere of the United Nations Conference Hall and called on the disarmament representatives of various countries to visit Hiroshima.
Finally, please give a message to students who are aspiring to study at Hiroshima University.
I know it is very challenging for students who are taking the entrance exams to juggle various tasks such as daily classes, preparation and review of classes, and weekend assignments and quizzes, and it may be hard for them to do it alone. Even in such a situation, I would like you to face the exam with the awareness that you are not facing the exam alone, but together with your classmates and teachers.
Actually, I was able to study more efficiently and concentrate more on my studies when I studied with others who had the same goal of passing the university entrance exam than when I studied alone. I went to school early in the morning and studied in the classroom before the start of the school day, and I actively used the study room at the cram school. As you keep working hard, there will be times when you cannot get the results you want no matter how hard you try. At such times, it is important to take a break or get advice from your teachers or seniors to relieve your mind.
I would like you to be proactive about your examinations and think about what you need to do, working backward from your dreams, ask yourself what kind of dreams you have, which university department you should enter to make your dreams come true, and what you need to do now to enter that university. I am sure that teachers and family members will support students with great enthusiasm. I am cheering for you all to realize your dreams for the future!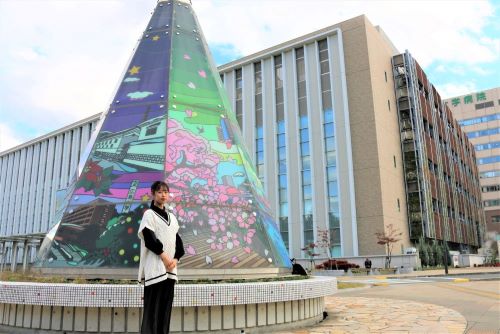 Her favorite place at the Kasumi Campus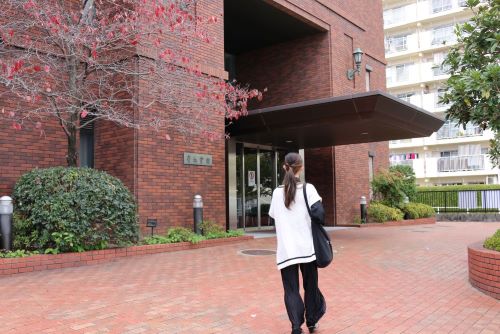 To the tea ceremony club after the interview
November, 2021
Interview and Photograph: Public Relations Group (H)
Location: Kasumi Campus