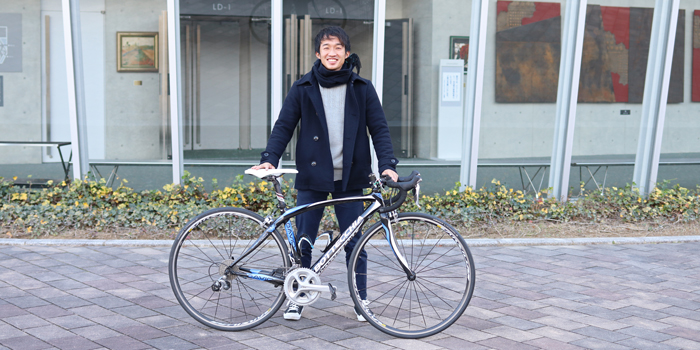 3rd Year, School of Letters
Fumiaki Matsuno
"HU Students Voices" gives our prospective students an insight into the perspectives of HU students. On the 29th interview in this series, we talked to Mr. Fumiaki Matsuno, who graduated from Shizuoka Prefectural Hamamatsu Kita High School, and is currently in the 3rd year of the School of Letters. We asked Mr. Matsuno about his works as the captain of the Triathlon team, researches and classes in the School of Letters, and his university entrance preparation years.
Why did you decide to apply for Hiroshima University?
To be honest, my first choice was a different National University, and I also tried out for a private university as well. As a result, I had to take Hiroshima University's second entrance examination. My high school homeroom teacher and the Grade Head teacher suggested me that Hiroshima University is a good university, and we have lots of teachers who are alumni from there, so I decided to apply. Even from other teachers, they told me "You seem well fit for a teacher, so maybe you should take the entrance exam for Hiroshima University. It's well known in the education field."
Please tell us what triggered you to apply for the School of Letters.
When I was in a freshman in high school, I tried out an online service that suggests you what kind of University and School is fit for you, by punching in your interests in certain careers and key words. At that time, I was interested in film, so I punched in "Film" and "Film Director", and the result said that I'd be fit for the School of Letters. From that time, I decided to go to the School of Letters!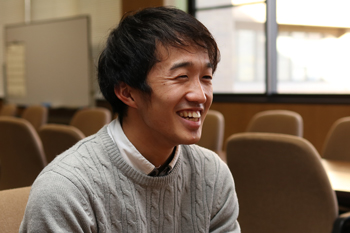 Mr. Matsuno says "I had been striving to go to the School of Letters since my freshman year of high school."
When did you begin preparing for entrance exams?
Because I had been participating in baseball club activities, I earnestly started preparing from around the summer of my 3rd year in high school. Although I started quite late, my high school teacher encouraged me and my club mates that you'll have an amazing growth after retiring, so I was not that anxious. I had seen many upperclassmen that got in their first tries. Every time I tried the practice exam my score got higher, so I thought "It will be okay if I continue at this pace." I believed in myself and continued studying.
What did you put your most efforts in while studying?
Going back to the basics in all subjects. I used textbooks and study-aid books, and made sure to reflect as many times as I need to remember everything. I asked the teacher all the points that I did not understand, and made sure I did not have any worries.
Other than that, Japanese Studies as that was my weak point. Now, I read many books, but at that time I did not read books much, and was not used to reading sentences... I solved past exam questions over and over again, and tried to become familiar with sentences. I suggest to all high school students, even if you are not really conscious about entrance exams yet, you should start reading books at an early stage! If you become used to reading sentences, your reading speed will increase, and sentences will seem more logical.
Do you have any other study tips to suggest?
For Japanese History, I used to write down "Memory Trees" for time periods that are hard to understand. It is a style where you pick a theme as an axis, and write down related entries as a branch, kind of like a family tree. Whilst coordinating items in a memory tree, you are able to firmly grasp the story, and I was able to stitch up information such as "when this happened, this person comes up."
What was the hard thing about preparing for exams?
Besides Japanese Studies, I was also weak in Geography... When I felt stuck on my weak subjects, I used to run away from them for a bit (Haha). After doing subjects that I liked and calming myself down, I came back to my weak subjects. When I did club activities, one of my senior team mates advised me "when you feel really tensed up, it's okay to run away for a bit," and since then I think it is alright to run away sometimes. I believe the reason why my feelings were not interrupted until the actual examination day was maybe because I was able to run away sometimes.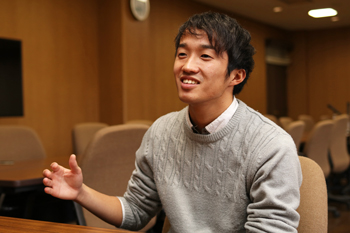 The words "Sometimes it's alright to run away" helped him feel more calm.
Whilst studying, what did you do when you wanted to refresh?
I used to listen to music between studying to change my mood. I chose the songs according to how I felt, but I used to listen to a lot of cheery songs.
Also, I allowed myself to watch one TV program once a week. It was impossible for me to put myself in a tensed mood all the time, so I took some rest when I decided to do so. By making sure I have time to rest, I think I was able to have a variation when studying.
Please tell us about your story after joining. How was Hiroshima University's atmosphere?
I really like the large campus. To be honest, I had received an acceptance letter to a private university before Hiroshima University's second examination. It was a university in Tokyo, so I felt leaned towards it, thinking "I might be able to have an exciting campus life like a TV drama." However, when I actually came to visit Hiroshima University, I thought the campus' atmosphere was nice. My feelings quickly changed to "I want to study here for 4 years!" Higashi-Hiroshima campus does not have any electricity poles, so the sky looks wider; it is expansive and comfortable.
Did you have any worries in leaving your hometown Shizuoka?
Yes. I did not know anybody, so of course I felt worried. However, at the newcomer orientation camp I made friends, and I was able to start on good ends. Higashi Hiroshima campus is not a "city-like" place, so it's closed up in a good way... Inevitably, the exchanges between students become closer, and my string of friends soon expanded.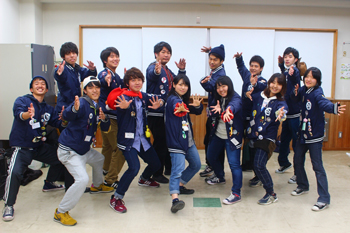 A shot from this year's School of Letters Orientation Camp. Mr. Matsuno and his classmates worked together to entertain newcomers.
We heard you wanted to join the School of Letters from your interest in becoming a film director, but how are your classes?
The classes I took so far were not directly related to movies, but every class was interesting. On your freshman year as a preparation for your specialty classes, I took introductory classes such as "Geography", "Japanese Archaeology" and "Cultural Heritage", and because it was all fields I had never touched upon, my perspective seemed to widen.
At the end of your freshman year, you choose your course of choice from 5 courses: "Philosophy and Thoughts Course", "History Course", "Geography, Archaeology, and Cultural Heritage Course", "Japanese and Chinese Languages and Literatures Course", "British, American, and European Languages and Literatures, and Linguistics Course". In my major, Japanese Language and Literature (Japanese and Chinese Languages and Literatures course), you are able to decide what literature you want to research, from many time periods such as "Ancient and Medieval", "Early Modern", "Modern", and "Present". I am able to freely learn what I want to learn, so I feel satisfied.
Right now what are you especially studying?
Right now, during the "Methods of Research on Japanese Present Literature" class, I am learning about what kind of research have been done so far in Showa Period writers and in "Seminar on Japanese Ancient and Medieval Literature II" class, I am learning to read "worm-like letters" called "kuzushiji" and translating them into modern writing. Furthermore, during seminars; "Modern Literature Research Meetings", we are furthering our research in modern literature by presenting research, reading together, and watching films.
The interesting thing about researching literature is that the approach to it has so many varieties. According to where you put your perspective, even if it's the same time period or author, you are able to think of many different ideas. Not only do we read stories, but we have a lot of chances to read materials of past research.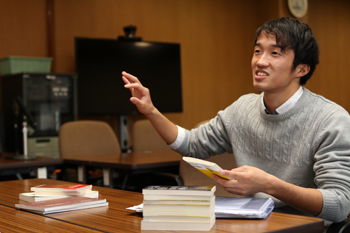 Mr. Matsuno speaks the charm of Literature by saying "By reading books, your world will widen."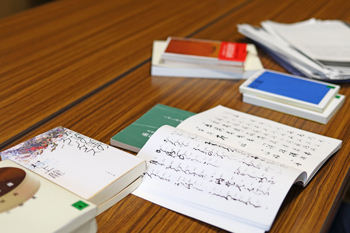 Books Mr. Matsuno uses in class
Have you decided what theme you will use for your bachelor's thesis?
Yes. I have plans to research about the author Ryu Murakami. At the last research presentation meeting, I presented one of his works by thinking about its representations of "Physicality." When I read his debut work "Almost Transparent Blue", my interests grew, "What does a person who writes a book like this think like?" "How are his other pieces written?" Also, he had shot many films, so I became furthermore interested. I am hoping I can find the relationship between films and literature as I continue my research on him.
What kind of part time work or club activities do you do?
I work at a "Bishunabe" (Higashi Hiroshima's local specialty) restaurant 3 times a week.
For club activities, I played baseball for Junior and High schools, but I started triathlon from my university years after hearing "beginners are welcome." I liked running since I was little, so I decided to challenge myself. Triathlons are individual competitions, but club activities require teamwork. I enjoy practice whilst making sure we stay as a team. I retired being a captain from this autumn, but I will continue to participate.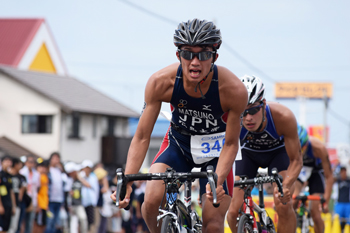 A shot from a competition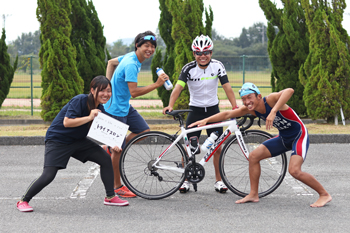 A shot with Triathlon Club members
Please tell us your dreams and goals.
In the future, just like my interests in high school, I have a wish to join the film industry. For the job hunting season coming up soon, I hope I can make an appeal about the things I learned in Hiroshima University, and join the field I wish the most.
I'm going to continue my club activities until the next All Japan Students Triathlon Competition (Inter-College Competition). I know it will be extremely busy with research and job hunting for the coming semesters, but I will try to join training as much as possible and strive to get good results at the competition.
A message to future Hiroshima University students
Hiroshima University is a place you can challenge yourself to things you want to do; it is a free and amazing place. I know preparation for exams are tough, but right now try your best, and please accomplish this freedom. "No pains, no gains." If you work hard, an amazing future awaits for you.
I know there must be a lot of people who think, I don't have time for studying because I have to spend so much time for club activities... However, I think right now I believe you should put your best to club activities that are only available in your high school years. I think incompletion is not a good thing. I too, did club activities, but after working extra hard after retiring, I was able to become a university student (Haha). Whether it is club activities or studying, in the end, I hope for everyone to have a winning smile. I cheer for you!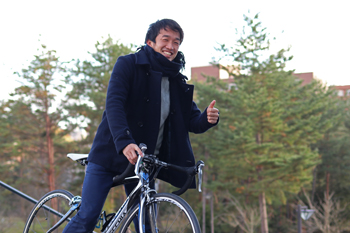 December 6, 2016
Reports and Photograph: Public Relations Group (F, i)
Location: School of Letters Meeting Room, Satake Memorial Hall