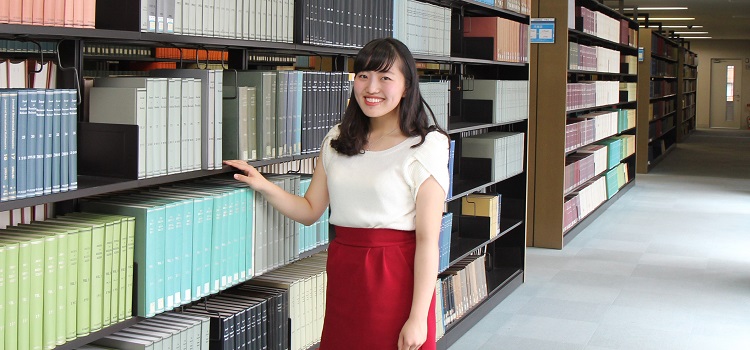 "HU Student Interview Series" gives our prospective students an insight into the perspectives of HU students. On the 33rd interview in this series, we talked to Ms. Harumi Nishikawa, who graduated from Yasuda Girls Junior High and High School, Hiroshima Prefecture, and a sophomore of the Department of Chemistry, the School of Science. Ms. Nishikawa has dreams of making new cosmetics that can make everyone happy and to work globally. We interviewed her about why she decided to apply for Hiroshima University, her study abroad experience that brought her a turning point, and what she is currently striving for.
Reasons why I decided to apply for Hiroshima University – it's the best place for my studies.
At first, I was thinking to apply for a department of pharmaceutical sciences in a different university. My first choice was one of the high level universities with science programs because I was good at science related subjects and thought I was able to keep up my motivation for studying by setting my goal high.
However, after taking the National Center Test for University Admissions, while consulting my parents and teachers at school, I took time to think carefully which university and department could be the best choice for learning what I want to and for my future dreams.
I want to work internationally in the future. Therefore, Hiroshima University seemed a perfect place for me as it has been selected as one of the universities with "The Top Global University Project". Another attractive point about Hiroshima University was that it is an integrated university. I thought it would enable me to meet new people with various different values. Moreover, since I went to girls' school from junior high through senior high, I wanted to dive into a totally different world.
My house is close to the university. What is more, my mother, who is a Hiroshima University alumni and professor at a private university, recommended Hiroshima University. It greatly influenced me.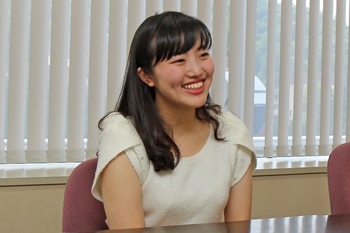 Entering the Department of Chemistry in the School of Science in pursuit of her dream of "making new cosmetics that can make everyone happy"
I always liked chemistry. I think crystal structure determination is fun like solving a puzzle. At the Department of Chemistry, the School of Science, I expected that I would be able to learn specialized fields and obtain the knowledge necessary for my future job. That was why I decided to apply for the Department. I want to make new cosmetics in the future; the cosmetics that can make people happy!
I had classical ballet lessons for fifteen years from the age of two. You know, ballerinas wear heavy stage makeup. I saw some girls having facial problems at times because of stage makeup, and it made me get into and want to make new cosmetics that everyone can enjoy makeup without any problems.
When deciding which department to apply for, I checked academic background of those who work in cosmetics industry to see what department fits me best. I am thinking of going into graduate school after my bachelor studies and getting a job at a cosmetics company that has international alliances.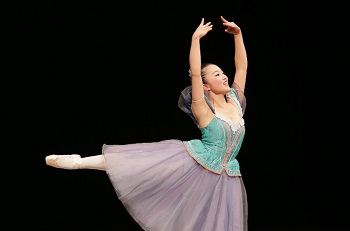 When in her final year in junior high, Ms. Nishikawa won an award at the First National Classical Ballet Competition in Fukuoka.
Studying for the university entrance examinations - Stayed motivated by studying at a cram school and high school
I started studying English intensively from the winter of my 3rd year in junior high school to improve my English, my weak subject at that time. Initially I took a class at a cram school that helped me strengthen my English vocabulary. I also often studied with an English vocabulary study book on the train on my way to and from school. Gradually, I expanded my English vocabulary, and gained a confidence in my English.
Around the autumn in my 2nd year in high school, I started taking intensive courses to prepare for the university entrance examinations. However, I started to lose my motivation for studying after the National Center Test for University Admissions. During that time at my high school, more time was allocated for self-study. Most of my friends had already received an acceptance to a private university, while I still had to study for HU's entrance examinations. I felt bit lonely studying alone. Thanks to the classes focused on past problems of the examination and my teachers, I was able to continue my study positively. I also kept motivated by studying and encouraging each other with friends who had the same goal.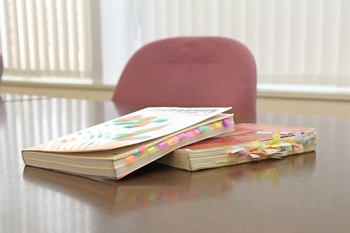 The English vocabulary book and Science studying book Ms. Nishikawa used on her way to and from school
Facing herself during the short term studying abroad in the junior year - "What are my skills"?
The good thing about entering Hiroshima University was the study abroad system of HU. I participated in the "START Program" and went to New Zealand this March and the encounter with the other HU students was an incentive to me. I had been to foreign countries before, but this was not just a trip abroad. Most of members who went abroad together were able to speak English, even though some had never been abroad which made me think "I have to try harder".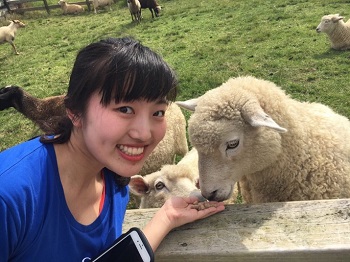 With the sheep: its number is more than the population in New Zealand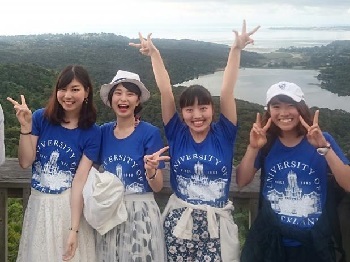 Encounter with the friends from various Schools in the "START Program"
 
I used to think, "I'm good at Chemistry," but when I entered the Department of Chemistry, the School of Science, the people around me was much better at it. There are a lot of students near me who stimulate me in HU. I always ask myself, "What are my skills? What am I good at?"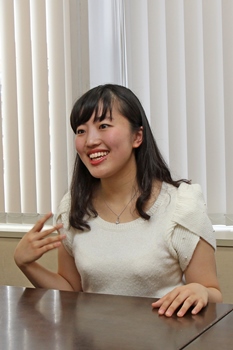 Ms. Nishikawa is very active. She says she also get stimulated by her mother who gives a challenge in anything. 
 
I'm thinking of getting a job at a cosmetics company that has international alliances, but to do that I need to learn the ideas and the researches of the leading foreign countries, and I need to study English to communicate with other people from foreign countries. I want to brush up my language and make it my skill.
The day starts and ends in the library – Studying English, French, and even for a teacher's license
I wake up at 7:00 in the morning and when I don't have the first period class I go to the library from about 8:30. I have 4 classes average per day, and when I don't have my part time job I stay in the library and study until 21:00. My house is an oasis for me and has too many temptations so I'm keeping it a habit to study in the campus.
In addition to the classes in the School of Science, I'm taking the "Specific Program"(*) (Building Professional English Skills). It's an exercise class with small number of people so I need to do a lot of preparation and reviews for the lessons. On the other hand, the professors teach us nicely and the other HU students from other Schools have high English skills so I get very motivated.
I'm also planning to get the teaching license of Science teacher for Junior High School and Senior High School. To know the accurate needs of the people when developing new cosmetics, it is important to communicate with people. Teachers interact with people so the study to be a teacher will be my strong point. I realize that Hiroshima University is an integrated university where people can be ready for anything if the students wish for it.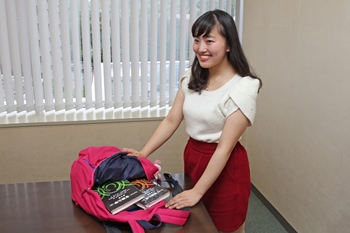 A close look inside the heavy backpack. A lot of textbooks and stationaries
(*) Specific programs are organized with content that allows students to study fields that are not covered with a professional approach in their Major Program, or to prepare to obtain licenses/qualifications.
Lastly, please give a message to students thinking about entering Hiroshima University!
I think most of you have the image of "hard" or "tough" toward studying for the entrance exam, but I want you to enjoy it. I think learning new is a really fun thing to do. I think the entrance exam season is shorter than you think. Let's be positive and take studying like, "Studying = Get to know new knowledge and fun" and do your best.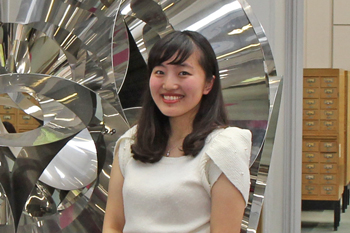 April 26, 2017
Report/Photograph: Public Relations Group (O, F)
Location: Group Study Room, Central Library