"HU Student Interview Series" gives our prospective students an insight into the perspectives of HU students. On the 43rd interview in this series, we have interviewed Ms. Miwa Kaneko from Itoshima City, Fukuoka Prefecture, who graduated from Wakaba High School Affiliated with Fukuoka University in Fukuoka Prefecture, currently in the 4th year at the School of Applied Biological Science. We asked Ms. Kaneko about what made her decide to take the entrance examination to Hiroshima University and her life as a student, as she has finished her job-hunting and is spending the rest of her university life writing her graduation thesis.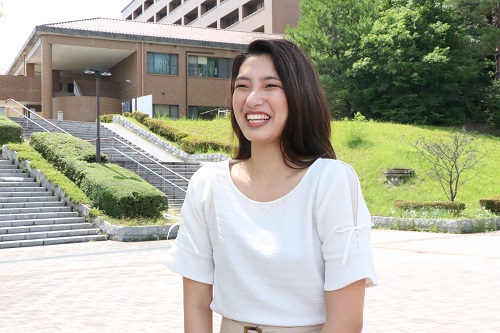 Please tell us why you wanted to study at the School of Applied Biological Science at Hiroshima University.
I was attracted to the course structure and its content.
I had always been interested in nature and environmental issues, and I wanted to study them at university, but I had not yet decided on a specific field of study. At the School of Applied Biological Science, students study a wide range of topics related to nature in the first year, and they choose a major that they are interested in during the second year. I didn't have a clear idea of what I wanted to study, so the deciding factor for me was that there was a wide variety of options to choose from, and I could gradually select the field of study I wanted to pursue.
In my third year, I participated in an onboard training session on the Toyoshio Maru ship. For about 10 days, I lived on board the ship with 18 other students and traveled to Yakushima, Tanegashima, and Shikoku Island.
The thing that was particularly memorable for me was when we landed on Yakushima Island and enjoyed the fantastic nature. I climbed mountains and swam in the sea with my friends and watched the sunset and the stars at the seaside.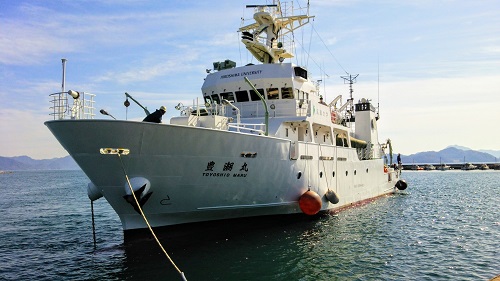 Toyoshio Maru, a training ship for the School of Applied Biological Science
The days I spent listening to the sound of the waves were very comforting and are my precious memories. I am truly glad that I decided to take the fisheries course.
I am currently researching the effects of ocean acidification on living organisms. The ocean absorbs carbon dioxide emitted into the atmosphere, which lowers the pH of the seawater. We will investigate how acidification affects marine organisms by rearing sea snails in artificially pH-adjusted seawater.
How was your high school life?
For the most part I worked hard at my studies. Since I wasn't involved in any club activities, after school I stayed in the classroom and self-studied instead. I think I was able to focus on my studies for three years because I really enjoyed the process of learning and understanding the content through the exchange of knowledge with my friends. These experiences have taught me how to concentrate and have helped me in my university life.
Please tell us about your student life outside of research.
I am currently a member of the basketball society and the fashion society. In both of these societies, I am able to meet many people with the same interests in an environment that allows me to participate in club activities in accordance with my busy schedule. Each day I enjoy discussing and practicing with my fellow club members to achieve a common goal. University life has been very fulfilling, as I have been able to challenge myself in the things I want to do.
In my third year, I also participated in the Miss Earth Japan beauty pageant competition, which is open to women who have a strong awareness of global environmental issues and are capable of playing an active role on the international stage.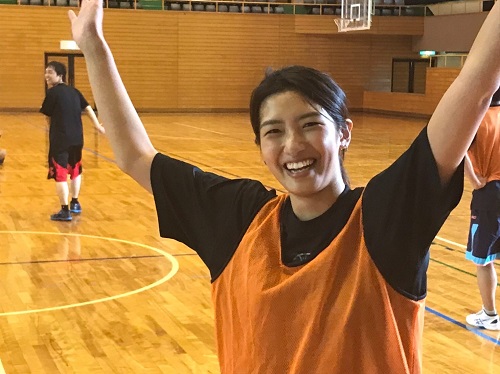 Ms. Kaneko in the basketball society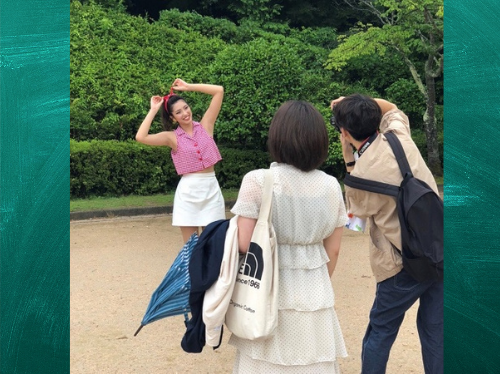 We even have a photoshoot wearing the clothes we created in the fashion society
Entering the contest is a big challenge.
I found out about Miss Earth Japan because a classmate of mine in high school had represented Fukuoka Prefecture in the previous year's contest. Ever since I was a child, I have always been fascinated by cute and beautiful things, so when I saw my friend, I decided to apply for the contest as I wanted to try on the dress. At the time, I wasn't confident in my ability to express charm, so I applied just before the application deadline.
There were some hard times, such as the walking practice, but I was able to enjoy the national competition stage overall, and I became more confident in myself than before. The contestants also work on global environmental issues, so this was a perfect contest for me as I was studying environmental issues. Being selected to represent Hiroshima Prefecture and placing fifth in the national competition was a memorable moment for me as a student.
Ms. Kaneko receiving her award at the Miss Earth Japan Competition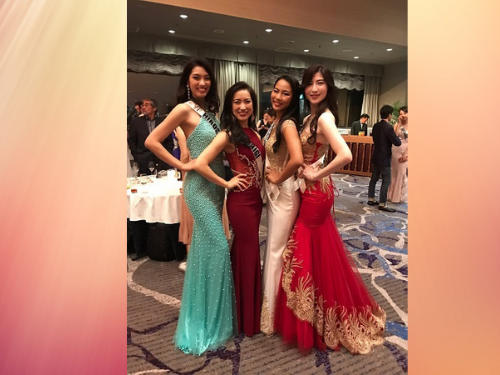 Commemorative photo with contest participants (leftmost: Ms. Kaneko)
A message to future Hiroshima University Students.
A fun university life will await you all!
Imagine yourself in the future, get excited, and do what needs to be done that lies ahead of you, slowly but surely, one thing at a time.
I wish you all the best.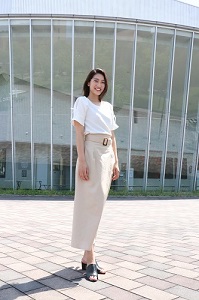 September, 2020
Interview and Photograph: Public Relations Group (S)
Location: HU Central Library