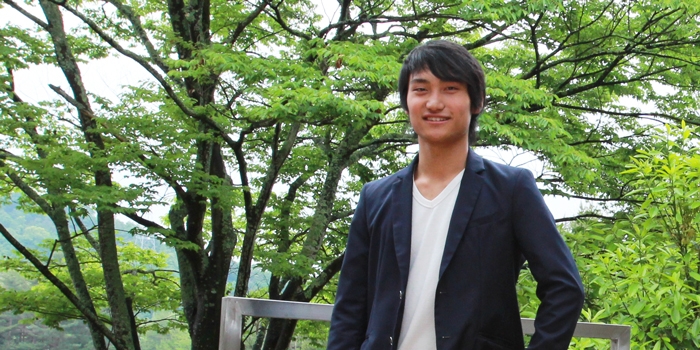 3rd Year, Chemical Engineering Program, Cluster 3 (Chemistry, Biotechnology and Process Engineering), School of Engineering
Ryota Inoue
<Graduated from St. Andrew's School, Osaka (Momoyama Gakuin High School)>
"HU Student Voices" gives our prospective students an insight into the perspectives of HU students. As the 23rd interview in this series, we talked to Ryota Inoue, 3rd year student in the Chemical Engineering Program, School of Engineering.
Mr. Inoue works intently in Chemistry every day. After entering university, he has made up his mind to be a plant engineer. We interviewed Mr. Inoue about his days in preparation for the entrance exams, and the lectures at Hiroshima University.
Please tell us about your trigger to studying for the School of Engineering.
My trigger was the lectures I had at cram school; it led me to become interested in the chemistry field. At the lectures in cram school, it was not the kind of style where you just continuously solve problems, but where the teacher explained to us the charm of chemistry. I learned about note-taking methods using many different colored pencils, and the notebooks helped me understand the details a lot easier. The more I began to understand things, the more I found the area interesting and started to feel like "I want to learn more!" and was completely hooked onto chemistry. I started to want to enter a faculty where I could learn more about chemistry.
At first, I was thinking about entering the Department of Chemistry in the School of Science and study "pure chemistry." However, I gradually started to think that I want to contribute to society by applying the basic knowledge of chemistry and utilizing chemistry-based technical knowledge and technological skills, so I decided to go into the School of Engineering where I can acquire both chemical knowledge and chemical application skills.
Mr. Inoue reflecting back to the days when he was preparing for the entrance exams while looking at his notes
Mr. Inoue, you are from Osaka, right? Was Hiroshima University your first choice?
Actually, until I took the National Center Test for University Admissions, a different national university was my first choice. Seeing the results of my center test, I consulted people around me including my older brother and teachers, and they all suggested Hiroshima University saying "its research ability is high," so that became my decisive factor.
Did you apply for private universities? Did you take an entrance exam at a private university?
Yes. I took the exam at 3 other private universities, but I decided to go to Hiroshima University because I wanted to go to a national university.
When did you begin preparation for entrance exams?
I really started to put my head into it around the February of my sophomore year at high school. The results of the practice test I took the month before was not really good…so, I told myself "I seriously need to start working!", and began going to a cram school. During my first and second years I was just attending daily classes and doing homework, and wasn't really putting in much effort in studying, so I was a bit anxious.
How were you preparing for entrance exams?
Besides lectures at the cram school, I studied at a self-study room and at home solving exercise books. Every week I created a plan sheet where I decided which subject and how many hours to study for each day, and followed the plan. Additionally, I set a daily assignment like, for example for English, remembering 300 vocabulary words. I was aware that I was behind the friends around me, so I just frantically tried my best. There were days where I continued to study until 3 in the morning because I decided I would not sleep until I finished that day's assignment.
What subject did you put the most effort in?
I wasn't good at contemporary Japanese writings, so I started off by reading novels in between studying time in order to get used to reading long sentences, and solved a collection of past center exam questions that enabled me to grasp the trend of questions and the solutions to solving problems. That also enabled me to stay calm and continuously read during the center exam. For English I first put the most effort in vocabulary and grammar, and thus remembered the entire vocabulary and grammar notebooks. By reading English writings everyday my negative feelings towards it gradually disappeared, and at the end I even began to enjoy English. For geography I consumed basic knowledge through study-aid books, and additionally gained knowledge by solving problem collection books.
What did you do when you wanted to refresh?
In between studying, I read pass experiences of the alumni's at my cram school, and imagined myself as a university student, and inspired myself through these. Also, I brought my motivation up by reading self-development books.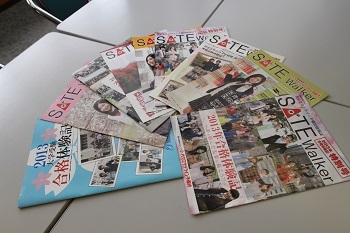 The pass experience notes that gave me motivation
And you were accepted in the first try! How was Hiroshima University after entering?
Completely satisfied! Hiroshima University is an integrated university, so there are a lot of students. There are many exchanges with students from other faculties such as lectures and school events; one of the biggest charms of this university is the many human encounters you could have.
Furthermore, the campus is filled with nature, quiet, and an environment where you can easily concentrate. My favorite is the library. There are many books you can borrow, so there's not trouble researching, and there are many self-studying rooms so I often use it before exam seasons.
There are tutors and teaching assistants (TA), which I really appreciate. There are individual meetings with tutors at the end of semesters, and I am able to consult to them not only about studying but about everyday life as well, so I feel there is a strong supporting environment here. The TAs who are in their masters teach us about the atmosphere in their research seminar laboratories and about their researching field. I can freely consult to them about campus life as well, so that's great.
Were there any worries about leaving Osaka and living alone?
Of course I had worries. Everyday I still feel appreciation for my mother about things like cooking and cleaning. (Haha) However, at the orientation after entrance I was able to make friends right away, and I also had some exchanges with the seniors, so I was able to adapt smoothly into university life. Hiroshima University has a lot of students from many different regions, so it's really fun and exciting!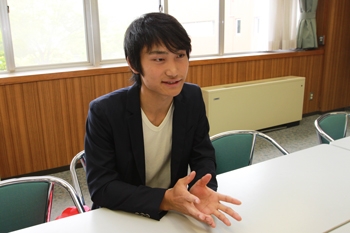 Mr. Inoue says with a smile "his life is satisfying everyday" even though he lives away from home.
Please tell us about your current studies.
Right now I am studying about plants (factories) or the principles to build and maintain a chemistry device. I am having so much fun because I get to study chemistry everyday, which was the reason why I wanted to enter this university anyway. I especially enjoy the practical classes to create the blueprint of chemistry devices.
What exactly was the most interesting lecture?
I especially remember the "Physical Chemistry II" class held at the 2nd semester of my 2nd year by Professor Hideki Takishima. At the lecture we learned about the derivation formula of thermodynamic features. During high school years it was just remembering the formula. However, learning about the way you are able to derive the formula was really touching. Professor Takishima built his stories in a clear way which made it easy to follow. In the future, there must be times where I will give presentations on my research, so I want to continue following Professor Takishima's way of building stories.
Another class "Peace and Human Beings A- To Environmental and Biological futures-" is also stuck in my mind. I learned about the changing in natural habitat after the atomic bomb was dropped. Being able to think about peace in a nuclear-effected city was very touching.
Please tell us about your future goals.
My dream is to work as a plant engineer by utilizing the chemistry knowledge I've accomplished. At the plant, it is important to think about how you create products. This is because there will be a big difference in the production efficiency, cost, and byproduct by the way you use the devices. Additionally, we must think about production security or effects on earth's environment. Plant engineers are the ones who take responsibilities for these types of factors and the plant's design/maintenance. I believe I need to acquire a widespread knowledge on chemistry and field of view, and it sounds tough but I feel it is attractive to contribute to society through the job. Right now I am trying my best to gain basic skills and knowledge in this field. Above all, right now I am striving to be licensed as a hazardous materials engineer and a high pressure gas production safety technical manager to become one step closer to my dream. After graduating university, I will continue on to master's, and I want to gain even more widespread knowledge about chemistry.
Finally, please give a message to your juniors who are thinking about entering Hiroshima University!
For some people reading this article, there must be some of you who are right smack in the middle of exam wars, and working hard everyday. Of course working too hard to the point of being unhealthy is not acceptable, but I think it is important to go through a bit of hardships and impossibilities. This is because the experience of putting yourself in a high pressured environment and continuing to try hard leads to your growth. I myself think I have gained patience and mentality through the preparation for exams, and also self-confidence to think "If you could do it that time, you can do it again!" Please continue to believe that after the hardships, there are definitely developments, and work hard!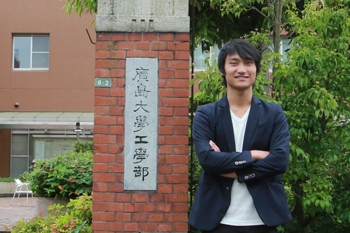 May 25, 2016
Report: Public Relations Group (F, G)
Photograph: Public Relations Group (G)
Location: School of Engineering large meeting room